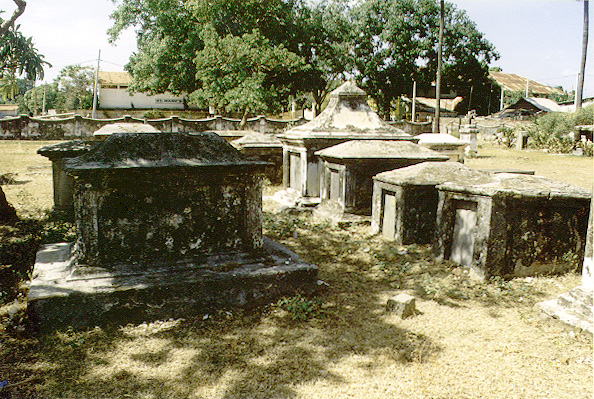 Esplanade Cemetery, Trincomalee Burial ground located on the Esplanade at Back Bay facing the sea. Contains the burial sites of numerous British army and naval personnel and their families. Included are at least two officers of the 73rd Regiment:
Ensign James Kishorn
(c.1800-1819)
Assistant-Surgeon John Martyn Dermott (c.1789-1819)
and 7 children of the regiment:
Robert Brownrigg O'Connell (aged 14 months) - son of Lt. Col. Maurice O'Connell, commanding officer of the 73rd Regiment and Mary (nee Bligh) (daughter of Admiral William Bligh)
Eliza Deacon (aged 11 months)
Anne Deacon (aged 7 months) - daughters of Lieut. Thomas Deacon
Rebecca Lyttleton (aged 6 years and 9 months)- daughter of Lieut. William Thomas Lyttleton
Thomas Reynolds (aged 2 years and 8 months) and Caroline Reynolds (aged 6 months) - children of Lieut. Thomas Reynolds
Isabella Bews (aged 2 years and 3 months) - daughter of Paymaster John Bews.
Photograph by Robin Walsh © 2002


Copyright © Macquarie University 2011