Storming of Seringapatam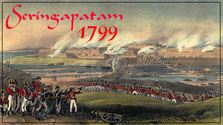 Storming of Seringapatam 4th May 1799
[For Cannon's Military Records]
Coloured plate published in:
Historical Record of the Seventy-Third Regiment: containing an account of the formation of the Regiment from the period of its being raised as the Second Battalion of the Forty-Second Highlanders in 1780 and of its subsequent services to 1851.
Compiled by Richard Cannon. London, Parker, Furnivall, & Parker, 1851. p.8.
This plate is based upon a hand-coloured aquatint engraving originally published by A. Cardon and Schiavonetti (after Captain Alexander Allan), London, 1802.
[India Office Library and Records, the British Library, London].