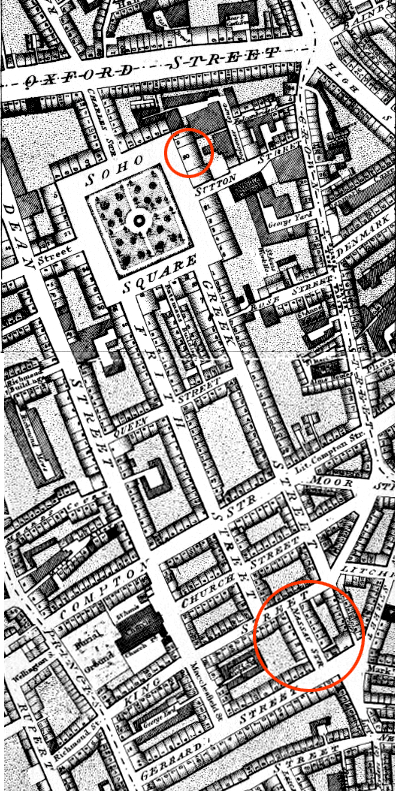 Reproduction from Richard Horwood's 1813 map of London, showing 20 Soho Square (top) and Nassau St (bottom), highlighted in blue.
Elizabeth Macquarie's Violoncello: The Makers
Thomas Kennedy (1784-1870)
Thomas was the son and pupil of the instrument-maker John Kennedy (1730-1816). He was a well-known maker in London in the early half of the Nineteenth Century, having worked with William Foster who had been instrument maker for royalty, and Thomas Powell. Thomas Kennedy worked firstly in Princes Street, Westminster, then at Nassau Street, [see: map] and was located at 364 Oxford Street in the period 1816-1849.
Kennedy was a prolific maker and is credited with over 2,000 instruments including more than 300 violoncellos. He made personally signed instruments, but he also worked for the 'trade' and some of the cellos stamped GOULDING were, in fact, his productions.
Today, his violas are considered good by collectors, with a common size of 395mm; however it is his violoncellos that are regarded as revealing his best workmanship. The body length is generally 735mm, though occasionally (as in the case of the 1814 Macquarie violoncello) it can be as long as 760mm. This size was considered unusual at that period.
Goulding
Musical instrument dealer who stamped his name on instruments made for him by others. Most examples are of Tyrolean origin but also included are items that are English, and, in particular, cellos made by Thomas Kennedy. Some instruments are labelled 'Goulding & Co. 20 Soho Square, London'; [see: map] but more commonly, they are just stamped with his name under the button.

Cello home page
Sources:
The A to Z of Regency London. London: London Topographical Society, 1985 Publication No. 131. [R. Horwood's 1813 map of London].

Morris, W. Meredith. British Violin Makers: A Biographical Dictionary of British Makers of Stringed Instruments and Bows and a Critical Description of their Work. 1920.

Plowright, Dennis G. Dictionary of British Violin and Bow Makers. Exmouth: de Shird Publications, 2004 (3rd edition) pp. 84 and 115.