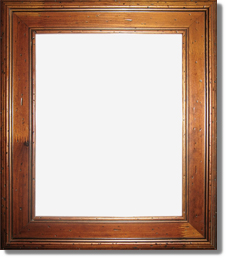 WALES, James
(1747-1795)
Scottish portrait painter and draughtsman.
James Wales was born in Peterhead, Banffshire in 1747. At an early age he moved to Aberdeen and was educated at Marischal College. It was here that he also began to paint modest portraits on tin plates which were sold in Aberdeen for 1 - 1½ guineas each. As an artist he was largely self-taught, and he benefited from the early patronage of Francis Peacock in Aberdeen. He married Margaret Wallace (1759-1795), daughter of William Wallace of Dundee and Annie nee Taylor.
By 1783 Wales and his family had moved to London, where he is known to have exhibited at least three portraits at the Society of Artists by 1791, and three paintings at the Royal Academy between 1788 and 1789.
An amateur artist and East India Company official named James Forbes (1749-1819) had sailed for Bombay as a Writer in 1765. In 1772 he was appointed Member of Council at Anjengo. In 1775 he officiated as chaplain, later secretary, attached to British forces sent to assist Raghunath Rao in the Maratha civil wars until ill-health forced him to embark for England on 1 December 1775. He returned to India in 1777, and served in Gujarat until increased Maratha military activity forced his evacuation in 1782. He travelled to the Malabar coast, then embarked for England, where they landed at Portsmouth on 17 July 1784. Many of his experiences formed the basis of a publication that he published at his own expense in four volumes between 1813 and 1815, entitled Oriental Memoirs.
During his extended residency in India James Forbes had also made a significant number of watercolours of the Bombay area. When he returned to England in 1784 he commissioned James Wales to make paintings from two of his sketches. This commission helps to explain, in part, the subsequent decision by Wales to travel to Bombay.
Wales applied to the East India Company for permission to work in Bombay in 1790, was granted permission on 5 January 1791, and arrived in Bombay on 15 July 1791. Here he was fortunate to receive commissions from a fellow Scot, (Patrick) Craufurd Bruce (1748-1820), one of the sons of Sir Michael Bruce, 6th. Bart., who served in the East India Company, and was later to become a banker in London.
Although Bombay was a smaller and less affluent market than Calcutta or Madras for a British painter, Wales took the initiative and established himself in the small settlement. He gained a reputation, though little is known of his first year in Bombay. Captain Robert William Eastwick (1772-1865) [HEIC] recorded in his memoirs that upon his first arrival in Bombay in June 1792 he had met Wales:
"I had brought out with me a letter of introduction to a gentleman at Bombay named Wales, who was a portrait-painter, and a man of considerable influence in his way, for he knew everyone and his services were in constant request. He very kindly interested himself on my behalf, and procured me the appointment of second officer on board the Hormuzeer, a country ship commanded by Captain Meeks, which was then loading a cargo of cotton and opium for China."
A Master Mariner. Being the Life and Adventures of Captain Robert William Eastwick. (ed.) Herbert Compton. London: T. Fisher Unwin, 1890 p.68.
Wales was fortunate enough in his first year to meet Sir Charles Warre Malet (1753-1815), the Political Resident at the Maratha court in Poona (from 1786 to 1797). Malet encouraged Wales to come to Poona and the first visit took place between July and December 1792. In addition to painting portraits for Malet, Wales painted a number of remarkable portraits of the Maratha chiefs and their ministers. The most impressive surviving example is a group portrait, 'Madhu Rao Narayan, the Maratha Peshwa with Nana Fadnavis and Attendants' (1792: Royal Asiatic Society, London). In this regard Wales was highly influential for his role in introducing European art to the Maratha court, persuading the Peshwa to establish a school for drawing and negotiating the use of a "Bungella" for the display of works of art.
Wales returned to Poona for a short time in 1793, again in September-October 1794, and finally, in January and April in 1795. The patronage of Malet and the Maratha court undoubtedly provided Wales with a steady source of income. In addition, in March 1793 Wales met the travelling artists Thomas and William Daniell, who encouraged him to continue his detailed drawings of Indian caves and temples.
Wales had left his wife, Margaret, and their daughters, Susanna (1779-1868), Anna, Helen (c1786-c1792) (+ 2) in Hampstead, Middlesex; although he soon encouraged them to join him in Bombay after learning of the death of his six-year-old daughter Helen in 1792. The Wales family arrived in India some time in 1793, but Margaret died in childbirth in May 1795 at Colaba, aged 36 years — leaving James Wales alone to provide for five daughters.
The tragic loss of his wife was compounded later the same year when Wales contracted a fever [in November] while travelling on a sketching excursion to the Kanheri Caves on Salsette Island. He was carried back to Bombay, but he died there on 18 November 1795:
"Lately, at Salsette, an island in Bombay harbour, where he went to make drawings, Mr. Wales the artist."
[see: Gentleman's Magazine, June 1796 p.529].
His infant daughter, Angelica, died soon afterwards in December 1795, aged 7 months. A memorial tablet erected later in St Thomas' Cathedral, Bombay, commemorates this tragic family tale:
Sacred
To the memory of
JAMES WALES, Gent,
A native of Peterhead, Aberdeenshire,
Who died in Nov. 1795,
Aged 48 years.

Also
To the memory of Margaret, his wife,
Daughter of William Wallace,
Annie Taylor, his wife of Dundee,
Who died in May 1795,
Aged 33 years.

Also
Of Angelica, their Infant Daughter,
Born at Colaba, Who died in Dec., 1795,
Aged 7 months.
This Tablet is erected by Susan,
The eldest of
Four surviving daughters,
In grateful and affectionate
Remembrance of her parents.



[No. 15, South Wall, St Thomas' Church, Bombay]
[Transcribed in Douglas, James. Glimpses of Old Bombay and Western India. London: Sampson, Low, Marston and co., 1900 p.80].
The majority of Wales's work would have been lost or forgotten had it not been for the diligence of his friend and patron Charles Warre Malet, who had been created a baronet in February 1791 for his services in negotiating a triple alliance between the British East India Company, the Nizam of Hyderabad, and the Maratha Peshwa against Tipu Sultan, the Rajah of Mysore. More significantly, after the deaths of James and Margaret Wales in 1795 the care of the Wales children devolved upon Sir Charles Malet. He had already had formed a union with the Maratha princess, Amber Kaur, and fathered three children. When Malet retired from India in 1798 he left his bibi Amber Kaur well established in Poona, and took Wales' eldest daughter, Susanna, aged 20, and at least one of her sisters with him to England.
After renouncing his guardianship of Susanna (1779-1868) he married her on 17 September 1799. She became his third wife. There were eight sons from their marriage: Sir Alexander Malet (1800–1886) second baronet; Charles St. Lo. (1802-1889); William Wyndham Malet (1803–1885) clergyman; George Grenville Malet (1804–1856) army officer; Arthur Malet (1806–1888) East India Company servant and writer; Hugh Poyntz (1808-1904); Octavius Warre (1811-1891); Alfred Augustus (1814-1898).
The three children that Amber Kaur bore to Malet: Eliza (1791-), Henry Charles (1793-) and Louisa (1795-) also joined the family in England, and Susanna brought them up along with her own eight sons.
In 1800 Malet arranged, with the assistance of the artist Thomas Daniell (1749-1840), for the publication of a selection of Wales's views of Bombay in a work entitled: Twelve Views of the Island of Bombay and Its Vicinity: taken in the years 1791 and 1792. In 1801 Malet published an article in Asiatic Researches on the architectural and historical features of the caves at Ellora. He retained a life-long interest in India and was created a fellow of the Royal Society and fellow of the Society of Arts. He died on 24 January 1815, at Bath. Susanna Malet [nee Wales] died on 21 December 1868, aged 89 years.
The Macquarie Connection
Did Lachlan Macquarie know James Wales?
The evidence is inconclusive. There is no direct mention of Wales' name in Macquarie's writings, however in his journal entry for 31 December 1792 Macquarie records that:
General Carnac gave a Ball & Supper at the Tavern, to the principal Ladies and Gentlemen of the Settlement, in honour of Earl Cornwallis's Birth-day. — I had the honor of dancing with Miss Jarvis. —
At the same time we have an entry by Wales on 30 December 1792 "At home all day and resolved to be as seldom from home as possible having told all my friends of the necessity I am under to attend work constantly." However he went to the New Year's Eve Ball given by General Carnac the next day, though he was back at work by 11 o'clock.

So here, at the beginning of Macquarie's courtship of Jane Jarvis, we have both men at the same event, moving in the same social circle.

As a resident of Bombay in the period 1791-1794 Macquarie could have become acquainted with Wales, and later, as an intimate of Governor Duncan and the higher eschelons of officers and civil officials at Bombay in the years 1797-1801 and 1805-1807, he would have been privy to the subsequent fate of the Wales and Malet families. The European community in Bombay at this time was a close-knit and highly inter-connected social circle — linked by patronage, obligation and marriage. What is clear is that Macquarie visited all the places documented by Wales and was familiar with the geographic diversity of the necklace of tidal islands that formed the settlement of Bombay in the late C18th.

There is, however, a more compelling and direct link between the two men. For Wales did not work completely alone in India. He was assisted by three artists: Robert Mabon (d.1798) a British soldier; Gangaram Chintaman Tambat, a Hindu artist; and José, a Goan artist.

Mabon was a soldier in the 77th Regiment, whose commission Wales had purchased to release him from duty — and the 77th Regiment was also Lachlan Macquarie's regiment at this time. As an officer in the regiment Macquarie would have been familiar with the muster rolls of the men under his command, including the name of Mabon.

Although it is unclear when Mabon left the 77th. Regiment it seems most likely it would have been after the regiment returned to Bombay on 21 April 1792, following its role in the siege of Seringapatam and the surrender of Tipu Sultan in the Third Anglo-Mysore War (1791-1792). By the 23 May 1792 the 77th. Regiment was garrisoned in its barracks on Colabah, and Mabon may have been keen to end his military service after his recent experiences in Mysore.

Wales had arrived in Bombay in July 1791 and is known to have lived on Colabah. His first visit to Poona took place between July and December 1792 and there is strong evidence that Mabon accompanied him on this trip, as evidenced in a series of watercolours dated to c.1792, and now held in the Paul Mellon Collection at the Yale Center for British Art in New Haven, Connecticut. Mabon was a talented draughtsmen who excelled at the detailed representation of Maratha costume and artefacts. Wales would be more likely to have recruited him as an assistant for this expedition rather than for studio activities in Bombay in 1791-1792.

Macquarie has left us with a description of Colabah in June 1792:
I joined the Regiment, and took up my residence at my own House on Coolabah; I am much pleased with my Bungaloe [sic] and its situation which is truly a very delightful one indeed, commanding a beautiful Prospect of the Town and Harbour of Bombay, the Islands, the opposite Shore and Sea. —
After Wales' death in 1795 Mabon moved to Calcutta in 1796, where he etched and published 20 plates as Sketches Illustrative of Oriental Manners and Costumes. He died in Calcutta in 1798.
References:

Primary
WALES, James. Twelve Views of the Island of Bombay and Its Vicinity: taken in the years 1791 and 1792. London: R. Cribb, 1800.
ERSKINE, William. 'Account of the Cave-Temple of Elephanta, with a Plan and Drawings of the Principal Figures'. Transactions of the Bombay Literary Society. pp.198-250 [see: pp.207-208].
Gentleman's Magazine, June 1796 p.529 [Death Notice].

Secondary
de ALMEIDA, Hermione and GILPIN, George H. Indian Renaissance: British Romantic art and the prospect of India. Ashgate, 2005 pp.126-132.
ARCHER, Mildred Agnes. 'James Wales: portrait painter in Bombay and Poona, 1791-95'. Journal of the Indian Society of Oriental Art, No. 8 (1977), pp.57-64.
DWIVEDI, Sharada and MEHROTRA, Rahul. Bombay: the cities within. Bombay: Eminence Designs, 2001.
EATON, Natasha. "Between Mimesis and Alterity: art, gift, and diplomacy in colonial India, 1770-1800." Comparative Studies in Society and History (2004), 46, pp.816-844.
FORDHAM, Douglas. "Costume Dramas: British art at the court of the Marathas." Representations Winter 2008, pp.57-85.
HARDGRAVE, Robert L. A Portrait of the Hindus: Balthazar Solvyns & the European Image of India 1760-1824. New York: Oxford University Press, 2004.
HYSING, Dorthea. Governor-General Peter Anker, Painter and Collector: memories of India - 20 years in Trankebar, University Museum of Cultural Heritage, Oslo, Norway. Oslo: Universitetets kulturhistoriske museer, 2002. [Exhibition catalogue].
A Master Mariner. Being the Life and Adventures of Captain Robert William Eastwick. (ed.) Herbert Compton. London: T. Fisher Unwin, 1890.
Oxford Dictionary of National Biography. [see entry: 'James Wales'].
ROHATGI, Pauline. "Early Impressions of the Islands: James Forbes and James Wales in Bombay 1766-95." in Bombay to Mumbai: Changing Perspectives [Marg Vol. 48 No. 4 and Vol. 49 No. 1]. (eds.) Pauline Rohatgi, Pheroza Godrej and Rahul Mehrotra. Mumbai: Marg Publications, 1997.
TINDALL, G. City of Gold: the biography of Bombay. London: Temple Smith, 1982.

University of Oslo. Kulturhistorisk Museum. Peter Anker Collection.
Return to: Profiles | Biographical Register