Showcasing the University's achievements
The annual report answers the interests of the University's diverse stakeholders, including members of parliament, our staff and students, our alumni, and our industry and community partners.
Macquarie University annual reports are prepared for presentation to State Parliament in accordance with the New South Wales Annual Reports (Statutory Bodies) Act 1984 and Public Finance and Audit Act 1983.
Macquarie University Annual Report 2021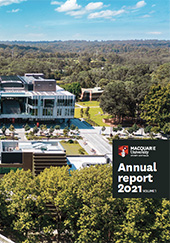 Download report
In yet another year dominated by the COVID-19 pandemic, 2021 has seen Macquarie University, along with other universities across Australia and around the world, face change and uncertainty on an unprecedented scale...
In addition to fulfilling Macquarie University's reporting requirements under these Acts, the annual reports showcase the University's achievements within the reporting year, as well as plans for the year ahead.
Download previous Macquarie University annual reports below:
Previous annual reports
For access to Macquarie University annual reports prior to 2007, or in a format other than PDF, contact us:
Page owner
Last updated: 24 May 2022