News and events
Latest News
MLS team success in the 6th RMLNLU International Media Law Moot
Congratulations to our amazing MLS team (Aidan O'Callaghan, Fraser Lawrence and Michael Docker) for their recent success in the 6th RMLNLU International Media Law Moot in Lucknow, India.
Facing a total of 49 teams from India and across the globe, the MLS team won each of the Preliminary, Quarter-Final, and Semi-Final rounds, only to be defeated in the Grand Final by a split decision of 3-2. Macquarie University was the most successful non-Indian team to participate.
The team's submissions were heard by a very esteemed panel of judges including the Honourable Mr. Justice Devendra Kumar Arora of the Allahabad High Court and Chief Justice of the State of Uttar Pradesh.
Special congratulations to Aidan O'Callaghan for being awarded 'Best Oralist', adding even further to the outstanding achievement.
Universität Hamburg and Macquarie Law School partnership
On December 20, 2017, Prof. Martina Möllering, Executive Dean of the Faculty of Arts at Macquarie University, that includes Macquarie Law School, was a guest at the Faculty of Law at the Universität Hamburg. The occasion was the signing of two joint PhD contracts. The students, Christina Simmig and Manuela Niehaus, are the first participants in the field of law, joint PhD program between the Universität Hamburg and Macquarie University. The two doctoral students each receive from Macquarie University a two-year tuition scholarship to cover the joint period of enrolment, a one-year stipend scholarship to assist their living costs in Sydney during 2018 and 2019 and a return airfare between the partner institutions. Prof Markus Kotzur from the Universität Hamburg and Dr Kirsten Davies of Macquarie Law School will supervise the student's candidature.
Slideshow presentation
The following slideshow can be cycled through displays. Depending on screen reader and browser combination, they may present one at a time or all at once. Additionally, when the slideshow has keyboard focus, the left and right arrow keys can also be used to navigate the slides.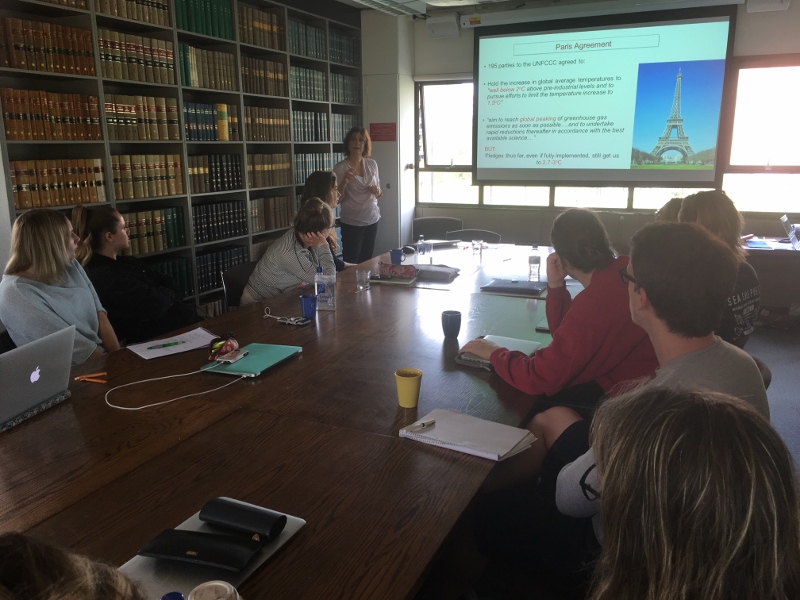 End of slideshow
The joint supervision of doctoral students is just one of several areas of partnership between Macquarie University and the Universität Hamburg. A joint research program involving twenty undergraduate law students (International Law Plus, IL +) have commenced. Ten students have been selected from each university to participate in this program. The German students will visit Macquarie University from 26 February to 2 March 2018 to commence research, focused on International Environmental Law with their Australian research pair. This research will continue online, during Session One. Macquarie Law School students will then travel to Hamburg in July 2018 to present their research findings, with their research pair. At Macquarie, this program has been supported by PACE International, Macquarie International, law academics and the Faculty of Arts.
In addition, in April 2018, the Faculty of Law at the Universität Hamburg will host a trilateral conference of law faculties, involving Macquarie University, Fudan University (Shanghai), and the Universität Hamburg.
To see updates on the commencement of the program online, please click here.
Further information contact Dr Kirsten Davies: Kirsty.davies@mq.edu.au.
New Law School Building
The Law School has outgrown its original building. Plans for a new Law School will see a purpose-designed facility at the very heart of the campus, ready to welcome vulnerable people seeking guidance, to partner with government bodies, companies and charities; and to attract the brightest legal minds from across the globe to collaborate with us, undertake fellowships and join our faculty.
Please click on the below links for more information about our new Law School and the initiatives behind the new building and launch of the Social Justice Clinic:
The Australian 8 November 2017
Macquarie's PACE Program - Winner of the 2017 AFR Higher Education Employability Award
Left to right: Debra Ronan (Director of PACE, Macquarie Law School), Lindie Clark (Academic & Programs Director, PACE), Associate Professor Kate Lloyd (Senior Academic Developer for PACE).
Macquarie's Professional and Community Engagement Program (PACE) has won the prestigious 2017 Australian Financial Review Higher Education Awards. It was announced on 29 August 2017 at the AFR Higher Education Awards night. This is a huge recognition and because it is a collective effort by many, the Awards Event was attended by representatives of the whole PACE community including PACE unit convenors, staff members, students, graduates, industry and community partners.
We are particularly proud of the contribution that Law PACE has made to the success of the university-wide program. Debra Ronan who is the Director of PACE at Macquarie Law School, has been instrumental in developing and leading the Law PACE Programs.
Congratulations to all the staff and students in the Macquarie Law School on the significant role they have played in the success of Macquarie PACE.
PACE is a whole-of-university work integrated learning program unmatched in the Australian higher education sector in its scope, scale, diversity and curriculum integration. Due to this, PACE enhances employability and citizenship capability by enabling all undergraduates to engage in practical learning experiences with industry and community. Graduate employment outcomes confirm the transformational impact of PACE.
The program is at the core of Macquarie's transformative approach to education and graduate employability, where students apply classroom learning in practice and develop valuable career and life skills. Working with one of our 2,500 partner organisations enables students to accumulate a portfolio of transferable skills, knowledge, aptitudes and experiences to equip themselves for the changing world of work and a life of ethical and engaged citizenship.
For more information about Macquarie's PACE Program, please click here
Dr Jane Goodall DBE visits Macquarie University
Slideshow presentation
The following slideshow can be cycled through displays. Depending on screen reader and browser combination, they may present one at a time or all at once. Additionally, when the slideshow has keyboard focus, the left and right arrow keys can also be used to navigate the slides.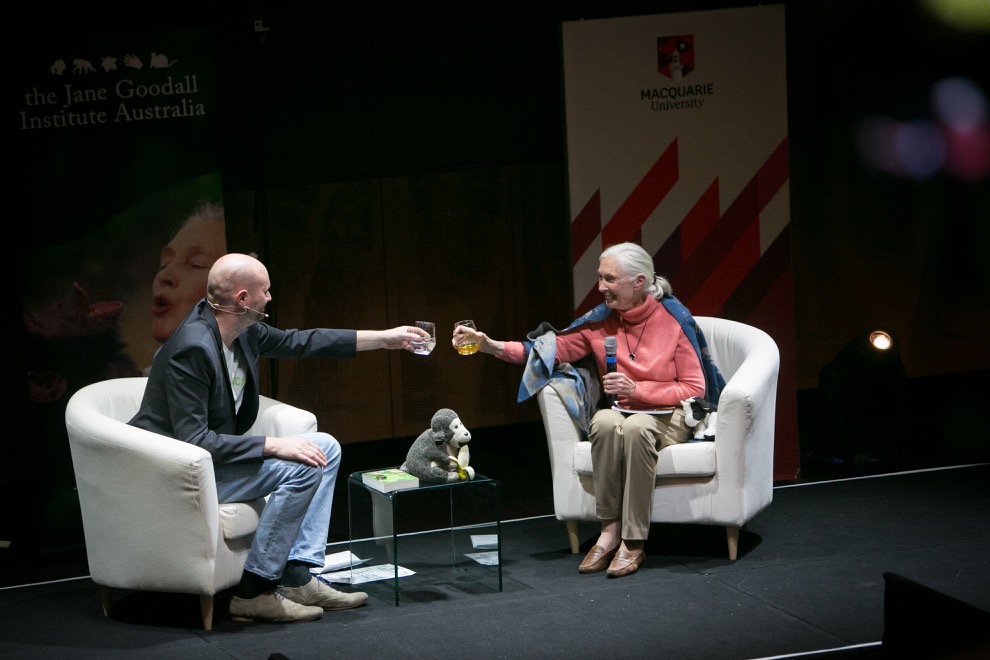 End of slideshow
On 21st June 2017, Dr Jane Goodall and the Roots & Shoots Australia National Youth Leadership Council delivered a Distinguished Visiting Fellow Lecture entitled 'Hope to Action: Empowering Young People to Build a Sustainable Future' from the Macquarie Theatre. The lecture was also live-streamed to viewing hubs across the country, including parallel events at the University of Queensland, University of Melbourne, and Murdoch University.
"What inspired me on the night was seeing young people from Macquarie University and JGIA working together: our National Youth Leaders, Centre for Environmental Law volunteers, and Media PACE interns. They are exceptional individuals who are continuing Dr Goodall's legacy in the spirit of her most beloved initiative, Roots & Shoots," said Associate Lecturer and JGIA Board Director Zara Bending.
The Centre for Environmental Law (CEL) Roots & Shoots group, coordinated by student volunteers Ashley Avci and Alia Viswalingam, met with Dr Goodall prior to proceedings to discuss how they are using their university training to promote positive change on campus and in their everyday lives. Group members Jasmine Logaraj and Shannon Peters also did their bit for sustainability by developing a digital program for the event to save energy and prevent waste.
Centre Director, Professor Shawkat Alam acknowledged the contribution of Dr Goodall's Roots & Shoots within the embedded student volunteer program run by Deputy Director Dr Shireen Daft, and closed out the evening's proceedings by referencing one of Dr Goodall's favourite childhood books: '… just like the bridge of apes in The Story of Dr Doolittle'. I am hopeful that inspired by what we have heard tonight, we can all support each other and be that bridge towards a sustainable future together.'
Dr Jane Goodall DBE and the Roots & Shoots Australia NYLC University Lecture, 'Hope to Action: Empowering Young People to Build a Sustainable Future' was hosted by Macquarie University and the Centre for Environmental Law through the 2017 Distinguished Visiting Fellow Scheme. The Centre is grateful for the support of Deputy Vice Chancellor - Research, Professor Sakkie Pretorius and Executive Dean, Faculty of Arts, Professor Martina Mollering.
Learn more
About the NYLC or their campaign: contact Macquarie University Law School's own Danielle Mizrahi nsw.nylc@janegoodall.org.au
About Roots & Shoots in New South Wales, contact Dr K-Lynn Smith at: nsw@janegoodall.org.au
Visit the Centre for Environmental Law (CEL) Website
What Dr Jane Goodall DBE noticed about Professor Sakkie Pretorius
Another outstanding publication from
Macquarie Law School
Biodiversity losses from deep-sea mining are unavoidable and possibly irrevocable, an international team of 15 marine scientists, resource economists and legal scholars argue in a letter published in the journal Nature Geoscience.
Dr Aline Jaeckel from the Macquarie Law School was one of the contributing authors of the letter.
Read more about this publication by visiting the Macquarie Newsroom
Professor Rosalind Croucher to be the next
President of The Australian Human Rights Commission

We congratulate Professor Croucher on her exciting new role as the President of The Australian Human Rights Commission. Professor Croucher will begin her seven-year term on 30 July 2017.
Professor Croucher was Dean of the Macquarie Law School at Macquarie University from 1999 to 2007. She was appointed Commissioner at the Australian Law Reform Commission from 2007 and became the President in 2009.
To view the full details of the announcement please click here.
Macquarie Law School Prize Night 2017
Each year, Macquarie Law School holds a Prize Night to recognise the outstanding achievements of its students across their studies in the Bachelor of Laws. The event enables members of the Macquarie Law School community, including students, staff, alumni, friends of the Law School, to come together to mark the success of our students. We celebrate not only academic achievements, but also recognise the tremendous contributions students have made to the School community in a variety of ways. The annual event is a high point in our calendar and evinces the great spirit of the Macquarie Law School community.
The 2017 Macquarie Law School Prize Night was held on 27 April, on the eve of the April graduation ceremony. Our keynote speaker was Ms Alexandra Shehadie, Director of Projects at Elizabeth Broderick & Co and also a graduate of Macquarie Law School (1986). We were pleased to welcome Alexandra back to Macquarie, as well as other alumni, from firms and organisations that sponsor our prizes.
Interactive gallery
The following gallery contains a number of links. Each link opens an interactive gallery slideshow in a popup window. From the popup window you will be able to cycle through the available gallery images. A button to close the popup window will also be provided.
End of interactive gallery
To view more photos from the Prize Night, please click here.
28 Jun 2017

During March this year the Centre for Environmental Law hosted another successful Professional Development Program for the Government of the Pe...

28 Jun 2017

Many congratulations to Associate Professor Carlos Bernal-Pulidol who has been appointed as Judge of the Colombian Constitutional Court. The appo...

28 Aug 2017

Nandini Bajaj and Jennifer Tridgell are two MQ Honour students who entered the Nelson Mandela World Human Rights Moot Competition earlier this ye...
Student in Profile
---
I'm Noelle Martin, currently in my final semester of Law/Arts here at Macquarie University. Throughout my degree I became the victim of image based abuse (an issue that affects around 1 in 5 Australians). For around 5 years I was subjected to horrifying, degrading, objectifying and harassing online abuse where many of my ordinary social media images were stolen and digitally manipulated into pornographic material and published on many pornographic sites.
Despite reaching out to police and government authorities, I was told I had to try to delete these sites myself because there weren't any specific laws that dealt with image based abuse. So, in between my law studies I would spend my days contacting webmasters to delete and halt the dissemination of these altered images. At a certain point, the immense concern and personal toll this was causing me forced me to speak out, reclaim my name, and raise awareness about this issue.
I was interviewed by the 7:30 Report on ABC in late 2016, and my story went viral around the world. But I didn't stop there. I created a petition with the Australian Parliament and change.org, and among other things I contacted my State and Federal MP's. I was then referred to the NSW Attorney General's Department. The NSW Attorney General and his team had worked tirelessly to draft a bill (which has now passed Parliament!) to make threatening, sharing or recording intimate images without consent a crime in NSW with a possible 3 years imprisonment and an $11,000 fine.
'Intimate images' includes 'altered' images. The Bill also empowers courts to issue take-down powers so that perpetrators must take reasonable steps to remove the material upon conviction. I stood alongside the NSW Attorney General at the public announcement of the image based abuse bill this year. Now, the Federal Government plans on enacting a civil penalties regime for image based abuse, and I contributed a formal submission to the public consultation. I hope to one day work in this area or in public prosecutions and continue to fight for justice, and hopefully soon victims, well actually, survivors will be able to receive the justice they deserve.
Written by Noelle Martin, Macquarie Law Student