Student sporting excellence celebrated
Olympic diver Melissa Wu was named Macquarie's female athlete of the year at the recent Blues Awards ceremony. Melissa also won the Chancellor's Award on the night, and is pictured above with Elizabeth Crouch, Deputy Chancellor, at the awards.
In total, 11 elite athletes were recognised at the event for their outstanding sporting achievements representing Macquarie University, their state, or the nation in 2015. A full list of winners can be viewed online.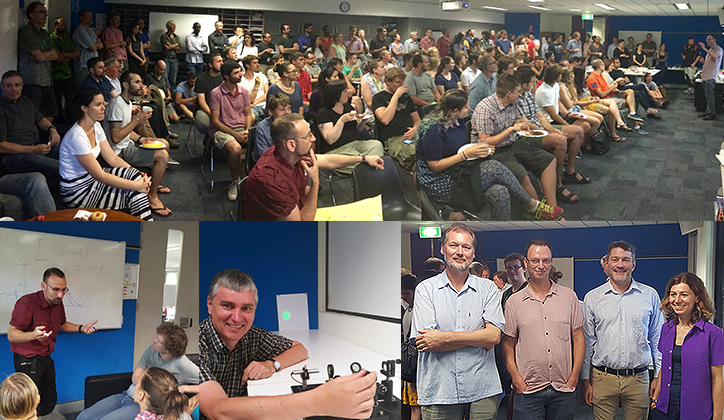 Black holes make gravitational waves across the science community
Macquarie physicists, astronomers and others from the campus science community gathered last Friday to celebrate and discuss the announcement of the first direct detection of gravitational waves through the Advanced LIGO project. The detected waves were a result of two massive black holes merging around 1.3 billion years ago. They are a long-awaited vindication of the predictions made by Albert Einstein's General Theory of Relativity.
"The discovery represents the beginning of a completely new form of astronomy," explains Associate Professor Michael Steel, Head of the Department of Physics and Astronomy.
Photo caption (clockwise from top):  Associate Professor Michael Steel speaks to the gathering; (Left to right) Professor Mark Wardle, Associate Professor Michael Steel, Associate Professor Daniel Zucker and Professor Orsola De Marco of the Department of Physics and Astronomy; Associate Professor David Coutts demonstrating how an interferometer works; Associate Professor Daniel Terno explains the use of squeezed light in LIGO to some students.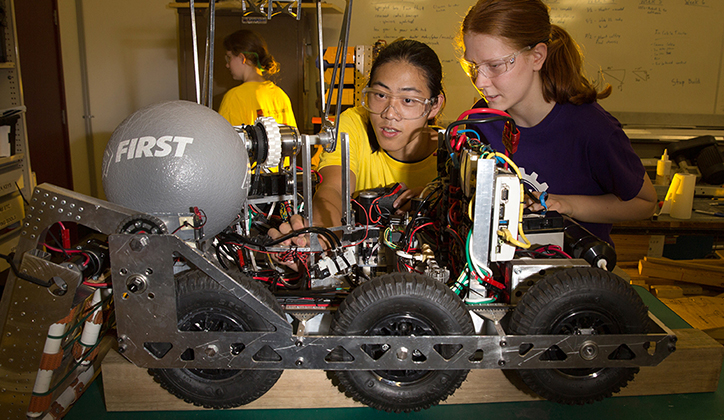 Build a bot – students scramble to complete their robot as Australia's largest robotics competition approaches
If you walk past F9C this week, you might hear the sounds of drills, electric saws and general tinkering. No, it's not just coming from the construction work in the area – groups of school students, Macquarie students and engineering mentors are now meeting daily to complete the design, construction and programming of their robots in time for day one of the Australia Regional FIRST Robotics Competition at Sydney Olympic Park Sports Centre on 17 March. Learn more about FIRST and this exciting competition.
Bondi classroom: The Biggest English lesson
Last Friday, 12 February, around 3000 English language students met at Bondi Beach to take part in a four-hour event to break a Guinness World Record: the biggest English lesson ever undertaken. More than 100 Macquarie students participated and Trish Behan, a senior teacher at the English Language Centre, conducted part of the lesson on stage. The lesson also featured in SBS coverage.