Last week, we celebrated 29 of our longest-serving employees (some of whom are pictured above), at an event for staff who have reached the milestones of 25 or 40 years of service to Macquarie.
With more than 750 years of collective experience, the group were commended for their hard work, dedication and support of the University by the Vice-Chancellor, Professor S Bruce Dowton and Nicole Gower, Director, Human Resources.
We asked Distinguished Professor Mark Westoby and Carolyn Wivell, who this year celebrate 40 years of service to the University, about the changes and highlights they've experienced during their time.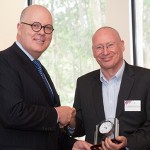 For Distinguished Professor Mark Westoby from the Department of Biological Sciences, the important things take decades to happen. "What's most worth remembering is how we've built a real university – planted the gardens and made artwork for the walls, written curriculum that's ahead of the textbooks, graduated PhDs who became leaders at other universities, and published the papers that established our recognition on the world research scene."
Mark says if he had to pick one memorable moment from the past, it would be the several dozen Biological Sciences research students who have won best-presentation and best-research awards at national conferences.
"It has been a privilege and a pleasure to work here for so long," says Caroyln Wivell, Information Services Librarian. "Though it is a cliché, the highlights for me have been the vast array of fantastic people I have met over the years and abiding friendships."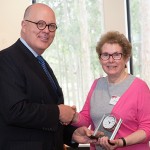 Carolyn says for her, a very memorable moment was being in the old Library the evening it was struck by lightning. "It was a Friday and the lightning strike mucked-up the electronics so the fire alarm sounded all weekend. I can't remember the year but it was the late 80s. I still have somewhere a chunk of concrete that was knocked off the building."
As for the changes Carolyn has seen during her time here, the biggest are the campus developments. "When I started there were only a few 'tallish' buildings, a central lawn and the rest was largely red mud or dust – depending on the season. We are very lucky to have a university on a campus that is so beautiful."
Congratulations to all our long serving staff
40 years of service
Carolyn Wivell
Distinguished Professor Mark Westoby
25 years of service
Suzanne Curtis
Associate Professor Tony Bryant
Associate Professor Pamela Coutts
Maree Nelson
Hazel Green
Kathy Wheeler
Associate Professor Jun Ma
Professor Tony Parker
Dr Michael Dobbie
Liz Lee
Pam Morpeth
Andrea Ruttenberg
Associate Professor Archana Parashar
Associate Professor Hope Ashiabor
Jenny Nicholls
Associate Professor Rein Vesilo
Professor Peter Karuso
Dr Samantha Sin
Professor Catriona Mackenzie
Dr Alison Vicary
Kayo Nakazawa
Peter Adams
Dr Peter Dekker
Hedda Paisley
Coral Vangsnes
Elsa Mardones
Jane Kim