Monday 12 October marked the beginning of a new era in the way we tell our story online, as well as the way we connect with prospective students, industry partners, and both our local and international communities. Our new public website, mq.edu.au, is live and ready to explore.
"Since work on our new site began last year, considerable time and effort has been invested to create a world-class user experience," says Professor David Wilkinson, Deputy Vice-Chancellor (Corporate Engagement and Advancement). "Every element of our new site has been carefully considered and was designed based on extensive consultation with our key audiences.
David adds the site is fully optimised for mobile devices and provides a consistent experience for our audiences regardless of the technology they use to access it.
For staff well versed with our old site, the changes are significant.
"When you first enter you'll immediately notice several key differences. Aside from the reduction of more than 10,000 pages, the new design is dramatically streamlined, removing unnecessary barriers for our audience to find the information they're looking for," says David.
The site makes use of dramatic and engaging imagery to visually tell our story, and its navigation has been vastly improved, with an enhanced focus on the user experience. The site's search functionality has also been upgraded to further improve our audience's ability to find what they're looking for.
How to access the Library, student, and staff sites

For those who regularly access the staff and student facing websites, access can be found by clicking on the 'hamburger' icon on the top right hand side of the navigation bar.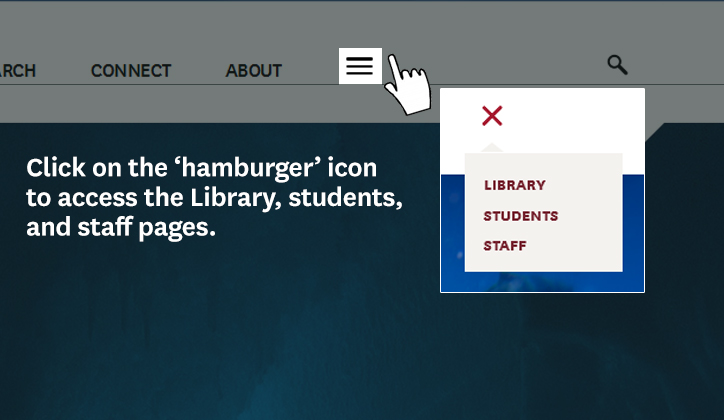 Staff who use the public website on a daily basis as part of their job, are advised to familiarise themselves with the new locations of their content, and pages they regularly access.
Bookmarks
For staff who use bookmarks, it is recommended you delete them from your browser, find the page again, and re-bookmark the page as some pages may have moved resulting from the new navigational structure.
Explore the new site for your chance to win
To celebrate this milestone, all members of the Macquarie community have the opportunity to take part in an online treasure hunt for the chance to win one of 10 $100 Lonely Planet vouchers.