Hundreds of students graduated last week alongside a number of high-profile Australians recognised with honorary doctorates for work in their respective fields, as more than 8000 guests joined a global audience via live-streaming to witness six ceremonies for Business and Economics students.
Heather Ridout AO, acknowledged as one of Australia's 'True Leaders' by the Australia Financial Review's Boss Magazine,  was recognised with a Doctor of Business honoris causa on Monday 29 September, for her considerable contributions to business, industry and indigenous education promotion.
"I am deeply honoured to receive this honorary doctorate from a great university," Ridout says. "I've had a long association with Macquarie University and that makes this honour doubly special."
Australian swimming legend Ian Thorpe OAM also received an honorary doctorate, in recognition of his outstanding contributions to both sport and philanthropy.
"This extraordinary swimmer has a special connection to our University," says Vice-Chancellor, Professor S. Bruce Dowton. "He was often seen across campus while he studied towards a Bachelor of Arts degree, and trained for the Olympics in our sports centre."
One of the world's most powerful and influential women banking executives, Gail Kelly, also received a Doctor of Business honoris causa on Wednesday.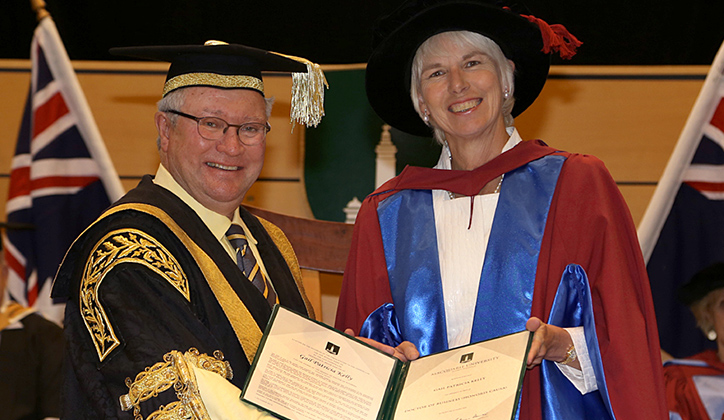 "Receiving this degree from Macquarie University is very special recognition and I am both honoured and delighted," said Kelly. "I've always admired the University for its outstanding reputation and first class facilities."
Kelly began her banking career in 1980 in South Africa, and by 2001 had held various senior management roles in a broad range of areas, including retail and commercial banking, strategy, marketing and human resources.  She has spent the last twelve years as CEO of two Australian banks; St.George Bank from 2002 to 2007 and Westpac from 2008 to date.
Gail is Chairman of the Australian Bankers' Association, and sits on the Business Council of Australia, the Financial Markets Foundation for Children, the Prime Minister's Indigenous Advisory Council, and is also CARE Australia's Ambassador for Women's Empowerment.
"We are delighted to recognise Ms Kelly for her outstanding contribution to business and gender equality," said Vice-Chancellor Professor S. Bruce Dowton. "Her address was a unique opportunity for the next generation of leaders to hear from one of the world's most successful businesswomen, who encouraged them to have 'generosity of spirit', in their new careers and beyond."