Our Spring graduations are off to a flying start, with senior Indigenous elder 'Uncle' Ronald Heron, movie star Cate Blanchett, Heather Ridout AO and Emeritus Professor Gillian Triggs  among those to receive Honorary Doctorates so far.
We also celebrated our first Indigenous graduates of the Master of Indigenous Education, and our first Indigenous woman to graduate with a law PhD.
Staff have also been amongst the first round of graduands.
Alumni Relations Administrative Assistant Chloe Braithwaite has assisted at her fair share of graduation ceremonies, but last week she experienced the flip side and accepted her Bachelor in Science – Psychology.
"I've actually worked at so many ceremonies, so it felt a bit bizarre. It's definitely exciting though, and there's a real sense of accomplishment," said Chloe.
Carmen Germain, Clinical Psychology Registrar in the Counselling Service, Campus Wellbeing, also accepted her Doctorate of Clinical Psychology after six years of study.
"I have had the full support of my managers and amazing colleagues throughout the degree, and of course it has been very convenient being in the one location for work and study.The support and supervision through the Centre for Emotional Health (Department of Psychology) has been fantastic, and the quality of the teaching and placement opportunities was exemplary," said Carmen.
Payroll Operations Coordinator Helen Hoare accepted her Bachelor of Arts – Ancient History on Friday.
"I am thrilled – it has been a long time coming and I am really happy to have finally finished my degree!" said Helen.
"I will be graduating in my Grandfather's mortarboard from the 1940s. He was a Classicist, and I am very happy to have followed in his footsteps for this degree."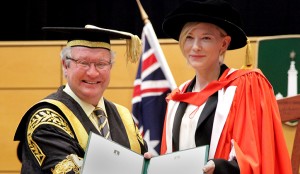 And it was a family affair for 70-year-old Dr Camilla Gordon, who was awarded her astronomy PhD. Not only was she joined on stage by her 71-year-old brother (also a prominent astronomer) in the academic procession, her daughter – an actor based in New York – got to see Camilla graduate alongside Cate Blanchett.
Congratulations to all the staff and students graduating this season. We tip our trenchers to you!
See some of last week's social media highlights: