Improved fitness and boosted self-esteem are just some of the benefits staff are reporting from our Weight Loss Warriors Program.
Centre for Open Education Student Experience Manger Pepi Weinrauch is celebrating an impressive 26 kilograms lost on the program so far.
"I used to think gyms were full of critical people who would look down on me as an overweight person, but not anymore," said Pepi.
Pepi says the program trainers and her fellow weight loss warriors have become wonderful friends.
"The atmosphere in the gym is very supportive and at times hilarious," she said. "We have a lot of fun. Not only did I gain in fitness and self-esteem, but the inner strength I found by pushing myself was an unexpected benefit. I didn't know how strong I could be until I signed up for the program."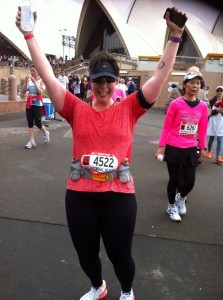 Project Manager from the Office of the Deputy Vice-Chancellor (Research) Dr Erin Semon credits the trainers for helping her transform from a casual gym-goer to running her first half-marathon.
"Through my time in the program I learned that reaching my healthy weight range wasn't about cutting things out, it was about adding healthy, sustainable and long-term diet and exercise habits in," said Erin.
Erin says it was the program's personal trainers who helped her make the changes she needed.
"They are positive, knowledgeable and professional fitness leaders who developed and led the program with enthusiasm and expertise," she said.
Weight Loss Warriors eight week program
Who: Open to all staff (non-gym members also welcome)
When: Commences Monday 29 September. The eight-week program runs from 6.30am to 7.30am each Monday, Wednesday and Friday morning.
Where: Macquarie University Sport & Aquatic Centre
Price: $270 for the full eight-week program (10% staff discount off the regular $300 program price)
For more information and to register call ext. 7636 or email healthclub@mq.edu.au.