The newly refurbished Senate room was inaugurated at the Academic Senate meeting last Friday. "The new physical space is symbolic of the deeper changes that are afoot for Senate in the coming months" said the Chair of Academic Senate, Professor Dominic Verity.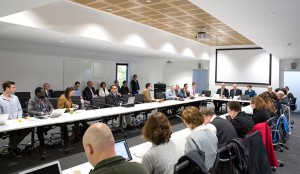 Professor Verity hopes that the revamped Senate room will be known as a place where free enquiry is welcomed, and open debate is encouraged about important academic matters affecting the future of Macquarie.
Vice-Chancellor Professor S Bruce Dowton supports the Chair's desire to reposition Senate's role within the University. "Senate must become more strategically focussed and less about the operational detail of the University" he said.
To that end, two workshops are being organised for later in the year that will explore the role and purpose of Academic Senate, raise the profile of academic governance, and identify ways to boost interest and engagement in Senate business.
One of Professor Verity's greatest priorities is to improve engagement, collegiality and communication about academic governance with both students and staff. "Our renewed communication strategy is centred around accessibility and transparency. Our aim is to communicate early and effectively utilising channels which enable two-way communication with the broader University community," he explained.
Professor Verity emphasised that broad-based representation is vital for effective academic governance and looks forward to welcoming more stakeholders to the conversation.
"It is an exciting time to be a part of Senate, and not only because no we've got the best meeting room in the University. I am looking forward greatly to the journey ahead," said Professor Verity.
Find out more about the Academic Senate.