A 'learning circle' was unveiled this morning to honour our long-standing relationship with the Darug people, the traditional occupants of the lands on which Macquarie is built, and also to pay respects to the elders both past and present.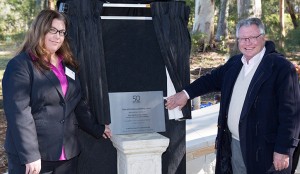 Hosted by the Department of Indigenous Studies (Warawara), the launch event saw Vice-Chancellor Professor S Bruce Dowton joined by members of the Darug nation for the unveiling of the 'learning circle', which will be a permanent feature on our campus.
Purposefully built to provide a culturally safe place for yarns, community meetings and other Indigenous events, the sacred space acknowledges the significance of this style of sharing for Aboriginal people as a way of handing down knowledge.
The Jubilee event commenced with a Welcome to Country and Smoking Ceremony conducted by respected Elder Lexodious Dadd (known as Uncle Lex), followed by a traditional dance performance, and the unveiling of a plaque to mark the continuation of our relationship.
Other speakers included the Head of Warawara, Associate Professor Michelle Trudgett, an Indigenous scholar from the Wiradjuri Nation in Central-West New South Wales, and Auntie Elaine Chapman, a Wiradjuri woman and Elder in Residence at Warawara, who provides cultural support for Indigenous students and staff.