Take part in a quick and easy health check to help understand your current levels of health and wellbeing, and help to ensure better health, happiness, resilience and sustainability on campus.
Last year almost 400 staff took up the opportunity and gained advice on how to live a healthier lifestyle both in and out of the office. The results of those who participated assisted in the development of the Staff Wellness Program.
The health checks involve an online assessment and a 20 minute practical assessment. Sessions run from 9am to 5pm on the following days:
Thursday 24 July
Friday 25 July
Monday 28 July
Tuesday 29 July
Warrior Walk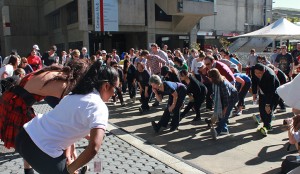 As part of Health Week on campus (24 to 30 July), staff are invited to take part in the annual Warriors@Work Warrior Walk, a 2km stroll around campus with colleagues, culminating with a delicious, healthy homemade soup for lunch.
The Walk demonstrates how easy it is to include healthy exercise and food into a working day, and is a great opportunity to catch up with friends around campus.
Date: Wednesday 30 July
Time: 12.30 to 1.30pm
Location: Central Courtyard