Staff, colleagues and friends gathered last week to bid farewell to Human Resources Director Tim Sprague at an event celebrating his 10 years of service.
"It's been a challenge, a rollercoaster ride, but it's been a pleasure" said Tim, "Macquarie is a vibrant, growing institution that has two core purposes – education and discovery – two purposes I'm very proud to have been part of".
Tim shared stories of his time at Macquarie, including his challenges and successes, lifelong friendships made, and his plans for the future.
"I've had lots of fun here and I leave with a mixed range of emotions," said Tim. "Regret at leaving such a wonderful workplace, happiness and relief that I'll be able to spend time working on my new career and with my family, but most of all gratitude. We've achieved so much and none of it's been done on my own – all of it has been achieved with support from so many people across the organisation."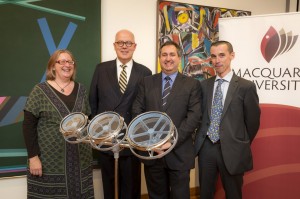 The Vice-Chancellor expressed his highest regard for the tremendous work over the past 10 years that Tim has done for the University.
"Tim has been a terrific friend and colleague and I appreciate that greatly," said Professor Dowton. "Tim has seen many changes in how Macquarie has modernised its approach towards the management of the most valuable resources we have, and that's our people."