Macquarie University's Library and Art Gallery have each received major recognition from peak industry bodies this weekend, highlighting their vibrant role in the broader community.
Australia's favourite university library
The Library was voted Australia's favourite university library, in a public poll run by the Australian Library and Information Association.
Libraries were nominated and voted on by Australia's public, with 223,768 votes submitted online, by phone, email and text message. Today's announcement on Australia's Favourite Library is launching Library and Information Week 2014.
"We're thrilled to receive this accolade and we're especially pleased that it has come from the votes of our library users," said JoAnne Sparks, University Librarian. "We'll continue to do everything we can to stay Australia's favourite university library."
A MAGNA for a magnificent exhibition
Also over the weekend, Museums Australia presented a MAGNA (Museums & Galleries National Award) to the Macquarie University Art Gallery for its current Affinities exhibition.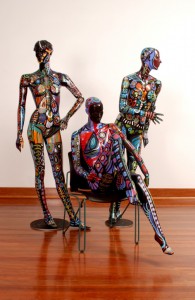 "The award was given in the category of exhibition (temporary), against some tough competitors, including the National Gallery of Australia,  Australian War Memorial and Australian Museum," says Rhonda Davis, Senior Curator.
"Affinities: 7 Museums, 50 objects" is one of a number of special displays in celebration of the University's Golden Jubilee Year, open to the public in the University Art Gallery until 25 May.
Affinities has seen the University's museums and collections join together to reveal their interdisciplinary relationships through their most exciting pieces – from mummies to microscopic samples.
Curating this multifaceted and eclectic display is a team of over 20 curators, researchers and academics, who are passionate about sharing the stories within the University for a broader audience.
"The exhibition not only unveils stories and insights into the tastes and values of cultures and societies, but also those that have shaped Macquarie University's extraordinary collections since we were founded in 1964," says Davis.
Included on public display for the first time is the Lewis Morley Library archive, a recent donation to the University.
During the launch of Affinities, Professor John Simons, Executive Dean of the Faculty of Arts also said, "Macquarie University is blessed with a range of collections reflecting the interests of its Collegiate body and, in this Jubilee Year, it seemed appropriate to celebrate those assets, both physical and intellectual, with an exhibition that brought together objects from across the range of our holdings."
Visit the Library and Art Gallery.