Dr Sharon Cameron and Professor Harvey Dillon, Department of Linguistics
Award for innovative hearing software
Auditory training software developed by Dr Sharon Cameron and Professor Harvey Dillon from the Department of Linguistics has been awarded the prize for Service Delivery – Hearing and Auditory Rehabilitation at the 2023 Hearing Technology Innovator Awards in the United States. The training software, Sound Storm, is an updated version of the LiSN & Learn auditory training software that was developed as part of Dr Cameron's NHMRC Public Health Training Fellowship and has been proven to reverse spatial processing disorder (SPD) in children after just 10 weeks of use at home. SPD is a type of auditory processing disorder that impacts the ability to understand speech in noisy environments such as classrooms and is a common long-term consequence of protracted otitis media (middle ear disease) in the first five years of life. Development and evaluation of the software was conducted while Dr Cameron and Professor Dillon worked at Australian Hearing Hub partner National Acoustic Laboratories. They have both since moved to Macquarie University, where they are continuing to investigate auditory processing disorders.
---
Macquarie Business School maintains strong position in 2024 QS Business Master's Rankings 
The 2024 QS Business Master's Rankings have been announced and Macquarie Business School has remained in the top two Australian business schools for each business masters ranking.
Master of Marketing – #1 in Australia (#28 globally)
Master of Applied Finance – #2 in Australia (#39 globally)
Master of Management – #2 in Australia (#71 globally)
Master of Business Analytics – #2 in Australia (#71-80 globally)
Commenting on the result, Professor Eric Knight, Executive Dean of MQBS, said, "This result is a testament to our incredible academic and professional staff in the Macquarie Business School and I would like to extend my gratitude to them for all their hard work and dedication to the school and our students. As a faculty, we work to rethink, reimagine and rewrite the rules of business, so our community of students, staff, alumni and partners can find their purpose and make a difference. This result will certainly energise us for the future."
Read more here.
---
Commercialisation award for the Australian Hearing Hub
Macquarie University's Australian Hearing Hub (AHH) has won the award for Best Knowledge Exchange Initiative in the 2023 Knowledge Commercialisation Australasia (KCA) Awards. The award was accepted on behalf of the AHH by Macquarie's Dr Kathryn Sunn, Director, Commercialisation, and Katrina Avery, Director, Partnerships, at the KCA Annual Conference on the Gold Coast on 11 October. The KCA Awards recognise excellence in research commercialisation, highlighting its impact on society and the critical role played by technology transfer and research commercialisation professionals in translating publicly funded research into real-world solutions.
---
2023 Chloe Munro Scholarship recipient
Dr Madeline Taylor, from the Macquarie Law School, is a recipient of the Clean Energy Council's 2023 Chloe Munro Scholarship for Transformational Leadership. Now in its third year, the scholarship supports women who are emerging leaders in the fields of clean energy, energy management and carbon abatement. As one of four 'Executive Ready' winners, Dr Taylor will undertake the seven-month development program for middle to senior leaders. Read more here.
---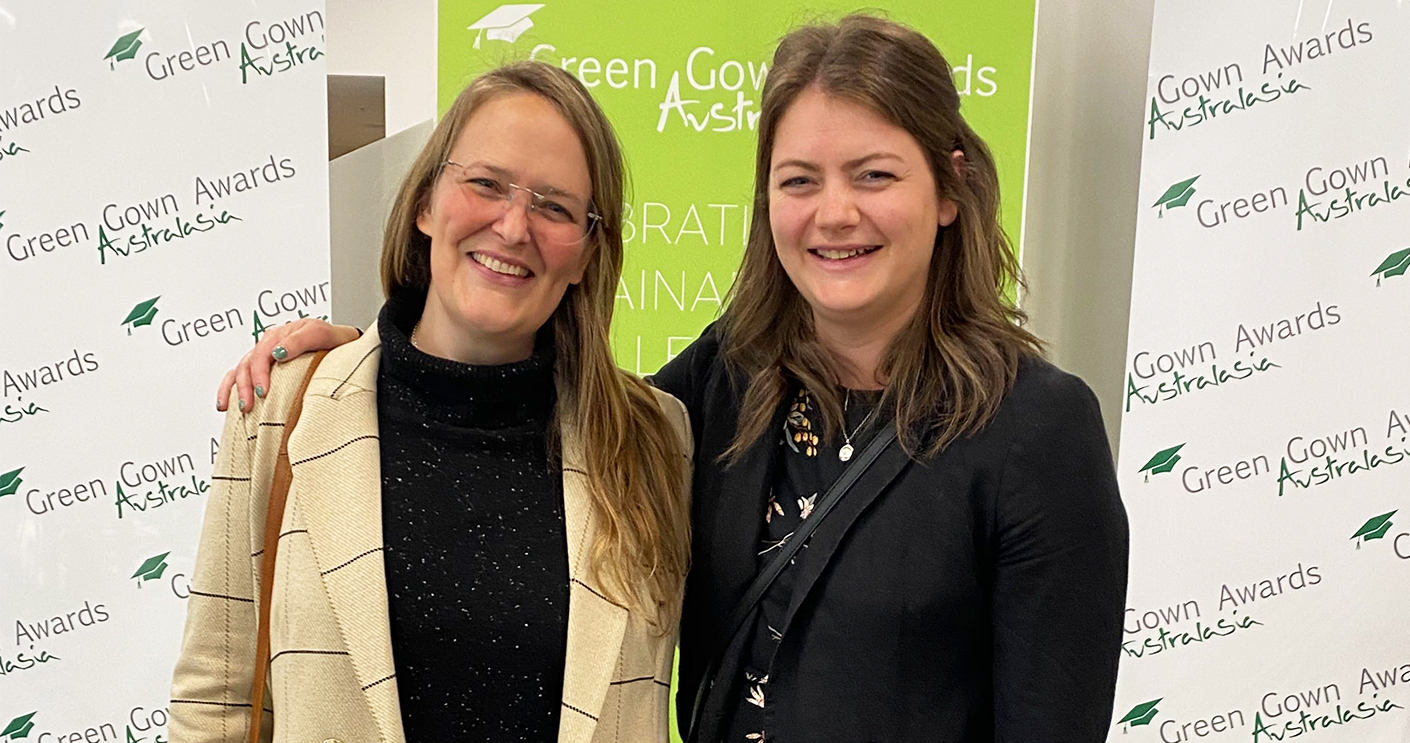 Anneke Rowe Courtemanche, Manager, Global Leadership Program (GLP), and Emma McCullough, GLP Advisor and Sustainability Challenge lead at the Green Gown Awards ceremony earlier this month.
Green Gown Awards nomination for Global Leadership Program

The Global Leadership Program was thrilled to be nominated as a finalist in the 2023 Green Gown Awards Australasia for its online sustainability challenges, under the 'Creating Impact' category. The category recognises those who have achieved significant sustainability-related outcomes using minimal and/or limited resources. The sustainability challenges are popular online, self-paced, action-based, co-curricular programs designed to both educate participants in major sustainability issues and to establish long-term behavioural change through small-habit building.
---
Academy of Social Sciences Fellow announced
Professor Michelle Arrow, from the Department of History and Archaeology, has been elected as a Fellow of the Academy of Social Sciences in Australia. The fellowship recognises outstanding contributions to the advancement of social science knowledge and impact. Professor Arrow is one of Australia's leading scholars in Australian postwar political, social and cultural life. Her research has made significant contributions to knowledge of histories of the post-war Australian political and social landscape, popular culture, feminist and gay and lesbian activism, and the depiction of history in the media. Through both sole-authored and collaborative research, she has investigated the ways that activism centred on questions of gender and sexuality have had a transformative impact on the rights and protections of Australian citizenship in the late 20th century.
---
Australian Academy of Health and Medical Sciences Fellowship

Professor Johanna Westbrook, Director of the Centre for Health Systems and Safety Research at the Australian Institute for Health Innovation, has been made a Fellow of the Australian Academy of Health and Medical Sciences (AAHMS). Professor Westbrook is recognised internationally for her research evaluating the effects of information and communication technology in healthcare. AAHMS Fellows are elected by their peers, based on their exceptional contributions to the fields of health and medical science.
---
Google Award for Inclusion
Macquarie University Hearing ECHO Lab researchers, Dr Yvonne Tran and Dr Kelly Miles, have won a prestigious Google Award for Inclusion Research for 2023. The award celebrates academic research in computing and technology that champions the needs of historically marginalised groups across the world. Dr Tran and Dr Miles' research focuses on the development of sensor-fusion empowerment networks designed to make communicating in noisy environments more accessible for people who use hearing devices – and ultimately to support everyone who finds it challenging to communicate in noisy spaces. Competition was keen, with a pool of international applicants vying for the award and its US$65,000 prize money. Dr Tran and Dr Miles' project was selected for its unique approach and its potential to instigate substantial societal transformation.