"Astronomy Open Night was a perfect encapsulation of the passion and enthusiasm of the Macquarie community for everything related to astronomy," says Professor Lucy Marshall,  Executive Dean of the Faculty of Science and Engineering.
The sold-out event, held annually at Macquarie since 1988, took place across a number of sites on Wallumattagal Campus on Saturday 23 September.
"It was fantastic to see enthusiastic people of all ages share their curiosity and excitement for space and science," says Professor Marshall.
---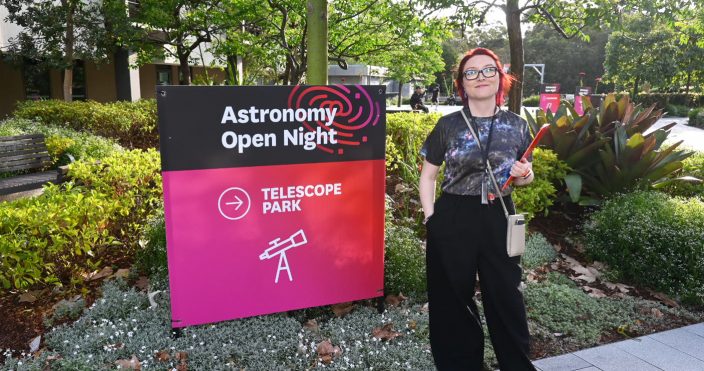 Kelly Sharpless, Faculty of Science and Engineering's Outreach and Engagement Lead
---
Many Astronomy Open Night activities aimed to interest younger children in science, and organiser Kelly Sharpless, Faculty of Science and Engineering's Outreach and Engagement Lead, says the feedback from attendees showed the event hit that mark.
When Professor Marshall welcomed the audience to the first of three Physics Magic Shows, she noted that the show was more than magic, it was also about inspiring the next generation of scientists by teaching them some physics.
"When Lucy asked the audience to raise the energy in the room by cheering as loudly as they could, it was incredible, the room was electric," says Ms Sharpless.
---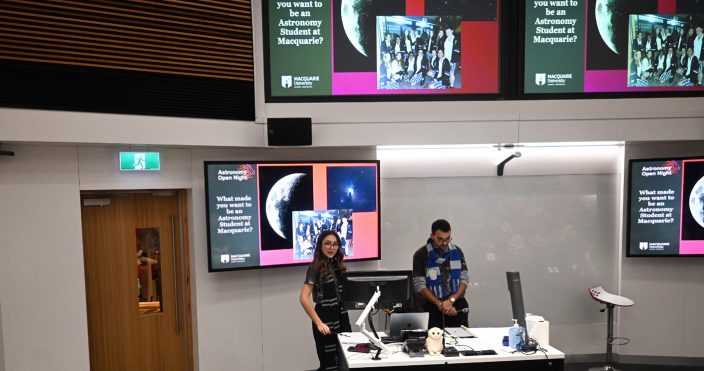 ---
Hundreds of visitors attended both Professor Tara Murphy's keynote Public Lecture, One hundred years of trying (and failing) to prove Einstein wrong, and a series of around a dozen short talks on different aspects of astronomy and science.
Astronomy and astrophysics students Claudia Fava and Adem Ozer delivered a lecture to an enthusiastic audience of potential physics and astronomy students about their own experiences.
"Astronomy Open Night provided an exciting avenue for us as students to connect with the public and share our passion for astronomy and science," says Claudia. "Through this engagement, we were not only able to ignite the public's curiosity, but also cultivate a deeper appreciation for the mysteries of the cosmos."
Ms Sharpless says that this year's event – her fourth – had a great layout, with activities spread across the campus from the Central Courtyard up to the Observatory.
Popular sessions included: the Physics Magic Show, which filled a 500-seat lecture theatre three times during the night; Planetarium sessions, which saw people queuing to ensure they didn't miss the fabulous pop-up domes; the Scientists' Spotlight, where academics from across the faculty sat down with curious visitors to answer all kinds of science questions; and the Cosmic Arcade, run by student societies from the School of Computing.
Popular science communicator Rachel Rayner was under the spotlight at UBar, where she presented two sessions of her popular science show, A Flying Photon, to a packed audience, while hundreds of people walked through the scale model of the solar system on their way to the telescope park and Astronomical Observatory.
---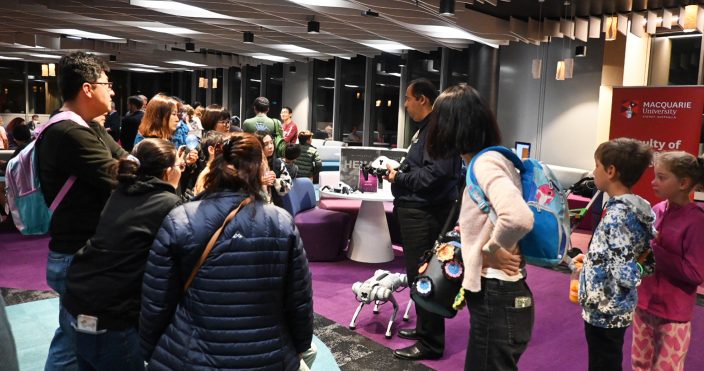 ---
Sponsors Bintel Australia gave away a dwarf telescope to one lucky visitor in a treasure hunt competition, while co-sponsors Canon Australia hosted the Canon and Huntsman Telescope Exploratorium, with live-streamed footage of the galaxy beamed in from Macquarie astronomers operating the Canon Huntsman Telescope in Coonabarabran. Canon's photography experts also gave some astronomy photography tips.
Speaking about the importance of the evening, Ms Sharpless says: "It is just the best feeling in the world to know that you have been a part of putting this event together. And one day, in 10 years' time, someone who came to that magic show during Astronomy Open Night could be enrolling in their first physics class."