If you are anything like me, you want things at work to… well, work. When our systems work well, and we are sharing information effectively across the organisation, our time is freed up for the things that matter. In an organisation like Macquarie, that means better outcomes for our students and the people who benefit from our research and clinical services.
Earlier this year, the Vice-Chancellor highlighted our focus on improving internal communication at Macquarie as a key deliverable of the Our People stream of the Operating Plan 2020-2024. We knew Macquarie staff wanted a reliable and user-friendly way to stay up to date with activities across the University, find the information they needed more easily and perform everyday work tasks as quickly as possible.
This is why we invested in improving the employee experience at Macquarie with the development of a new staff intranet – a personalised central hub to give staff a 'one-stop-shop' for the information and tools they need.
The project team and working group have been working hard, in collaboration with teams across the University, to bring this vision to fruition and I am excited to announce that we will be going live with our new staff intranet on 5 December.
Here are some of the things you can look forward to.
A personalised experience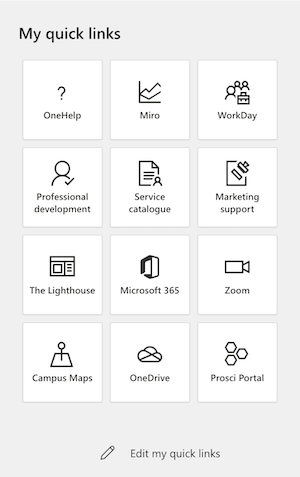 With fully customisable homepage quick links, one-click access to your most recent Microsoft files and sites, and news and events feeds that are based on your work area and job function, the staff intranet has been designed to be your personal hub, and a place to start every working day.
Streamlined and up-to-date resources
A full overhaul of staff portal pages means information and tools, including a new service catalogue, will be easier to find when you need them. With the intranet built in the easy-to-use SharePoint Online platform, content owners will find it easier to keep pages updated and will have dedicated support for content management and governance.
Real-time communication
University news, leader communication and important operational updates can be quickly and easily shared on the intranet, reducing our reliance on emailed newsletters (and the burden on staff email inboxes). Alerts functionality will allow us to communicate emergencies and system outages quickly.
Responsive and integrated
The intranet will provide a significantly improved experience for staff using mobile or tablet computing during their working day, and being SharePoint Online, it will integrate seamlessly with other SharePoint sites and the Microsoft applications we use in our everyday work.
More information about our new staff intranet, including user guides and information for content owners and publishers, will be shared in This Week as our 5 December launch date approaches. I can't wait to see how the intranet improves my working life, and yours.
---
If you have questions about the new staff intranet, please contact Lauren Bradshaw, Intranet Business Lead: lauren.bradshaw@mq.edu.au.