Professor Sakkie Pretorius, Sadhana Singh, Khalia Ackermann, Professor Ronika Power, Velina Serafimova, Professor Simon Handley, Maksym Mohorian, Deepak Chahal, Thomas Montefiore, Zairul Nurshazana Zainuddin, Jo DowlingSoka, Melissa Reed, Karen Woo, Professor Jen Cornish. Absent: Frigg Speelman, Connie Henson
Macquarie's Three-Minute Thesis (3MT) competition finals were held on Thursday 7 September. The competition's prestigious judging panel consisted of Professor Sakkie Pretorius, Deputy Vice-Chancellor (Research), Professor Simon Handley, Pro Vice-Chancellor Graduate Research and Professor Ronika Power from the Department of History and Archaeology.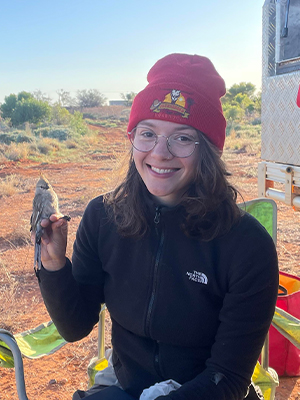 School of Natural Sciences PhD candidate Frigg Speelman was thrilled to learn that she had won Macquarie's Three Minute Thesis competition with her video presentation titled Children of Divorce: what we can learn from the animal kingdom.
Frigg, who is a cotutelle PhD candidate with both Macquarie University and the University of Groningen in the Netherlands, arrived in Australia this April. She has spent the last month doing fieldwork at the Fowler's Gap Arid Zone research station, more than a hundred kilometres from Broken Hill.
The thirteen-hour drive to the University from Fowler's Gap meant that Frigg found out she had won via text message – and says she was amazed and very happy to hear the news.
"I was very hesitant to enter the Three Minute Thesis," says Frigg.
"Public speaking makes a lot of people nervous and I was uneasy about filming myself, but Professor Simon Griffith encouraged me and I also wanted to take on this challenge for myself," she says.
Frigg's research explores what happens to the offspring of wild birds who split with their breeding partner, if they are from a species that is typically socially monogamous. "I'm doing something that's never been done before," she says.
Frigg spent the first two years of her PhD focused on the Seychelles warbler, a small and endangered tropical bird that is only found on a few islands in the Indian Ocean.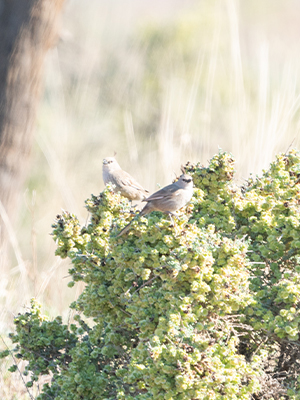 In Australia, she works with the Chirruping Wedgebill (pictured right), found mostly in inland Australia. "The little information known about these birds is that they're relatively sedentary and they are socially monogamous, which fits into my research on bird partnerships," she explains.
Three volunteers and a masters student are currently helping with her research. "We go into the field each day to catch birds, tag them and record their behaviour," she says.
Biologists have studied the Seychelles warbler for decades, producing multigenerational data on the entire life trajectories of hundreds of birds, she says – but nobody has yet measured the impact of parental breakups on their offspring.
Frigg's work examines biomarkers that measure birds' health and risk of mortality, taking blood and DNA samples and other indicators like bodyfat, and looks at how long they live and how many offspring they produce, comparing birds whose parents divorced with those whose parents are still together.
"My PhD will provide new insights into how switching romantic partners can have multigenerational implications in species other than humans," she explains.
Professor Simon Griffith says that Frigg's study forms a bridge from Australian animal behavioural research into other locations such as Europe where there are often decades of work.
"Frigg is also now working in the Australian environment, which is very different from her previous work in the tropics and can help us to understand how birds behave slightly differently in different ecological situations," he says.
Professor Griffith was delighted to hear that Frigg's presentation won the University finals, and said she had an outstanding presentation.
He notes that students who do the three-minute thesis gain some useful new skills.
"They learn to distil their work down to make a compelling story in a very small amount of time – and Frigg did a great job of communicating her science in a way that makes it very relevant to people."
---
Congratulations to the winners:
Winner
Frigg Speelman
School of Natural Sciences, Faculty of Science and Engineering
Children of divorce: what we can learn from the animal kingdom
Frigg will proceed to the Asia-Pacific 3MT Semi-Finals on Monday 25 September.
Runner up
Karen Woo
School of Education, Faculty of Arts
Kinder Surprise or Failed Experiment – How well are kids learning to code in schools?
Second runner up
Khalia Ackermann
Australian Institute Health Innovation, Faculty of Medicine, Health and Human Sciences
Investigating sepsis survivor health
People's choice
Thomas Montefiore
Department of Philosophy, Faculty of Arts
The Gamer's Dilemma
---
You can support Frigg by voting in the People's Choice ballot via a poll on the 3MT website.
The winner of the People's Choice will also progress to the Asia-Pacific 3MT Final on Wednesday 18 October alongside the eight finalists chosen by the judging panels.
The 12 Macquarie finalists will also take part in a spotlight interview on 2SER radio.
Listen to last year's finalists here.