Pictured L to R: Annette Daniels and Geraldine Daniels, daughters of Honorary Doctorate recipient, the late Cherry Daniels OAM; Vice-Chanceller S Bruce Dowton; Chancellor Martin Parkinson; and Honorary Doctorate recipients Helen Gabibi Rogers and Kevin Guyurruyurru Rogers.
---
The grandeur of last week's graduation ceremonies was underscored by the conferring of four Honorary Doctorates, with recipients awarded Macquarie University's highest honour for their passionate leadership and advocacy work.
Her Excellency the Honourable Margaret Beazley AC KC, Governor of New South Wales, received a degree of the Doctor of Law (Honoris Causa) in recognition of her deep commitment to education, youth leadership and social justice. Kevin Guyurruyurru Rogers, Helen Gabibi Rogers and the late Cherry Daniels OAM were each awarded the degree of Doctor of Letters (Honoris Causa), acknowledging their tireless commitment to education in south-east Arnhem Land. Ms Daniels' daughters Annette and Geraldine accepted the posthumous degree on her behalf.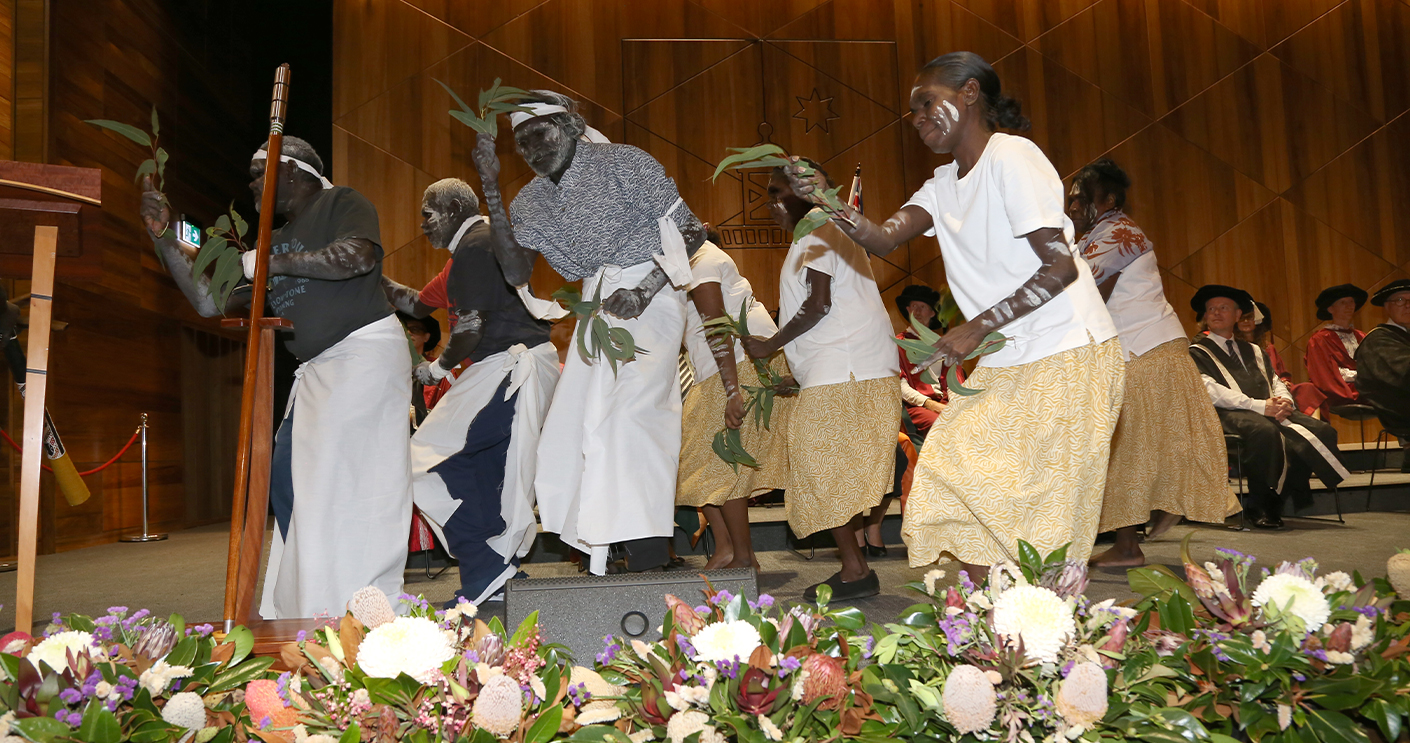 Their graduation ceremony had the added significance of opening with First Nations dancers and songmen, who led the academic procession in a tribute to the guests of honour, and to Country. This was the first time in Macquarie University history the academic procession did not mark the opening of a graduation ceremony.
An indefatigable trio, Mr and Mrs Rogers and Ms Daniels were integral to the establishment of the Wuyagiba Study Hub, which was officially opened between the remote communities of Ngukurr and Numbulwar, in Arnhem Land, in 2018. Colloquially known as the 'Bush University', the Study Hub works in partnership with Macquarie University to provide a two-way education (Aboriginal and non-Aboriginal knowledge) as well as a university pathway for local Aboriginal students. Mr and Mrs Rogers are both bush professors, while Ms Daniels created a legacy as one of two Elders who promoted the vision for the creation of the Study Hub.
Vice-Chancellor Professor S Bruce Dowton said: "By sharing their cultural knowledge with young people, Kevin and Helen have helped students become leaders and role models for their community and develop academic skills that will support them at university and help them attain tertiary qualifications."
He continued: "Cherry Daniels' work to bridge the communication and knowledge gaps between Aboriginal and Western culture is an incredible legacy. She was an outstanding leader and mentor for thousands of Aboriginal and non-Aboriginal people, especially women, across the Northern Territory and beyond."
Earlier in the week, Governor Beazley was honoured for her substantial contribution to education and beyond.
Before becoming the 39th Governor of NSW in 2019, Governor Beazley enjoyed a distinguished legal career, during which – among many milestones – she was the first woman to be appointed a judge of the Federal Court of Australia in 1993, the first woman appointed to the New South Wales Court of Appeal in 1996 and the first woman to be appointed its President in 2013.
In addition, Governor Beazley has contributed to the development of the law through her involvement in academic activities, and maintained strong involvement in the community, including via her time on the Australian Executive of Amnesty International and through work with Women's Community Shelters, particularly during the COVID pandemic.
"It is fitting that we recognise Her Excellency for her storied career, her advocacy for diversity, education and the community, her mentorship of aspiring legal professionals, and her ongoing service to the people of New South Wales," said Professor Dowton.