At Macquarie, we have a rich and diverse community of staff and students who have different belief systems and come from different cultural backgrounds.
On Thursday 23 March, many of our staff and students will begin observing the Islamic holy month of Ramadan.
Tazin Abdullah is a higher degree researcher and a sessional teaching academic in the Department of Linguistics who has been working at Macquarie for 14 years. We asked her to share her insights on the cultural significance of Ramadan and how our community can support Muslim colleagues and students during this spiritual time.
---
What does Ramadan mean to you, Tazin?  
For me, abstaining from consuming food and water is symbolic of emptying the soul in preparation for the spiritual sustenance Ramadan brings. It is a time of quietness, contemplation and a reminder of our moral and spiritual obligations towards ourselves and those around us. It is also a time when we give more and help more, with the desire that those acts become a part of our constant practices. Ramadan rejuvenates the soul and provides spiritual energy for the year ahead.
---
What will you be doing to observe Ramadan and celebrate Eid?
During Ramadan, I make the conscious effort to set aside more time than usual for prayer and solitude. I try to slow down a little. This period brings a marked change to our routines as we only eat one significant meal each day when breaking the fast at sunset. This meal, known as Iftar, is very special and becomes something of a celebration with family after each day of fasting.
The end of Ramadan brings an end to daily fasting, and with it, the immense joy of Eid. Eid is much like the reward of the daily Iftar but so much bigger. We decorate our houses and share food and gifts with family, friends and our community. Eid feels like the metaphorical fruits of a tree planted during Ramadan.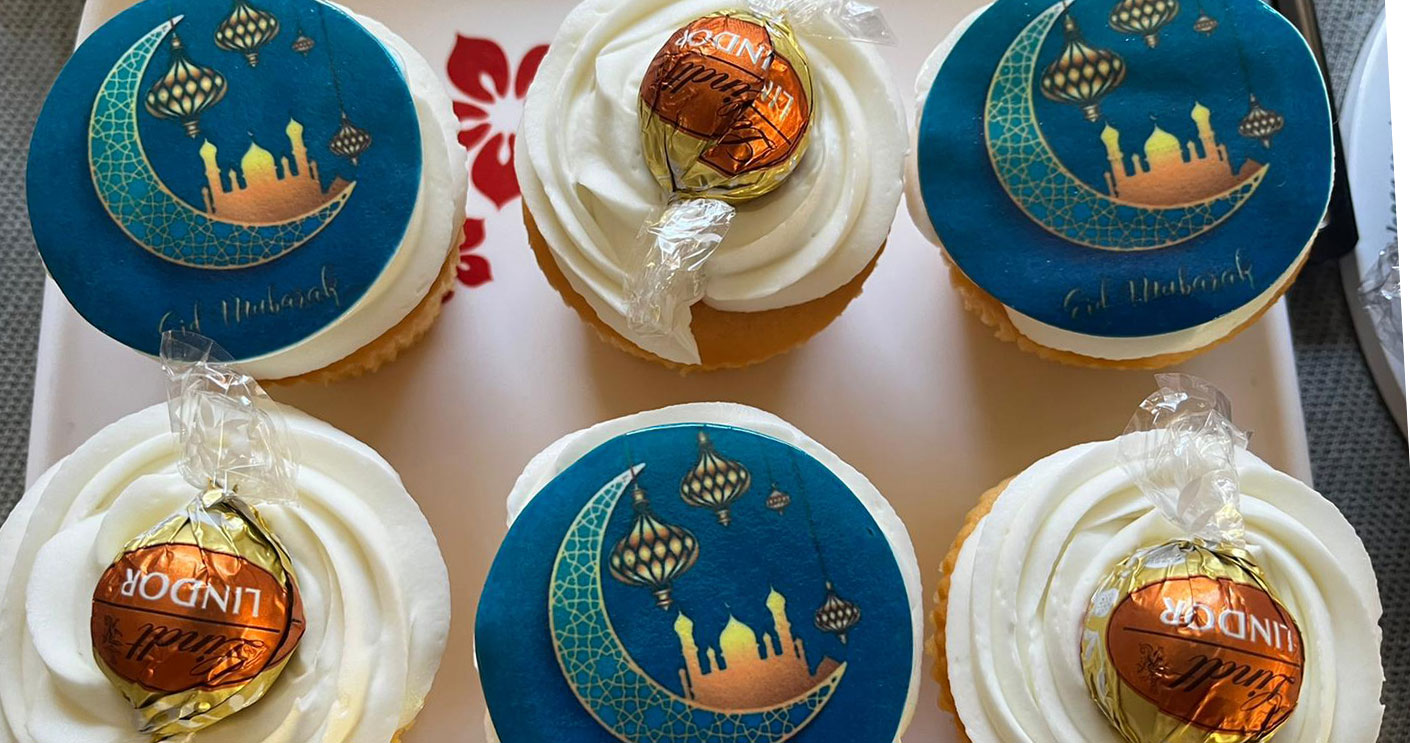 Cupcakes made for Eid
---
What would you like your Macquarie colleagues to know and be mindful of during Ramadan, especially when teaching?
I think it is important to understand that any contemplative act necessitates some withdrawal from the world. Ramadan brings changes to our everyday routines so that we can accommodate the most significant spiritual retreat of the year.
Most Muslims continue as normal with work and study, but everyone has different capabilities and each person adjusts to these routines in their own way. In general, Muslim colleagues and students would benefit greatly from the understanding of their individual capacities during Ramadan and while fasting.
For teachers and other students, it is good to keep in mind that the fast is broken at sunset. If Muslim students are in class at that time, they may want to step out of class to break their fast and say their prayers. Some students may prefer to have a drink of water or eat something in the class. If it is possible to accommodate these practices for the month of Ramadan, I am sure you will find our Muslim students very grateful.