Pictured L to R: David Ward, Chief People Officer; Lisa Annese, CEO Diversity Council Australia; Nina Byak, Lisa's daughter and Macquarie student; Nicole Gower, Vice-President, Professional Services; Margo Droulers, Deputy Director, Human Resources and Head, Human Resources Client Services
International Women's Day 2023
A series of inspiring events was held across Macquarie University to celebrate International Women's Day 2023 (IWD). The UN Women Australia's IWD theme this year was 'Cracking the code: Innovation for a gender equal future', highlighting the role that bold, transformative ideas, inclusive technologies and accessible education can play in combating discrimination and the marginalisation of women globally.
Nicole Gower, Vice-President, Professional Services, and Diversity Council of Australia CEO Lisa Annese shared an insightful conversation highlighting the part men play in supporting gender equity. They do this by sharing the workload and caring responsibilities at home, by fostering an inclusive environment at work and by challenging gender bias and everyday sexism when it happens. In response to a question about what she would change if given a magic wand, Annese shared three ideas:
Eradicate online content that depicts women in degrading and disrespectful ways as it creates negative attitudes towards women.
Create equitable division of physical and mental workloads around caring and family responsibilities.
Remove defensiveness around gender equity and fairness, making it safer and easier to speak out about gender inequality without judgment or backlash.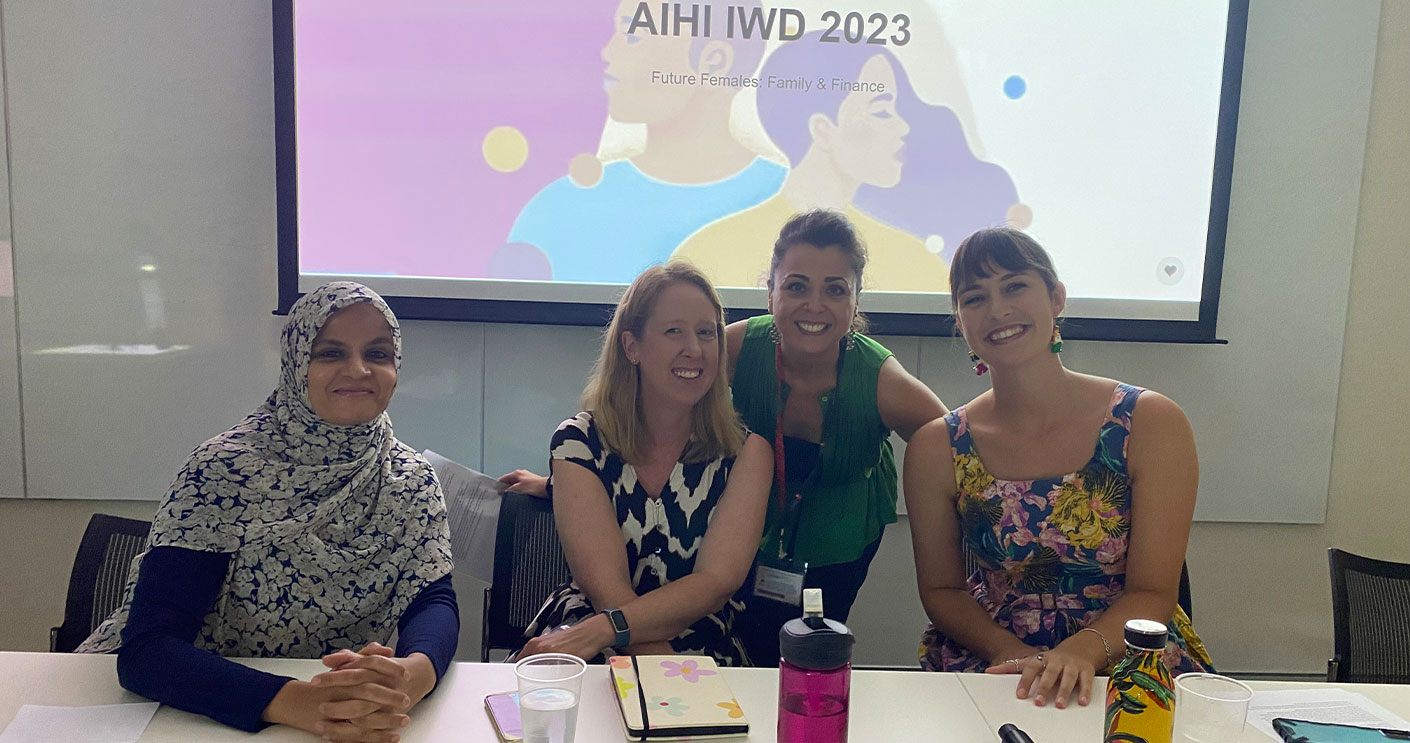 Pictured L to R: Professor Farah Magrabi, Centre for Health Informatics; Associate Professor Bonny Parkinson, Centre for Health Economy; Dr Samantha Spanos, Centre for Healthcare Resilience and Implementation Science; and Khalia Ackermann, Centre for Health Systems and Safety Research
The Australian Institute of Health Innovation's IWD event The future of females: Finance and family invited panellists to share their experiences of working in an academic environment while managing family responsibilities, career development and financial planning.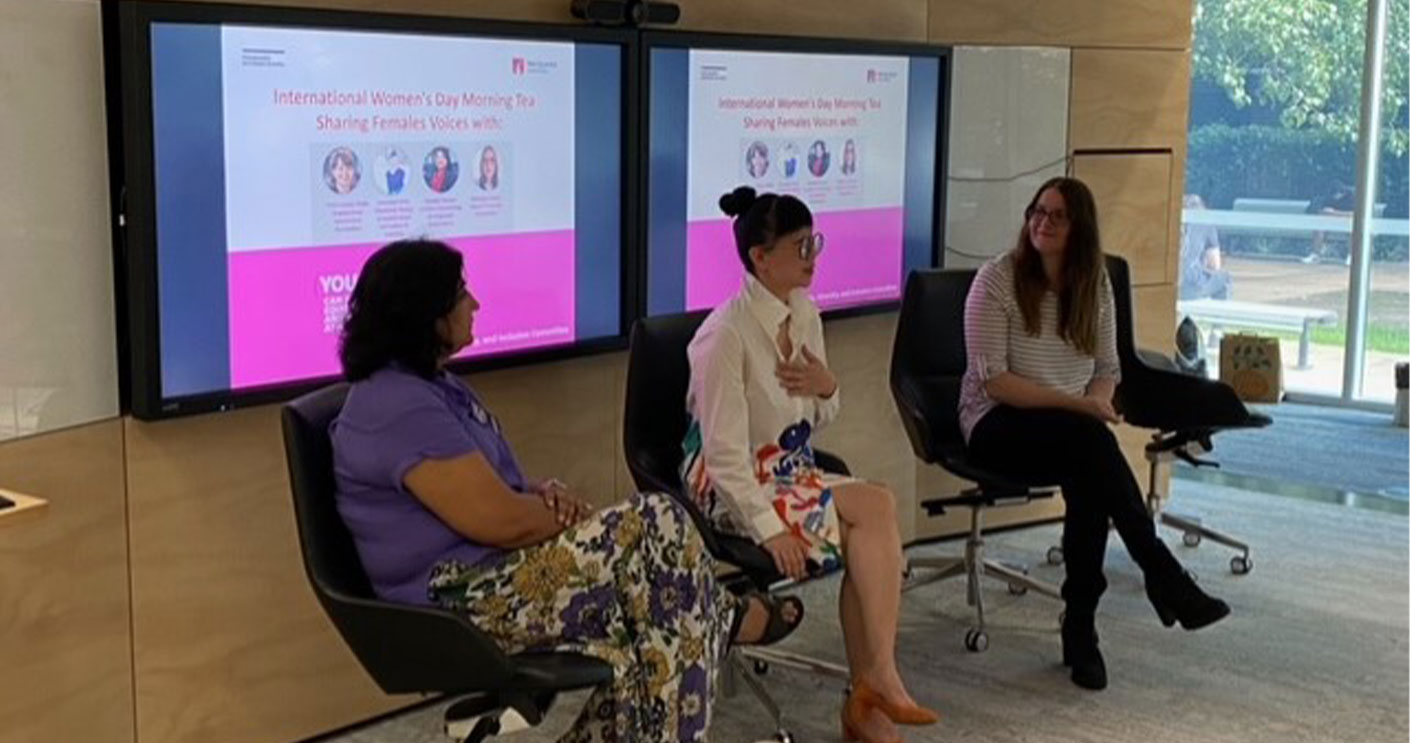 Nandini Krishna Kumar, Lecturer in Accounting and Corporate Governance; Associate Professor Stephanie Huang, Associate Dean Curriculum and Learning; Rebecca Young, Head of Faculty Operations 
The Macquarie Business School Equity, Diversity and Inclusion (EDI) Committee held a morning tea with guest speakers. The interactive dialogue was moderated by co-chair of the EDI Committee Dr Hector Viveros Tapia and showcased many personal stories and reflections on the relevance of IWD. It also explored the challenges women still face and discussed ways to inspire and support female colleagues.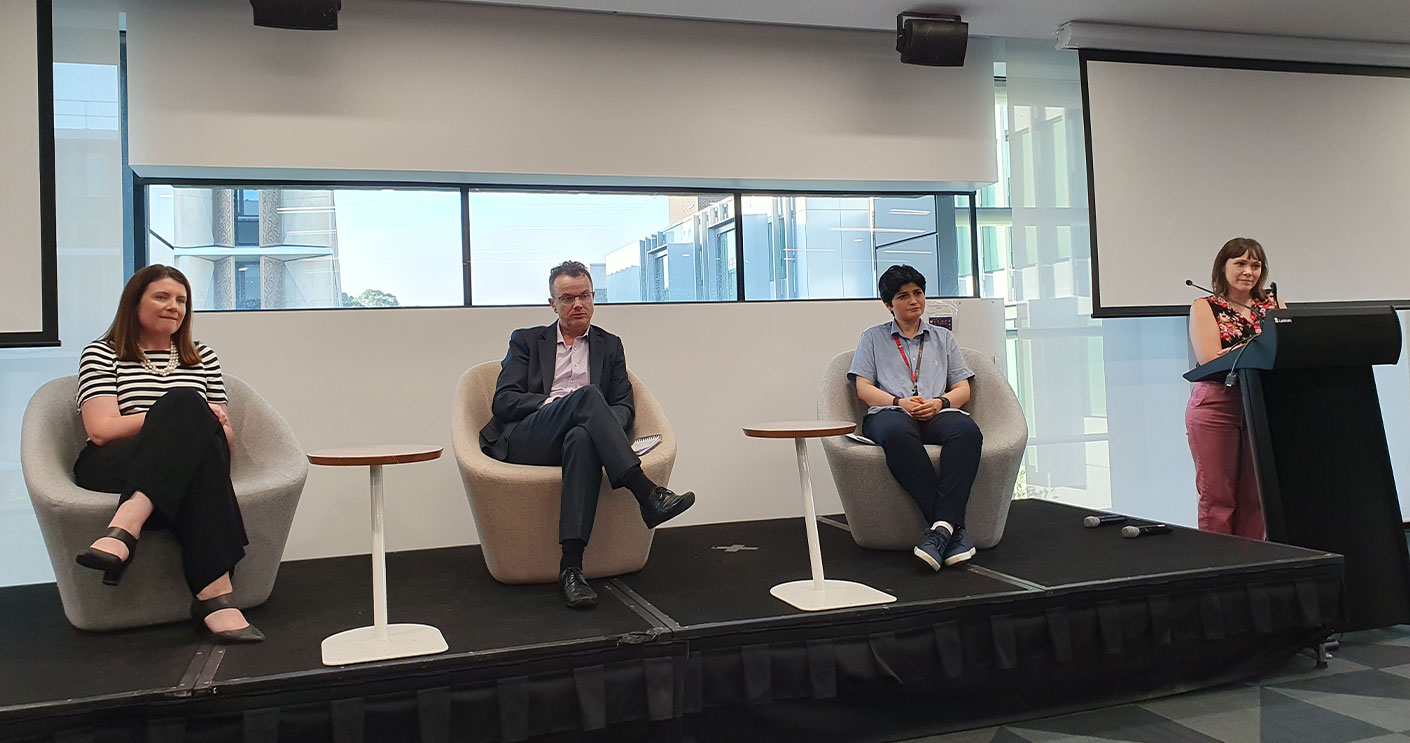 Pictured L to R: Professor Lucy Marshall, Executive Dean of the Faculty of Science and Engineering; David Ward, Chief People Officer; Associate Professor Noushin Nasiri, School of Engineering; Rebecca Brown, Optical Engineer, Australian Astronomical Optics
The Faculty of Science and Engineering EDI Committee hosted a screening of Picture a Scientist, a powerful documentary profiling women scientists across a range of fields and career stages and exploring the challenges women face in STEM. It was followed by a Q&A session and a panel discussion, which touched on initiatives that support students and staff, what can be done in the face of gender discrimination or bullying, and the current gender equity statistics at Macquarie. The panelists also shared some of their aspirations for improving gender equity.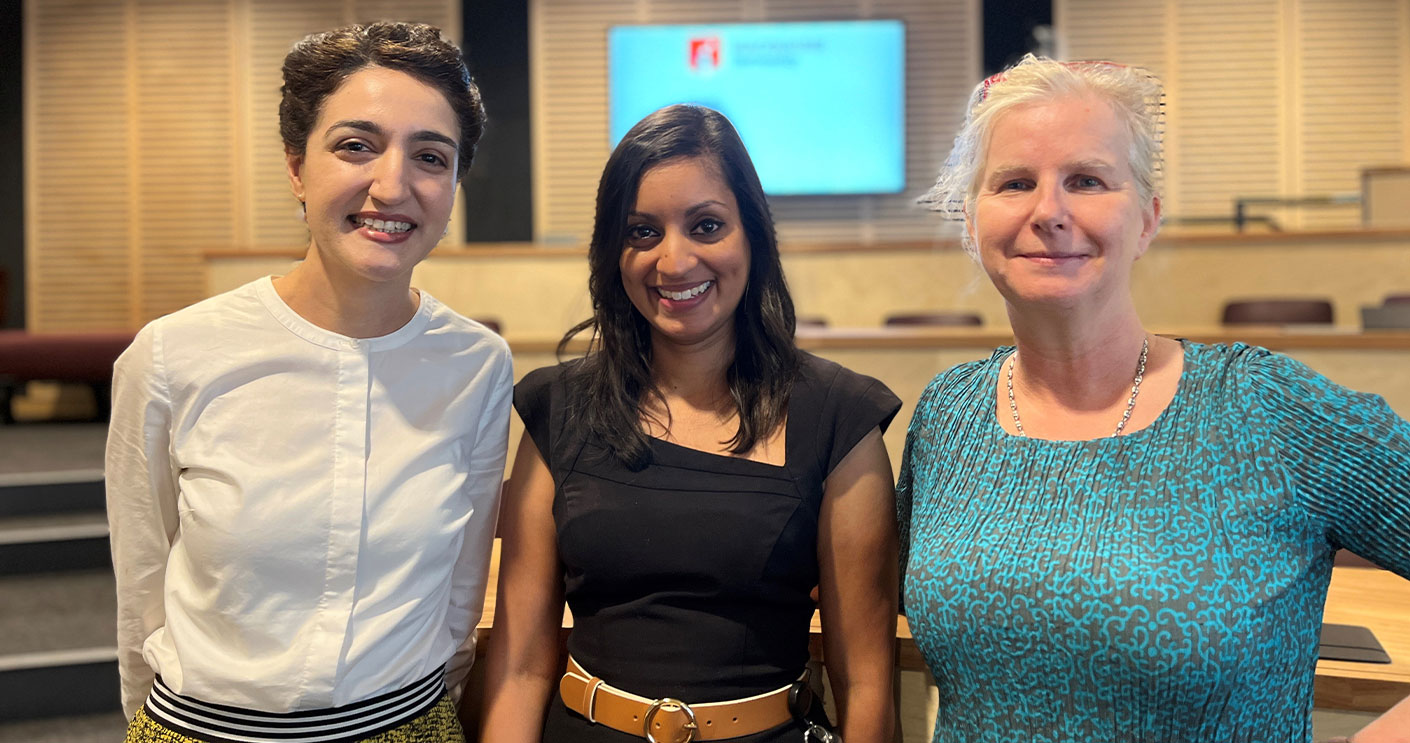 Pictured L to R: Dr Negin Sedaghat, Lecturer, Macquarie Medical School; Natalie Sequeira, Director, Strategy and Planning, MQ Health; Dr Erica Jacobson, Head of Neurosurgery at Sydney Children's Hospital
MQ Health's Diversity, Inclusion and Belonging Committee hosted the Celebrating women in surgery talk. Panellists shared the challenges they faced at different stages in their careers, while a Q&A session included advice on how others may be able to overcome these hurdles in the future. A fundraising barbecue was held in addition to this presentation, raising $575 for the charity Fitted for Work, which is dedicated to helping women experiencing disadvantage to regain their confidence and secure and maintain employment.
---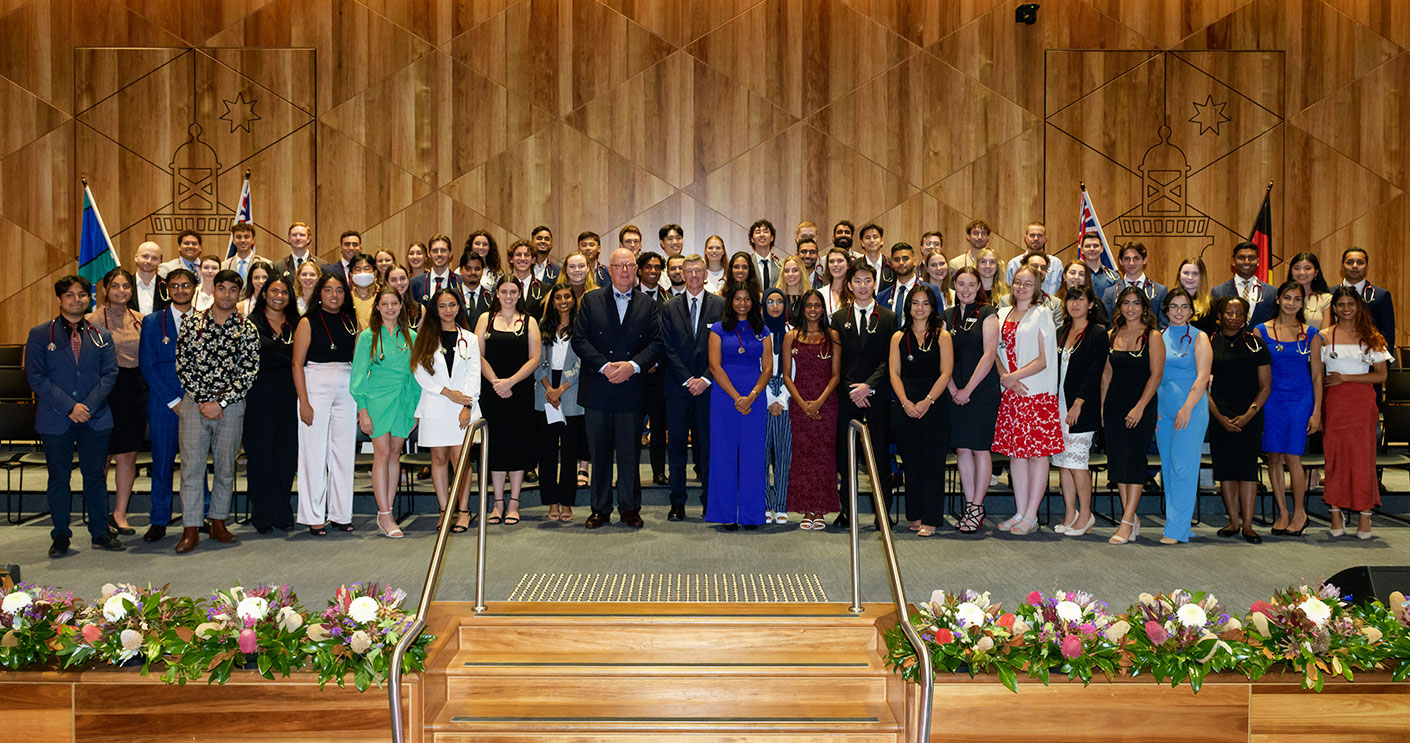 Commencing MD students take their oaths
Adorned with stethoscopes – symbolising the values they will exemplify as medical professionals – Macquarie's 2023 Doctor of Medicine students were officially welcomed to the University with a ceremony on 18 March in the Michael Egan Hall.
The event has become a cherished ritual, with 69 of the 71 commencing students attending. They received sage advice from leaders in the University's medical community, before receiving their stethoscopes and taking a self-written oath in front of their families and Macquarie faculty.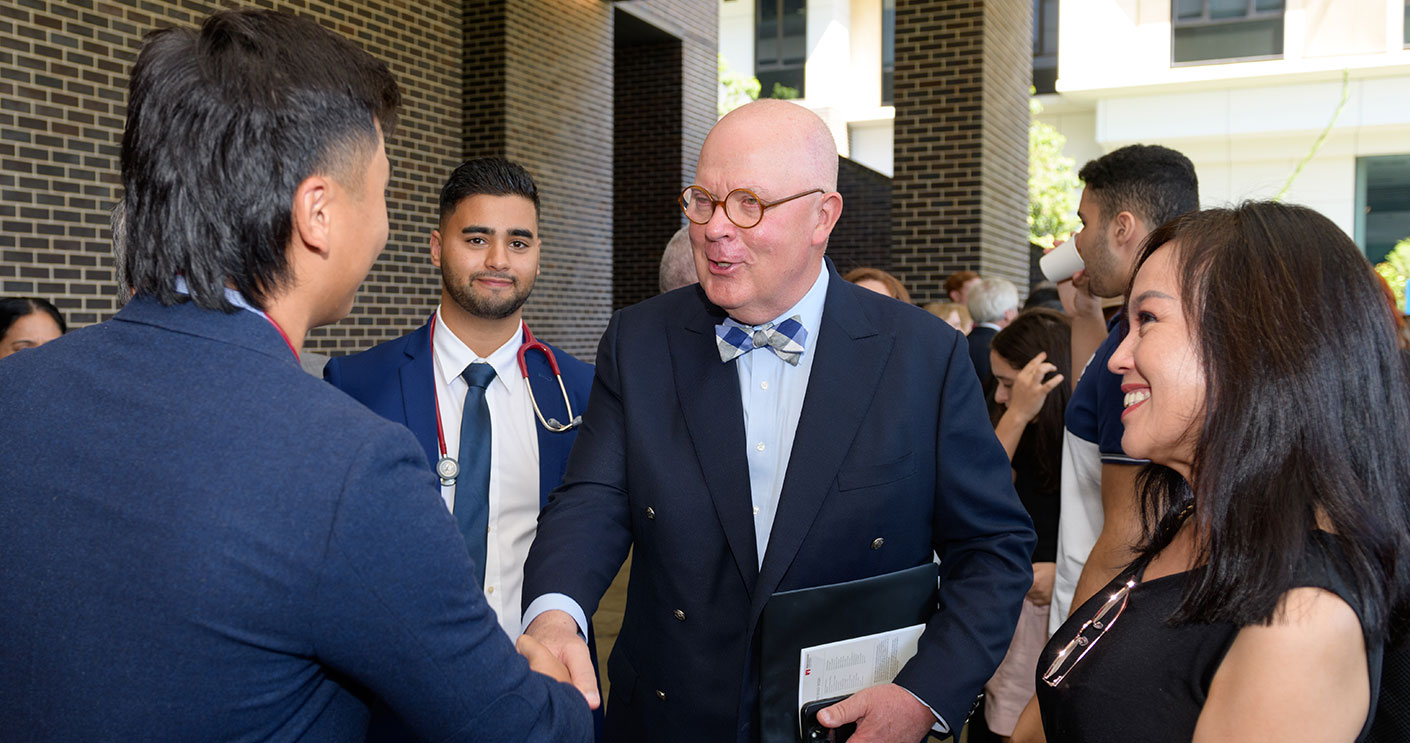 Drawing on his experience as a young boy in rural NSW who went on to achieve his dream of becoming a physician, Vice-Chancellor Professor S Bruce Dowton MD urged the students to remember that medicine is 'both art and science' and highlighted the importance of listening and compassion in medical practice.
---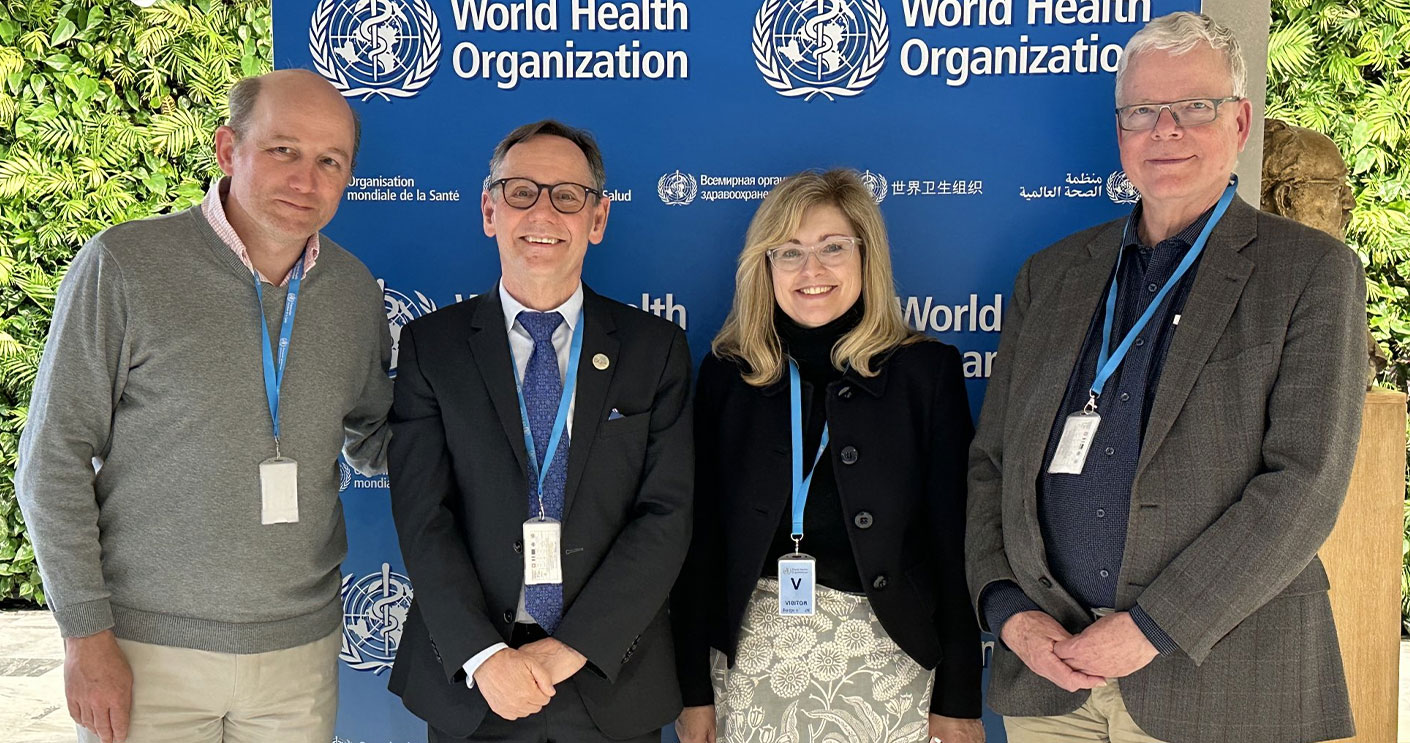 Pictured L to R: Professor Ezequiel Garcia-Elorrio, President-elect, International Society for Quality in Health Care (ISQua); Professor Jeffrey Braithwaite, ISQua President and Founding Director of the Australian Institute of Health Innovation (AIHI); Professor Johanna Westbrook, ISQua Expert and Director, AIHI; Dr Carsten Engel, CEO, ISQua.
Professor Jeffrey Braithwaite and Professor Johanna Westbrook visit the World Health Organisation
Experts recently gathered at the World Health Organization in Geneva where Professor Jeffrey Braithwaite and Professor Johanna Westbrook from the Australian Institute of Health Innovation (AIHI) were invited to further the quality and safety in healthcare agenda.
Westbrook, Director of the Centre for Health Systems and Safety Research at AIHI, shared research on advances in the monitoring, evaluation and improvement of electronic medication management systems in hospitals and aged-care settings.
Braithwaite, who is the founding director of AIHI and President of the International Society for Quality in Health Care (ISQua), is a leading health services and systems researcher with an international reputation for his work investigating and contributing to systems improvement. Professor Ezequiel Garcia-Elorrio, ISQua President-elect, and Dr Carsten Engel, ISQua CEO, both AIHI honorary fellows, also attended the event.
---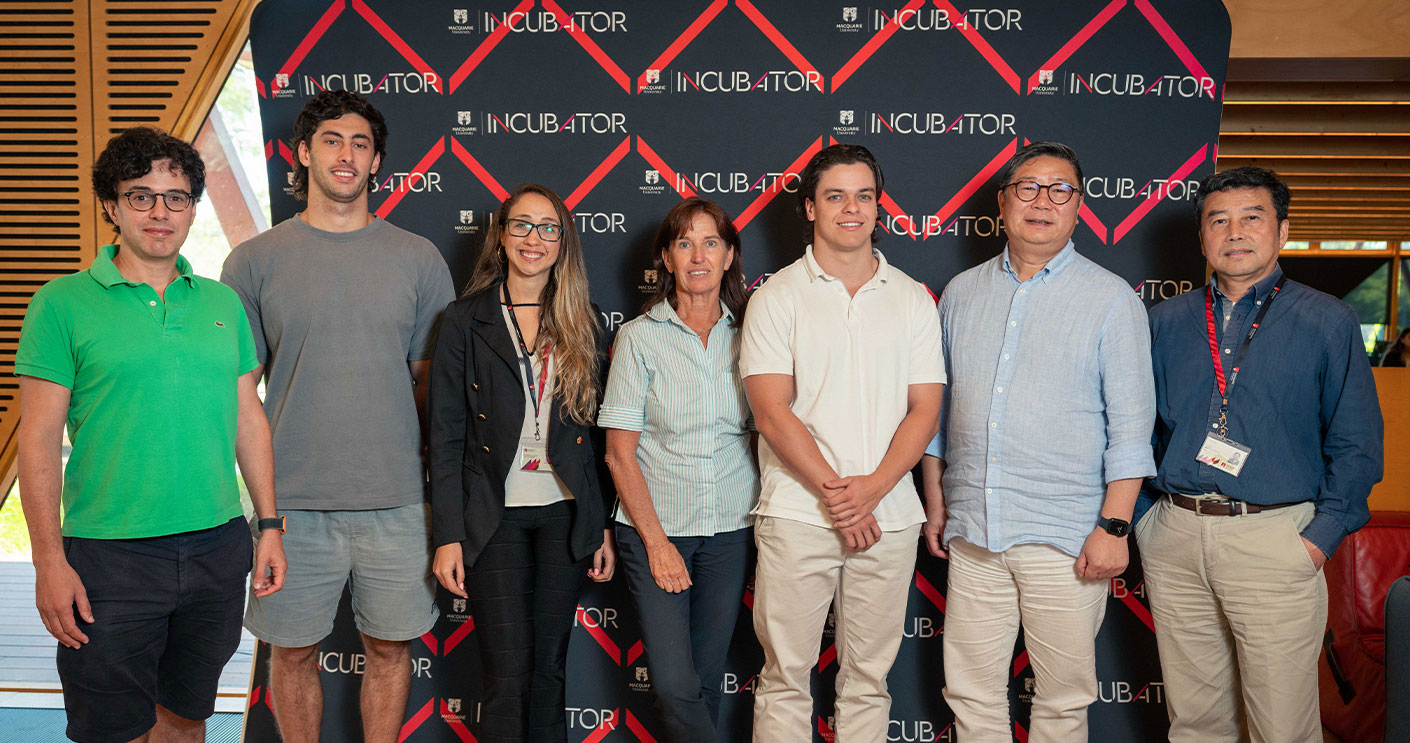 Pictured L to R: Enrico Tam, Macquarie University Incubator Expert-in-Residence; Reece Aquilina, Founder of Xerobrush; Carla Vanessa Alves Lopes, Co-founder of Videmia; Anna Stackpool, Founder of Stopfalls; Trent Alleyne, Founder of Ox Debt; Sam Li, Co-founder of DataEco Lab; Perry Chen, Co-founder of DataEco Lab
New year, new cohort at the Incubator
Congratulations to the 12 new startups and scale-ups that will form Macquarie University Incubator's 2023 cohort. The cohort will work with Macquarie researchers, mentors and investors as they grow and develop their businesses through the Startup Educate Program. The program focuses on the key knowledge areas founders need to build sustainable, high-growth organisations.
SmartCompany recently profiled the new cohort and Director, Incubation and Entrepreneurship Melissa Ryan, who says "Macquarie University Incubator is designed to drive the development of sustainable, scalable and investable companies."
View the full interview here.
---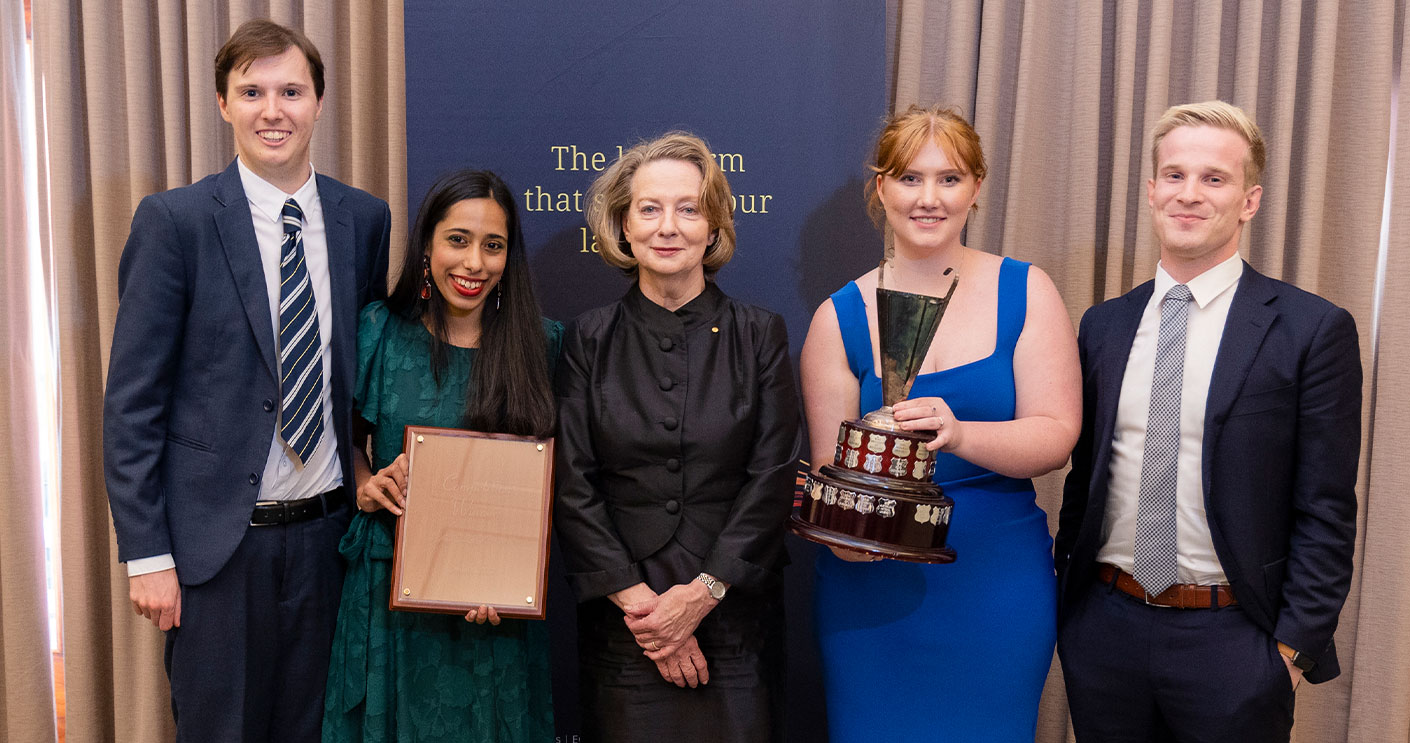 Pictured L to R: Matthew Kocx, Rabia Rasul, Chief Justice Susan Kiefel, Taylor McCoy, Kyle McIndoe
Jessup competition success for Macquarie students
Macquarie was recently crowned national champions at the prestigious 2023 Philip C Jessup International Moot Court Competition in Canberra.
This year's team comprised students Taylor McCoy, Kyle McIndoe, Rabia Rasul and Matthew Kocx. They competed against 11 universities before advocating in front of the highest judicial officer in the country, Chief Justice Susan Kiefel, in the grand final.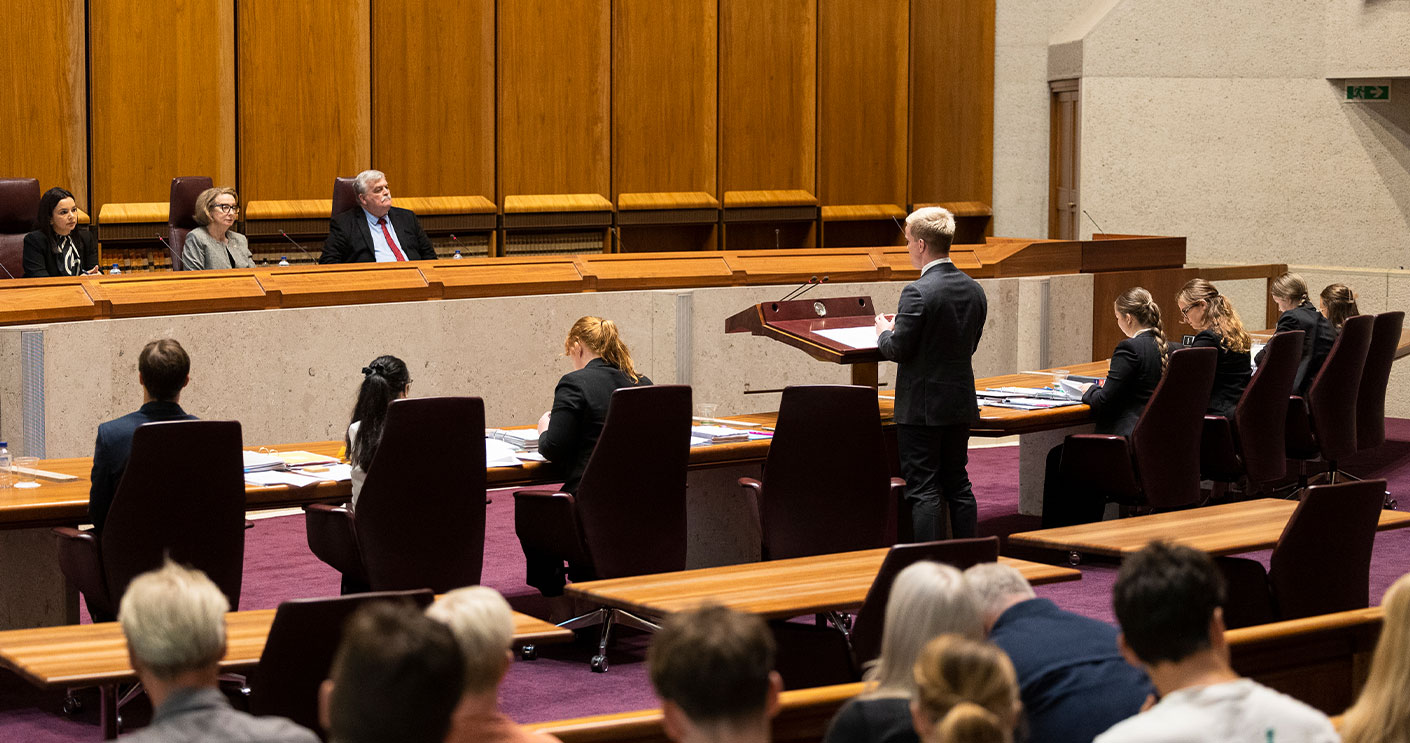 The Jessup is the largest, oldest and most prestigious law student competition in the world. It involves the simulation of a dispute between countries, argued before the International Court of Justice. This year's topics included attacks in allegedly occupied territory, unilateral economic sanctions, the treatment of detainees and the transfer of hazardous waste. Students have spent months intensively researching, writing and practicing their advocacy skills under the guidance of faculty advisor Dr Shireen Daft and coach Fareed Qureshi.
The team will compete in the international rounds in Washington DC in April.
---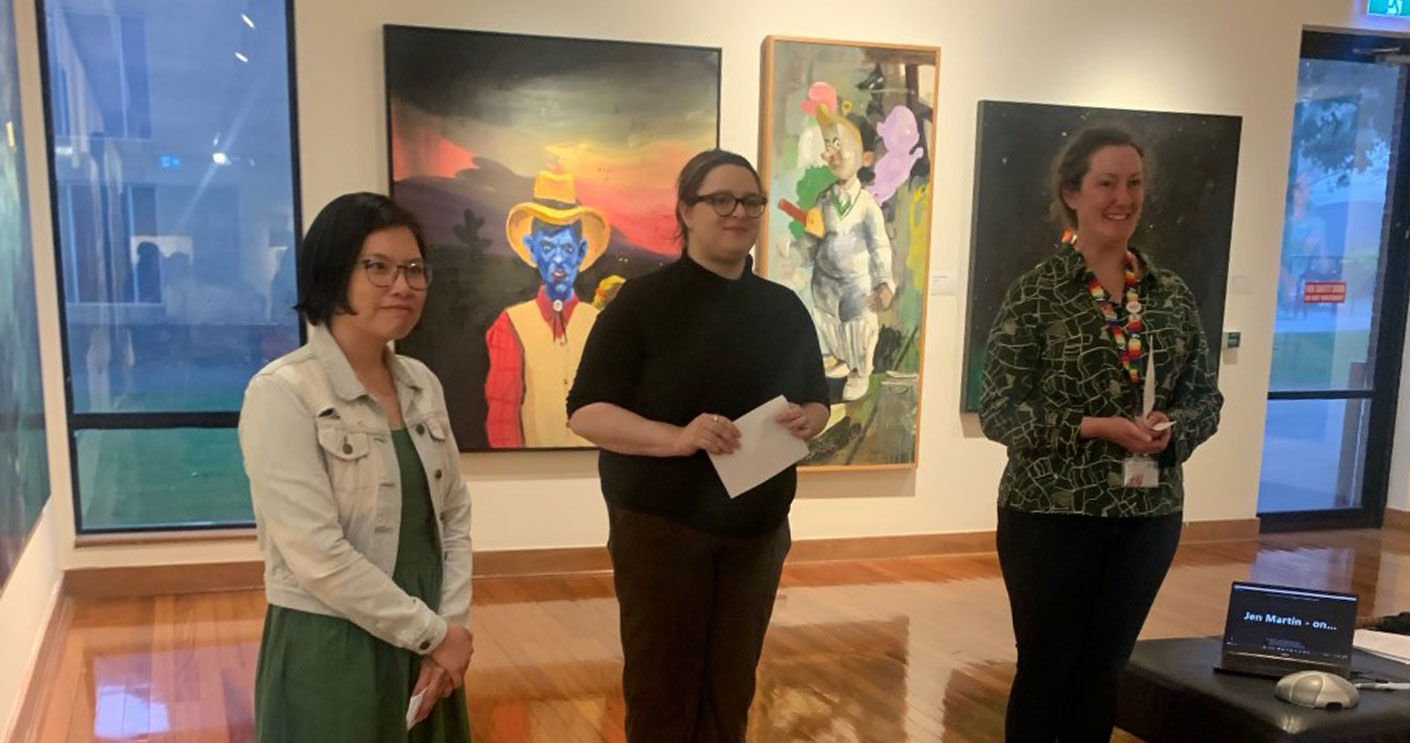 Dr Diana Tan, Research Fellow from the Macquarie School of Education, Macquarie student Katarina Aldeguer and Macquarie Faculty Librarian Kirsten McDermid at 'DiversiTEA'.
'DiversiTEA' morning tea at Macquarie University Art Gallery
A morning tea at Macquarie University Art Gallery was hosted by the Deputy Vice-Chancellor (Academic) Diversity and Inclusion Committee. The group led a discussion about celebrating neurodiversity and creating a safer space for those with invisible disabilities to flourish in our University community.
---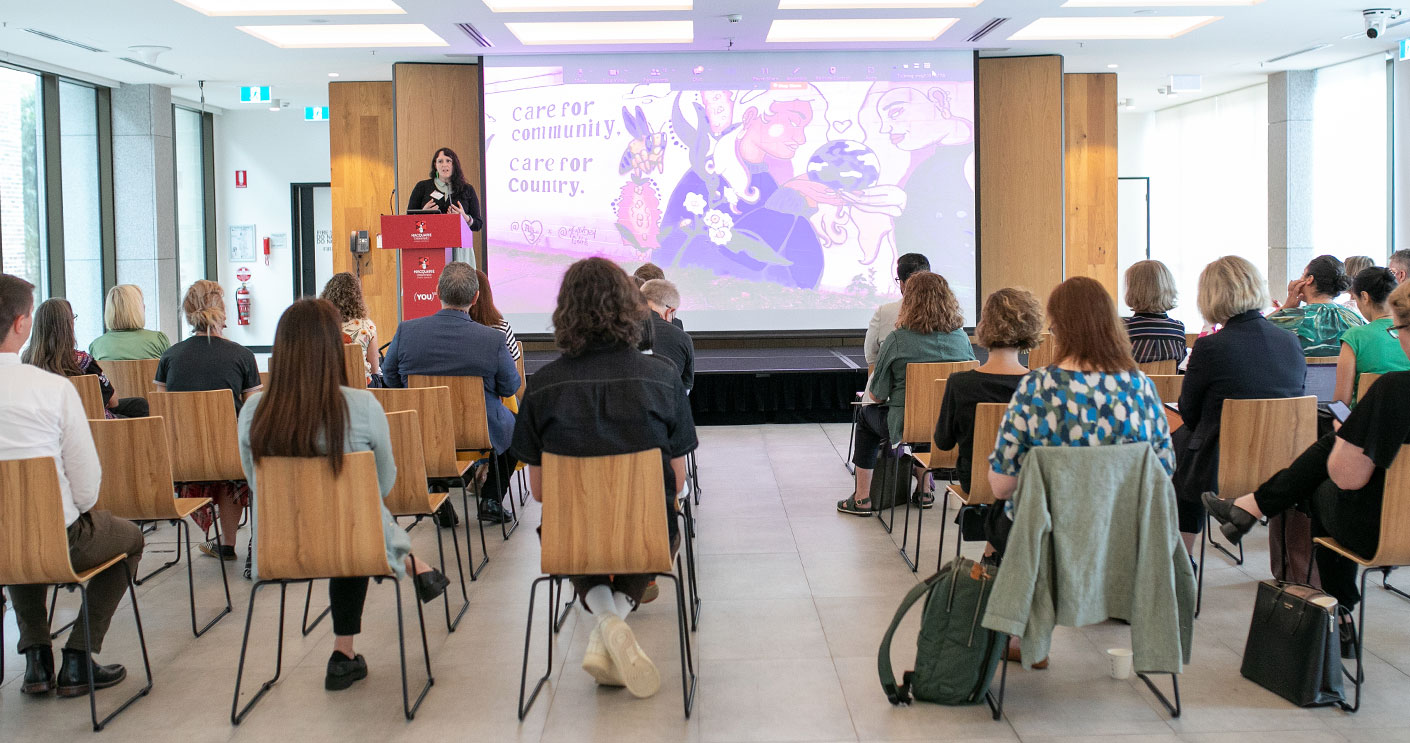 ARC Linkage Project: The power of public spaces launch
Last month, researchers from Macquarie's School of Social Sciences, together with Transport for NSW, hosted the official launch event for their ARC Linkage Project: The power of public spaces.
Macquarie staff, expert advisory panel members and the project team welcomed guests to Macquarie's Wallumattagal Campus. The event featured an opening address from The Hon Rob Stokes, Minister for Infrastructure, Cities and Active Transport. Associate Professor Donna Houston followed with an overview of the project, before leading into a series of provocations by Dr Miriam Williams from the Macquarie School of Social Sciences, Professor Kurt Iveson from the University of Sydney and New South Wales 24-hour Economy Commissioner Michael Rodrigues.
The project adopts an innovative model of government–university–community collaboration to investigate, discuss and co-create new approaches to public space design, management and use. The social benefits include a better understanding of how public spaces positively contribute to place-based social connectivity and mitigate the negative impacts of challenges such as the COVID-19 pandemic and a changing climate. The project will also enhance current understandings of diverse community connections to public spaces through the promotion of Indigenous leadership in place design, placemaking and caring for Country.
---
Pictured L to R: Maria Souris, Head of Domestic Student Recruitment; Susan Clarke, Executive Officer to the Vice-Chancellor; Gill Kirk, Deputy Vice-Chancellor Academic – Operations; Svetlana Martynovich, Executive Manager, Vice-President Professional Services
Universities Australia Conference 2023
The recent Universities Australia Annual Conference 2023 was a valuable forum to hear leaders address the big issues facing the university sector, link with colleagues from other institutions and internally benchmark Macquarie against other institutions. This year's program included addresses from Professor Dr Megan Davis, Pro Vice-Chancellor Indigenous at UNSW, about the Voice to Parliament; Professor Mary O'Kane AC, who is leading the Australian Universities Accord; The Hon Jason Clare MP, Federal Minister for Education; Professor Margaret Sheil AO, QUT Vice-Chancellor, about the Australian Research Council review; and Professor Tanya Monro AC, Australia's Chief Defence Scientist.
---