Photo credit: Marcus Arruzza, Production Specialist, Faculty of Arts
Dr Chavalin Svetanant, Senior Lecturer, Languages and Cultures, in the Department of Media, Communications, Creative Arts, Language and Literature (MCCALL), and member of the Multilingualism Research Centre, has been teaching the Japanese language at Macquarie since 2008.
She grew up in Thailand before travelling to Kyoto, Japan, to complete her masters degree and PhD in Japanese linguistics.
Her recent research focuses on media and communication studies in comparative cultural contexts, for example, advertising discourse about insurance products in Japan, Thailand and Australia; political discourse relating to a speech made by the Thai Prime Minister; and health communication discourse in Australia and Thailand during COVID-19.
She is heavily involved with CALD communities. CALD is an acronym for 'culturally and linguistically diverse' and is often used to refer to those who were born in countries where English is not the first language. Her aspiration is to become a voice for the CALD community in the workplace and in the wider community.
"I want to use my experiences as a researcher in multiculturalism, as well as my multilingual communication skills, to promote cultural diversity and help create a sense of belonging and connectedness in local communities."
---
1. Something you'd like staff to know about
CALD scholars face unique challenges in academia within the domains of teaching, research, service and leadership, but also have distinctive knowledge that they may be able to leverage for their careers and for their institutions. This is true for CALD scholars across all career stages in universities.
I am excited to talk about the newly established Culturally and Linguistically Diverse Scholars Network (CALDS-N). This networking initiative was started in 2022 in MCCALL with 15 members, and it has been amazing to see the network grow each day. Forming a dedicated group of CALD scholars allows us to consolidate our voices and advocate for the development and provision of career support that is specific to our needs, as well as identifying and sharing opportunities that take advantage of our knowledge and experience.
Identifying as CALD is fundamentally grounded in self-perception. Anyone who perceives themselves as culturally and/or linguistically diverse is therefore welcome to join this emerging network.
If you're interested in being part of CALDS-N, we would love to have you on board. To express your interest, please complete a quick survey. We hope to expand the network University-wide over the next few years.
2. Something you feel proud of
Over the past year, I had the opportunity to work on an exciting DFAT-funded team project, Comparative assessment of the pandemic responses in Australia and Thailand. The project involved international collaboration with four other team members. Through this project, I was able to establish relationships and exchange information with the Thai community in New South Wales, especially during the COVID-19 lockdown. To my surprise, the project's Facebook page has gained over 3000 followers in the past two years. It was heartening to see such positive feedback from the community.
We also compiled a collection of COVID-19-related articles into an eBook that is available for free download on the project website. If you are interested in learning more about how Australia and Thailand responded to the pandemic, I encourage you to have a read.
3. Who do you admire and go to for advice at Macquarie, and why
 Professor Hsu-Ming Teo, Head of the Media and Communications Department, is a remarkable leader who values inclusivity and respect in all aspects of her work. In my experience, she has shown a genuine interest in helping individuals flourish in their own unique ways and is always available to provide warm mentorship whenever needed. She's an inspiration to our CALD scholars, leading by example with her approachable and flexible style while maintaining a firm and fair approach.
Dr. Jane Hanley is my go-to for university administration. She brings a wealth of knowledge from curriculum and policies to strategic planning. Dr. Tom Baudinette is my research inspiration and bridges the gap between my CALD perspective and the Anglo-academic world. When it comes to teaching and all things Japan, I lean on the wisdom and experience of my senior colleague Kayo Nakazawa. It indeed takes a village to raise an academic.
 4. What you need to do your best work
To do my best work, I need a collegial and supportive working environment that fosters inclusivity and welcomes diverse perspectives. Trust and respect among colleagues are also crucial, as they create a sense of security and openness that allows honest communication and effective collaboration. Ultimately, knowing that I can rely on my colleagues for support and guidance helps me feel empowered and motivated to do my best work.
5. Something people usually ask you when they find out what you do for a living
People are always surprised to learn that I teach Japanese at an Australian university, and some have even asked if I have any hidden Japanese ancestry. Although I don't have Japanese heritage, my love for the language and culture began during my undergraduate studies, and I've spent countless hours honing my skills and knowledge ever since. Pursuing advanced studies in Japanese linguistics has allowed me to attain a deeper understanding of the language and prepared me to become an expert in this area.
Teaching Japanese, which is my third language, in English, my second language, is challenging. But it is also incredibly rewarding. It gives me a chance to offer an alternative perspective to my diverse group of students, who come from different cultural backgrounds. Learning a language from a non-native speaker enhances their intercultural communication skills, deepening their understanding of the language and culture which is crucial in today's globalised world. I take pride in offering this perspective to my students at Macquarie and watching them grow and develop as they master the language in their own way.
6. Something you've read recently that has had an impact on you
Multilingual Sydney edited by Alice Chik, Phil Benson and Robyn Moloney. At its core, this book is a tribute to the incredible stories of migrants who have made Sydney their home – a topic that resonates deeply with me. It provides a comprehensive account of the many facets of multilingualism within our vibrant global metropolis, which happens to be one of the most linguistically diverse cities in the world.
7. A favourite photo from your camera roll
Spending a relaxing evening watching the sunset at Tuggerah Lake with my favourite people, including our favourite four-legged pal, Lolli.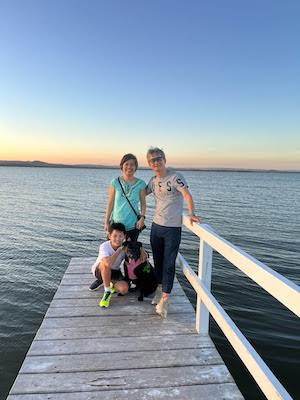 ---
8. A personal quality you value in others
A good balance of integrity and empathy is something I deeply value in others, both in personal and professional relationships. These qualities hold people steadfast to their moral principles, while also allowing them to empathise with others and see things from their perspective.
9. The theme for Harmony Day is "everyone belongs". What does this mean for you?
For me, belonging is all about being part of a team where I feel comfortable being myself and where my contributions are appreciated. It's about having the confidence that my opinions and ideas are valued and that I am heard. This is especially important to me in a workplace setting, where recognition of my role and active participation in decision-making is key to feeling like a valued member of the team.
A sense of belonging is not just about receiving support from others, it is also about giving back to the community that surrounds you. It is a reciprocal relationship where communication flows both ways, allowing everyone to contribute and benefit. This creates an inclusive environment where everyone feels welcome and connected.
10. How can the Macquarie community ensure that racism does not go unnoticed or unchallenged?
Macquarie has made great strides in building a healthy and inclusive workplace where everyone feels valued and respected, but there is always more we can do to create a sense of belonging for our colleagues and students. It is not just about making symbolic gestures, but also taking real action to embrace and celebrate our differences. Sometimes it can be as simple as paying attention to the people around us and acknowledging their unique perspectives, attitudes and values. It is also important to reflect on our own thoughts and perceptions when we encounter someone who may look or sound different from us. Sometimes, we may not even realise that racism is present within us, and it can negatively impact our decision-making.