Tamika Worrell recently returned to Macquarie University as an Associate Lecturer in the Department of Indigenous Studies, having previously worked at Walanga Muru for five years as an Aboriginal Academic Engagement Coordinator.
She is also a Macquarie graduate and a current PhD candidate in the School of Education. Her family is from Gamilaroi Country, but she is very grateful to have grown up by Dharug Ngurra (Country) in Western Sydney.   
---
 1. Something you'd like staff to know about 
Community 
There is currently a GoFundMe initiative set up in honour of a Dharug Community Elder Aunty Chris Burke. Money raised will fund the restoration of Aunty Chris's boat, the 'Koorabung', which is needed for important cultural business. Supporting community-led fundraisers like this one is a tangible way to show up and show support for Indigenous Community members. This is also a way to support WorldPride, as Aunty Chris was an original 78er.   
On campus 
The Department of Indigenous Studies, under the guidance and leadership of our department head, Professor Bronwyn Carlson, has incredible offerings for our Indigenous Higher Degree Research (HDR) community. These offerings stretch beyond our own department and include our Indigenous HDR internship and international study tours. 
Our paid, year-long internship program offers professional development for Indigenous HDR candidates. This is run by my fabulous colleague Innez Haua, who has been working to invigorate the 2023 offering, which follows the 40/40/20 academic workload structure. This is generously supported by funding through the Pro Vice-Chancellor (Indigenous Strategy). I participated in the program in 2021 and found it transformational in building an understanding of the academic world and cementing my aspirations for academia.   
Our study tours support our Indigenous HDRs to attend a variety of locations and engage in relationship building, writing and reading. Our most recent study tour was a visit to Aotearoa. HDR feedback tells the story: 
"I felt inspired being among other Indigenous scholars where we could share work, ideas and think. This greatly impacted on the clarity of my thinking and enhanced my writing. I was also motivated to read more widely after the retreats following these conversations. I felt supported and seen in the academy by senior staff and my peers."

 
"I feel like it has helped a lot, I was able to build on connections that I didn't think I was able to make without the similarity of being at a writing retreat and thesis work. On campus, we talk but being at the retreat made us bond much more to really support and care for each other in a different way" 

 
"The Indigenous Studies study tours are such a unique and empowering offering. I feel connected and supported, and a part of an HDR community. The experience to learn from international Indigenous scholars is invaluable"

 
 2. What is your area of research and what made you choose this? 
My research looks at how Indigenous peoples are represented in texts in the English classroom. I feel impassioned about ensuring Indigenous-authored texts are the texts of choice for those teaching the subject of English. I never got to read or watch a text by an Indigenous author in my own schooling. My pilot identified that there is still a reliance on non-Indigenous misappropriations of voice.   
 3. Something you feel proud of 
I recently published my first solo authored piece, which was selected to be open access. It stems from my 2019 MRES Research on how New South Wales English teachers are embedding Indigenous perspectives in their texts. You can read it here. 
 4. A person you admire at Macquarie, and why 
My colleague Madi Day, Lecturer in Indigenous Studies and convenor of the undergraduate program. They constantly serve community and work tirelessly to lift up other mob. They are always forward thinking about how to support emerging scholars to contribute to building the next generation of Indigenous scholars, while consistently publishing high-quality scholarship. 
An article of theirs and Associate Professor Corrinne Sullivan from Western Sydney University is a particular favourite of mine – it transformed my professional practice working in Indigenous Higher Education spaces.  
 5. What you need to do your best work 
Sugar-free energy drinks and a good playlist. Spotify playlist Blak Australia normally hits well. 
 6. A favourite photo from your camera roll 
I can't go past this photo of four out of five of my cats. Bilbo, Baby Yoda, Cheddar and Toby (from top to bottom) are all rescue cats with a unique story about how we came to rescue them. Baby Yoda is our most recent addition, a 'foster fail' from a large group of foster kittens we cared for in the summer of 2021.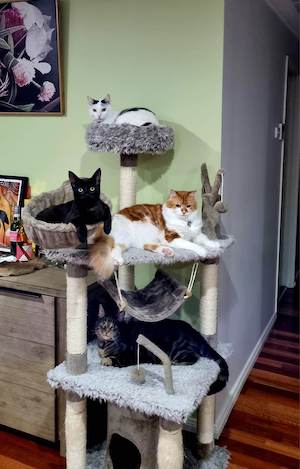 ---
7. The first person you go to for advice, and why
This is a tricky one, I have so many supporters in life I can't pick just the one.  
Zac Roberts – fellow PhD candidate as well as Associate Lecturer in Indigenous Studies is my go-to for PhD progress, triumphs and fall-downs. We're a dynamic duo and we have been supporting each other since finishing our undergraduate degrees. Zac's research is at a unique frontier, exploring Indigenous and Jewish relations in the history of the land known as Australia. 
I also have my dream team Dr Kerry-Ann O'Sullivan and (almost Dr) Lisa White. Kerry-Ann is my fantastic PhD supervisor and Lisa has been my Walanga Muru tutor for more than four years now. Both offer invaluable guidance professionally and personally. Everything is achievable with them in my corner. 
8. A website or app you can't live without, and why
TikTok. It is very addictive but my favourite way to unwind after work.
9. A personal quality you value in others 
Compassion. I think the world would be a better place if we were all a little bit more compassionate. My mum taught me to do a good deed each day. 
10. I'm happiest when… 
I've got good food and good company!