Teaming up for the community: Vice-Chancellor Professor S Bruce Dowton with Ministers The Hon Alister Henskens SC MP and The Hon Victor Dominello MP, City of Ryde Mayor Jordan Lane, Head of AFL NSW/ACT Tiffany Robertson, Redlands School Principal Stephen Webber and students, and representatives of the AFL.
A new partnership will see the main oval at Macquarie University's sports fields upgraded to elite AFL competition standard, following a $5 million grant from the NSW Government's Multi-Sport Community Facility Fund.
Together with contributions from AFL NSW/ACT and Redlands School, which will both have non-exclusive access to the oval when not in use by the University, the joint funding will provide our community with a new $7.5 million facility suitable for a variety of sports. The funding will allow major upgrades to existing pavilions, a full upgrade of the playing surface and new lighting to allow for twilight and evening play, further enhancing the recreational facilities available to Macquarie University students and community users.
On 24 November, Macquarie University Vice-Chancellor Professor S Bruce Dowton was joined by New South Wales Minister for Sport, The Hon Alister Henskens SC MP, and Member for Ryde, The Hon Victor Dominello MP, together with City of Ryde Mayor Jordan Lane and representatives from the AFL and Redlands School to announce the partnership and view plans for the facility.
The Vice-Chancellor noted that Macquarie University has long played a role in the provision of sporting facilities in the region, with 750,000 visits by community members each year.
"I am delighted that we are converging around this partnership to support sport and recreation for the benefit of our young sportspeople – both at Macquarie University and the community at large," Professor Dowton said.
Ms Tiffany Robertson, Head of AFL NSW/ACT, said the new facility would particularly benefit the increasing number of girls and women taking up the sport, with female-friendly facilities a key focus of the planning process.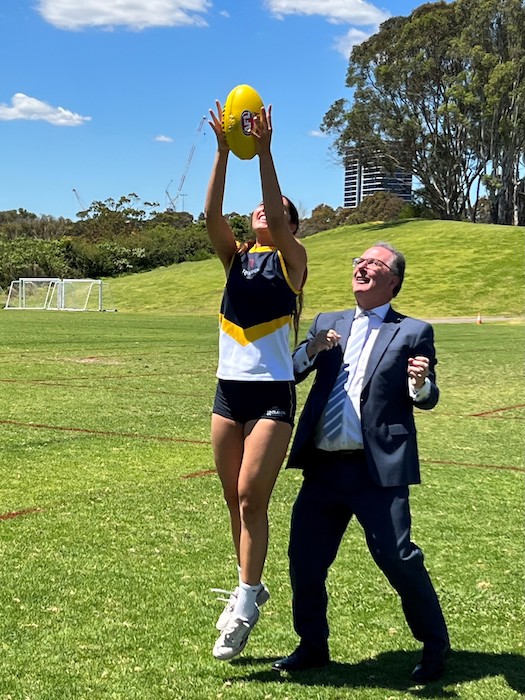 "Participation in AFL has grown in record numbers in the past decade in NSW, with much of this growth attributed to women and girls," said Ms Robertson. "The upgrades at Macquarie University achieve a level playing field for all users. This is an exciting project for footballers of all ages and abilities."
The project is expected to commence in the first half of next year, with work likely to be complete in 2024.
And what did the young Redlands players – who eagerly took on the Minister for Sport in a friendly marking competition – think of the plans for the University's new facility? A resounding "awesome!".
Pictured right: Aiming high – Redlands players enjoyed a friendly game of AFL with the Minister for Sport at the funding announcement