Pictured: (L to R) Cooper Wilks, Eromon Uadiale, Jayden Prakash, Paul Knowles, Ciaron Fitz-Gerald, Patrick Tyrrell, Mike Golding
Macquarie's basketballers shine on the world stage
Macquarie shone on the world stage last month, with the University's 3×3 basketball team representing Oceania at the 2022 FISU (International University Sports Federation) University World Cup in Turkey.
Comprising students Ciaron Fitz-Gerald (Bachelor of Medical Science), Jayden Prakash (Doctor of Physiotherapy), Patrick Tyrrell (Bachelor of Mechatronic Engineering) and Eromon Uadiale (Bachelor of Human Science), the team defeated representative teams from Central America and Europe in the finals, before being defeated by the team from Brazil's Paulista University to claim the silver medal.
In congratulating the Macquarie team, the Chief Executive Officer of UniSport Australia Mark Sinderberry said that their success "is testament to the support provided through Macquarie University and would not have been possible without the efforts of the sport program staff and coaches in particular."
---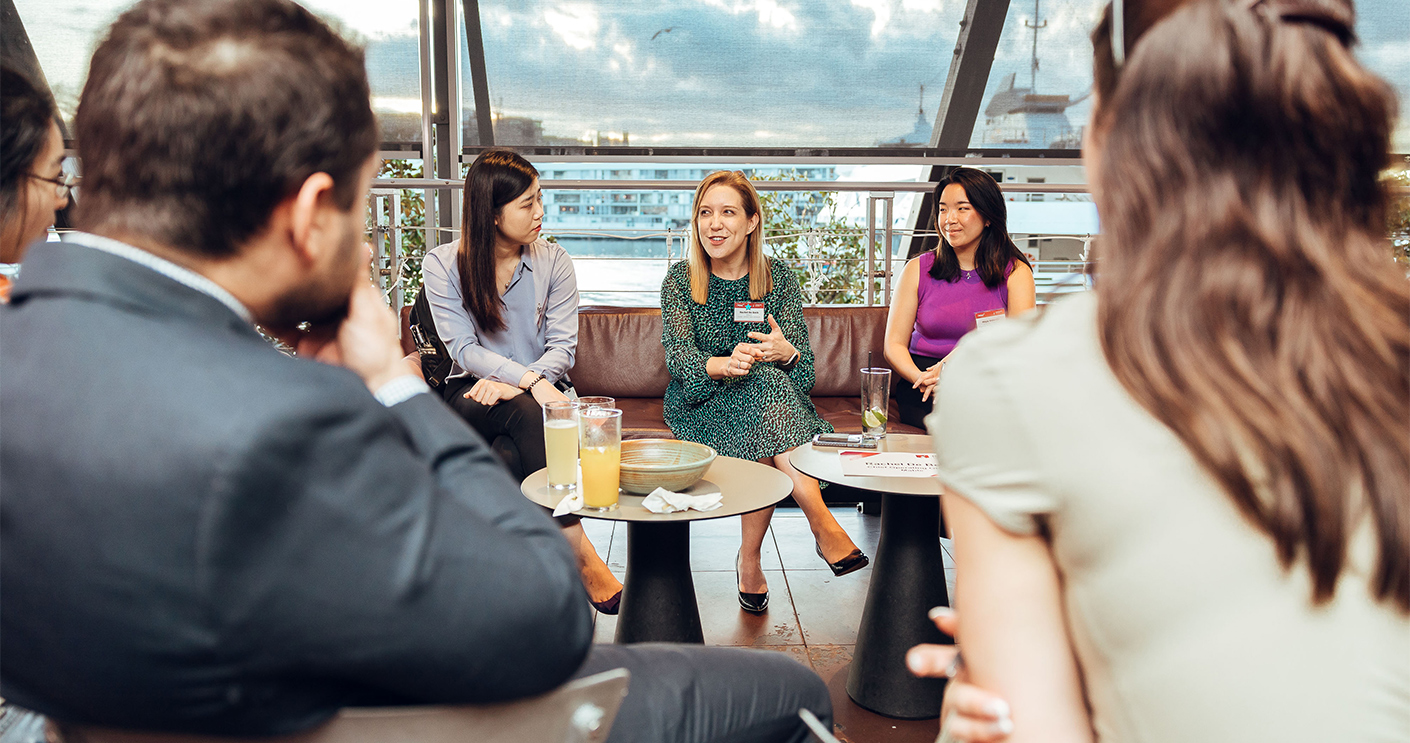 Having a beer with the boss pays off for young alumni
Alumni Relations' highly successful Beer with the Boss series continues, with more than 100 recent graduates gathering on a beautiful late October evening to connect with – and learn from – successful Macquarie alumni.
 Representing a diverse range of sectors including property, environment, IT, aviation, law, and not-for-profit, senior alumni volunteered their time to support the new graduates, many of whom were introduced to internships and job opportunities at the event.
"Many new graduates are fearful of the concept of networking, so it is important we provide opportunities for them to develop these skills in a familiar environment and help them see the value of connecting," explains Head of Alumni Relations, Susan Mills. "We thank all the alumni who have taken part in this series, and who help us set up our graduates for success."
---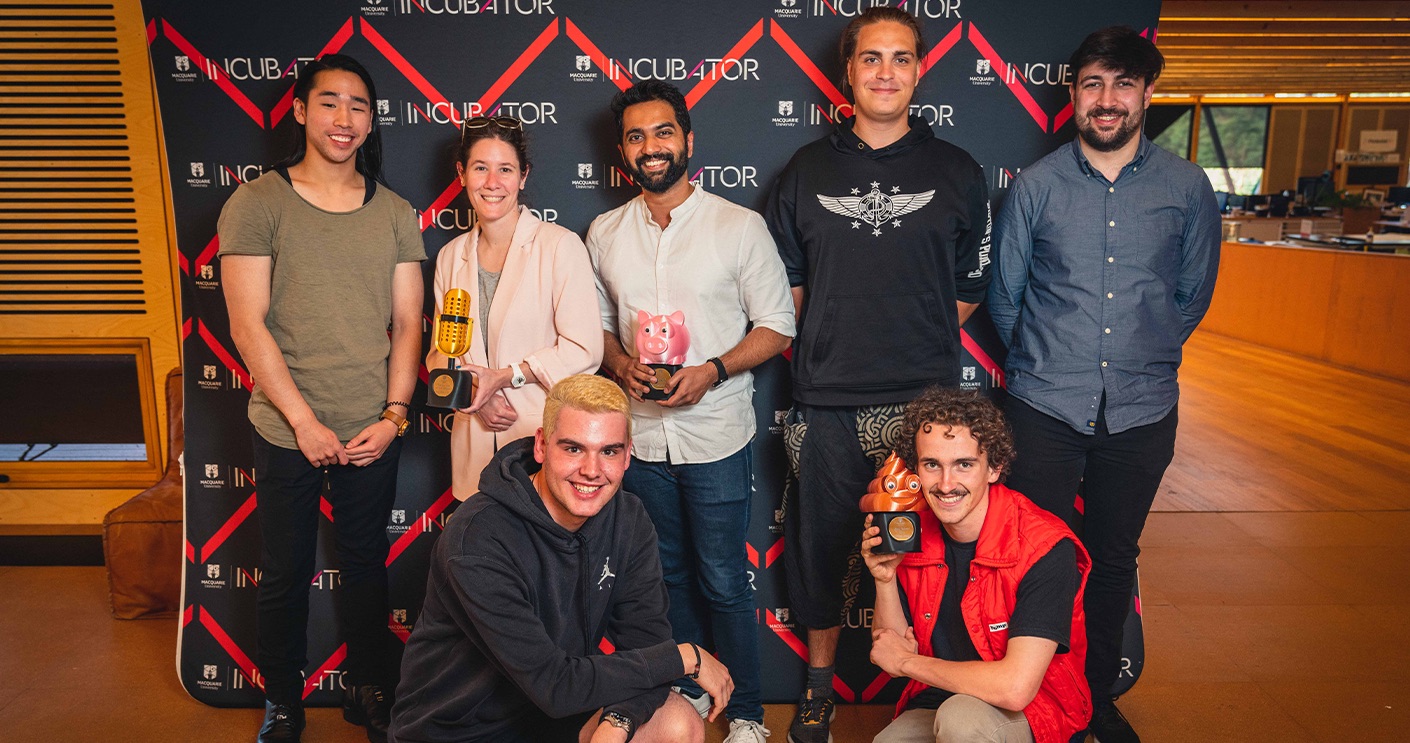 Pictured: (L to R) Ron Luo, Mélody Labrune, Sandeep Benny, Hans Reimann, Kris-Fillip Kahl, John Trpenovski, Alexander Murrie
Students up the ante at 2022 pitch finals
Students were recently given the opportunity to put their pitching and presentation skills to the test at the finals of the Macquarie University Incubator's Student Pitch Competition 2022.
Open to all Macquarie students, entrants had to film a three-minute pitch in one of three categories – Impact, Profit, and Best Worst Idea. A panel of judges decided on the 'Idea with the most potential' award while students voted via iLearn for the audience choice award. Eight entries per category made it through to the final, with ten cash prizes available for winners.
"This is the third year running the competition and we're so happy to see engagement increasing," says Incubator Manager Nicola Dew. "The competition is a fun way to wrap up student programs and a great opportunity for students to showcase what they've learned throughout the year.
"It's wonderful to see all their hard work paying off. Congratulations to this year's winners and we hope to see even more students next year."
IMPACT – Idea with most potential
Winner: Mélody Labrune – Every Day is Shoulder Day
Runner up: Kris-Fillip Kahl and Hans Reimann – DIMA
IMPACT – Audience choice
Winner: Mélody Labrune – Every Day is Shoulder Day
Runner up: Kris-Fillip Kahl and Hans Reimann – DIMA
PROFIT – Idea with most potential
Winner: Sandeep Benny – Compatible
Runner up: John Trpenovski – Screw the Nut
PROFIT – Audience choice
Winner: Sandeep Benny – Compatible
Runner up: Ron Luo, Sujan Shrestha, Wungreithan Shishak, Kevin Trang and Arnav Sharma – Water Up
BEST WORST IDEA – Audience choice
Winner: Alexander Murrie and Leah McDonald – Dog Dash Door
Runner up: John Trpenovski – S*** Mover
---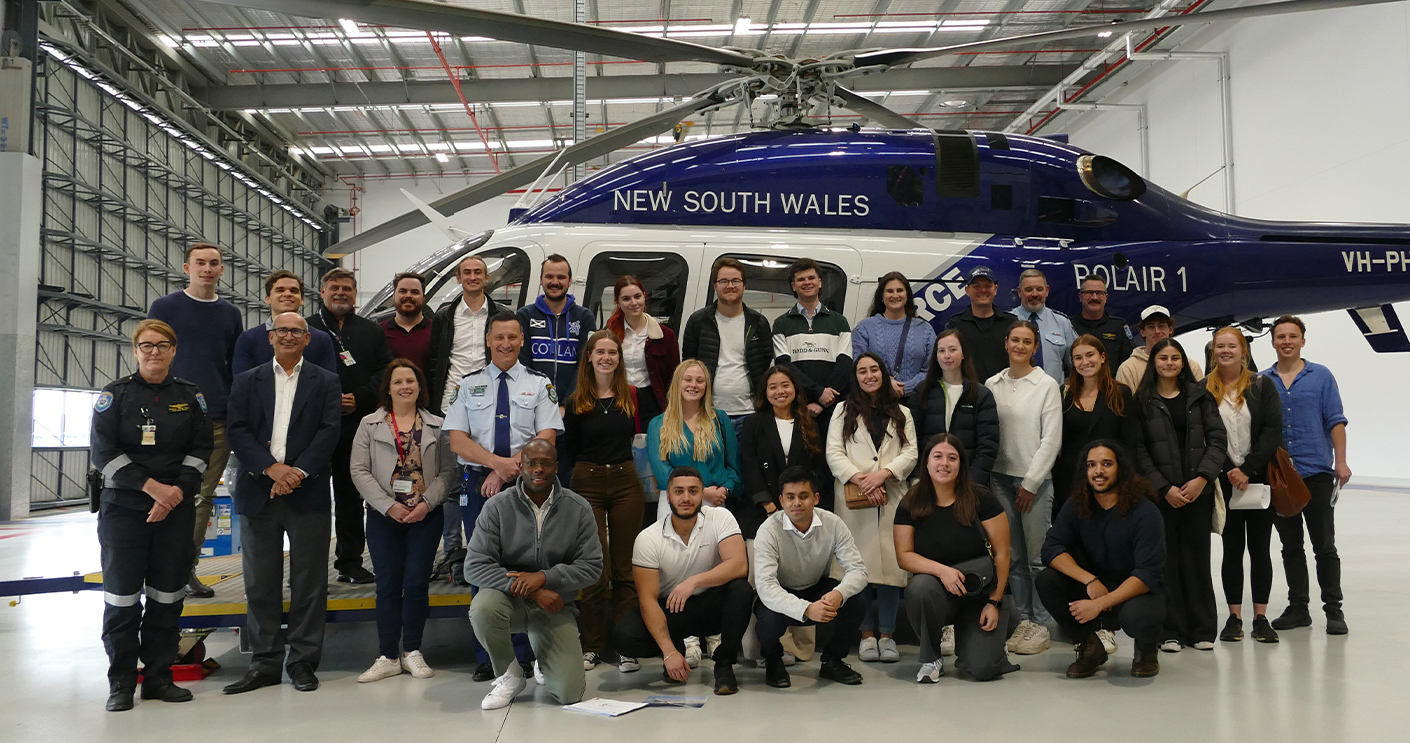 Pictured: Senior NSW Police Force Aviation Command officers, security studies and criminology students, Dr Dalbir Ahlawat from the Department of Security Studies and Criminology and PACE and Employability Manager Kate Maitland.
PACE students at the cutting edge of NSW Police Force Aviation Command (Polair)
Thirty-five students from the Department of Security Studies and Criminology have had a once-in-a-lifetime opportunity to be a part of the highly sensitive world of the NSW Police Force Aviation Command (Polair) as part of this session's PACE unit. They are the first students to be allowed into this secure facility, made possible by unit convener Dr Vince Hurley, who previously worked with Polair.
During the past 13 weeks, students worked on four projects, including research and analysis for next generation police rotary and fixed wing aircraft, drones and military grade infrared cameras.
"Students presented their research findings and recommendations to their peers and senior police," Hurley says.
"This experience will directly enhance their employability given the demands placed on them through critical thinking, teamwork, presentation and writing skills, all under immense pressure from the high expectations placed on each team by the NSW Police Force Aviation Command."
---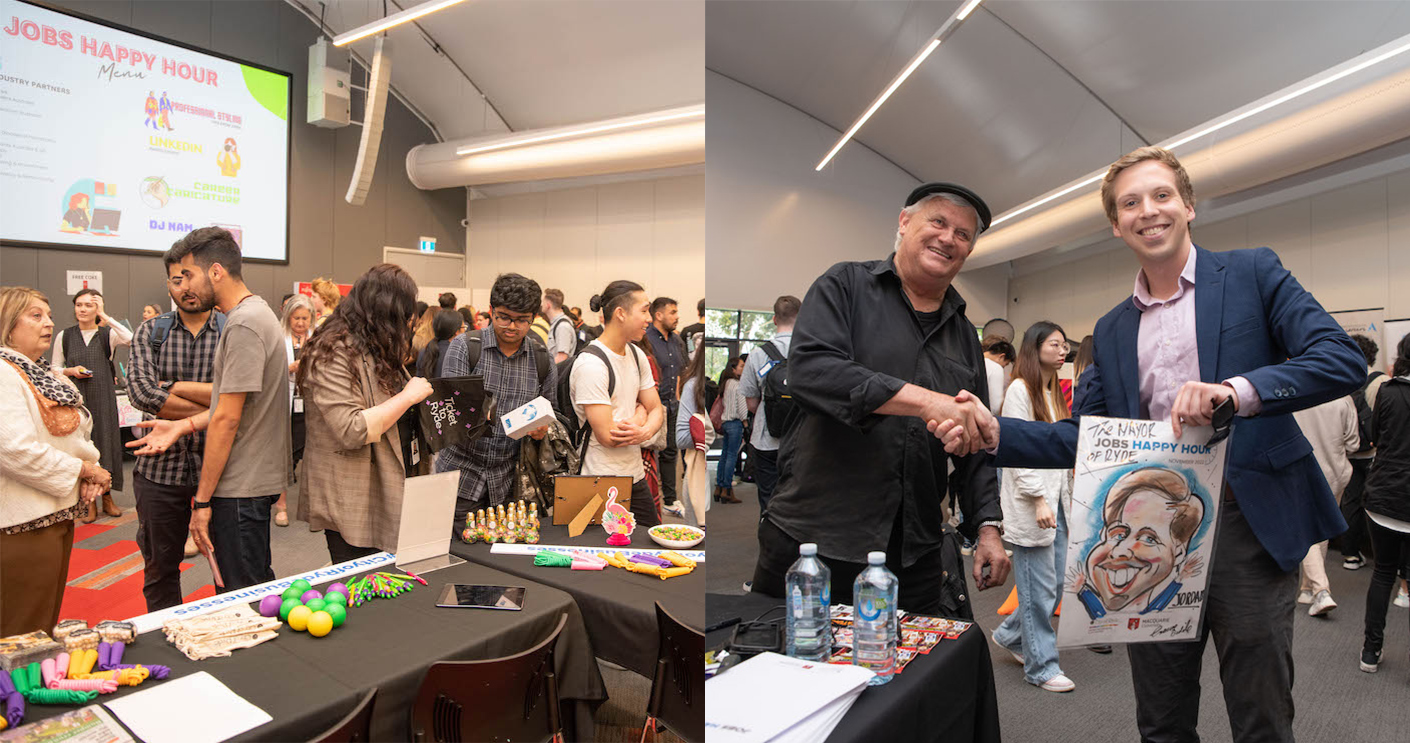 Pictured: (L) Students attending Jobs Happy Hour; (R) Jordan Lane, Mayor of Ryde receiving a career caricature
Jobs Happy Hour proves a huge success
Student attendance at Jobs Happy Hour was unlike anything we have seen at employment events this year. Not only did students show up in numbers to the new event, but feedback from attending industry partners was that our students were professionally dressed, had done their research and were extremely well prepared to engage in recruitment conversations.
Some of our students were recruited directly during the event, while others have been invited to interview or connect further with their employer of choice. Jobs Happy Hour was an excellent way to showcase the quality of our students and was generously supported by the City of Ryde Council as part of its engagement strategy for Macquarie Park.
---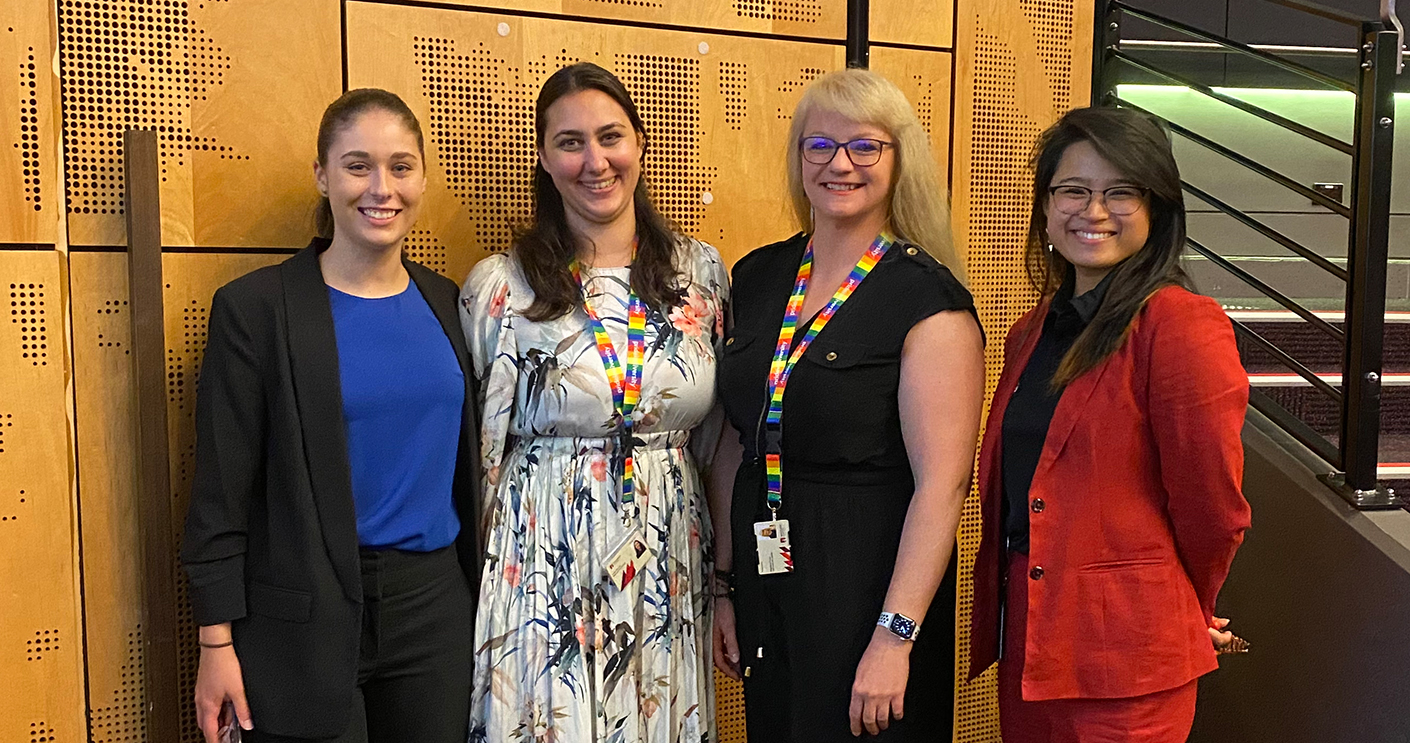 Pictured: (L to R) Alyssa Mifsud, Consultant, Graduate Talent and Acquisition, Deloitte; Jordan Akhurst, Manager, Student Equity, Diversity and Inclusion; Magda Poulin, Workplace Diversity and Inclusion Consultant; and Delia Deng, Public Sector Account Executive, SAP.
Equity, Diversity and Inclusion in the Workplace event opens doors for discussion
The Macquarie Business School Equity, Diversity and Inclusion Committee hosted an event last month to discuss 'Equity, Diversity and Inclusion in the Workplace'. Guest speakers and Macquarie alumni Alyssa Mifsud (Deloitte) and Delia Deng (SAP) shared insights from their organisations with staff and students.
Macquarie's Jordan Akhurst and Magda Poulin shared learnings and areas of focus for the University. The event concluded with a Q&A session that provided an opportunity to further discuss programs and initiatives.
"Equity, diversity and inclusion has become a vital capability and business priority for every organisation, leader, manager and employee," says Poulin. "For MQBS students, understanding the principles of equity, diversity and inclusion early in their careers is key to creating future inclusive leaders.
---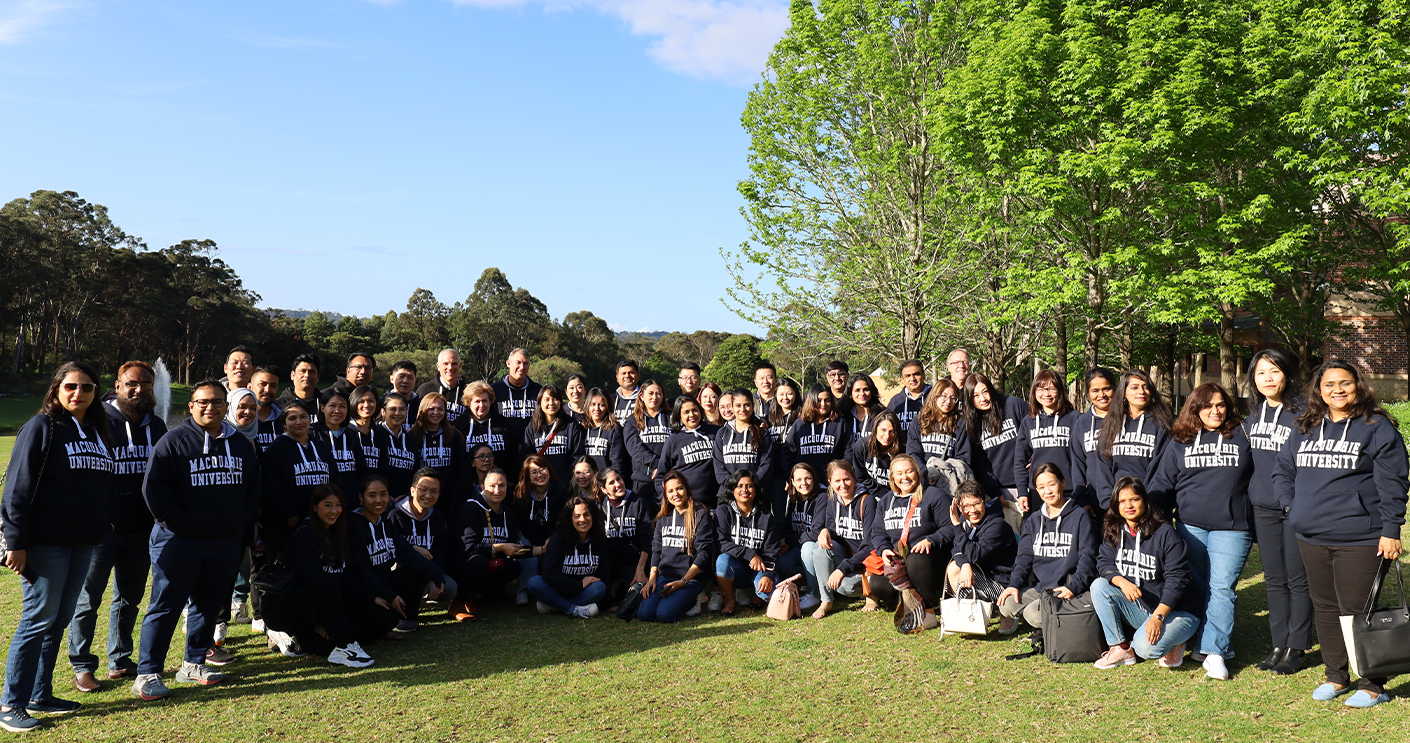 Pictured: International education partners and Macquarie staff
Macquarie campus showcased to international education partners
Recently, the Global and Domestic Student Recruitment team hosted the Campus Showcase Conference on campus, attended by 50 of our valued education partners from 24 countries across the globe.
During the four-day event, attendees had the opportunity to meet senior academic leaders and key university staff, connect with current international students and view extensive infrastructure upgrades across campus. Attendees thoroughly enjoyed the interactive sessions both on campus and in wider Sydney, getting a small taste of what studying and living in vibrant Sydney is like. Thank you to academic and professional staff across the university for their contribution throughout the conference.
---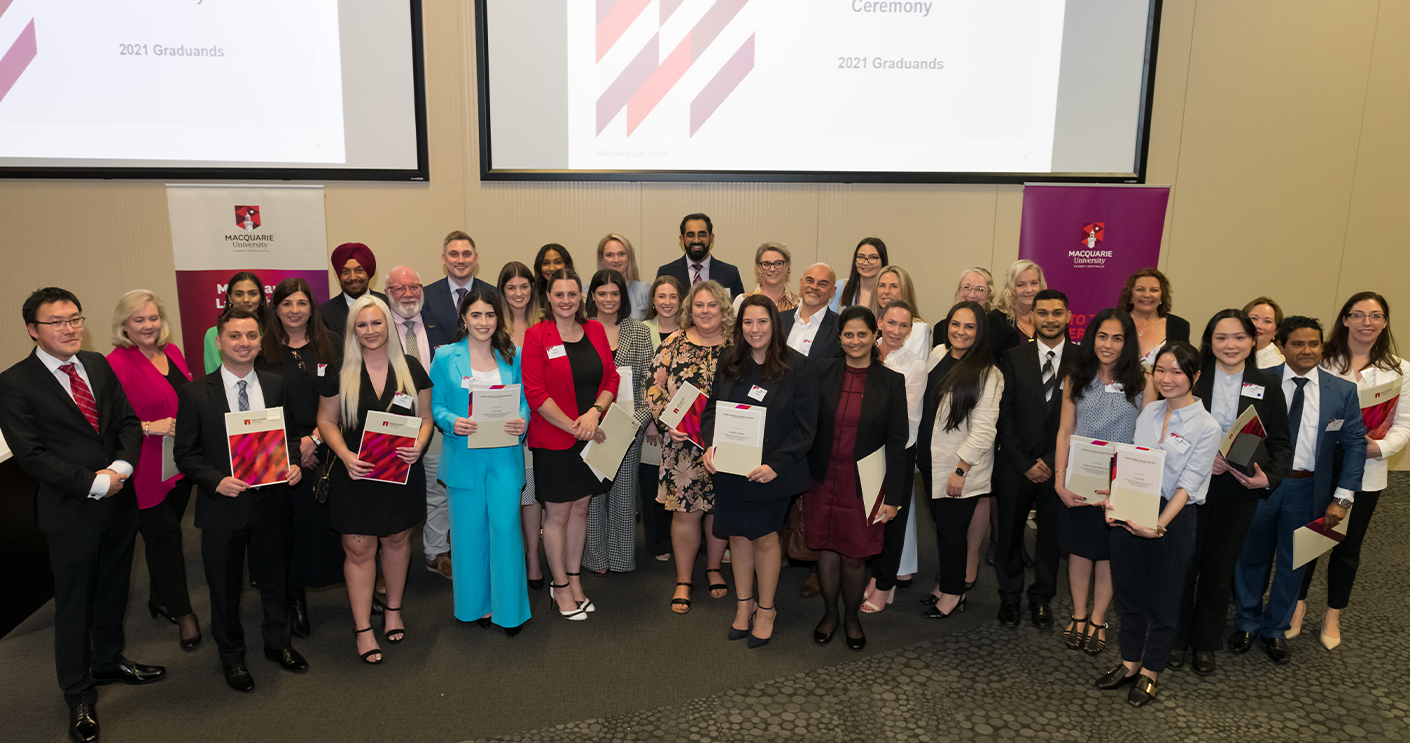 Pictured: Macquarie Law School staff and recent conveyancing graduates
2021 conveyancing graduates recognised at graduation ceremony and prize night
Earlier this month Macquarie Law School hosted a graduation ceremony and prize night for 2021 graduates in conveyancing at Macquarie's Lotus Theatre. Awards were presented for academic distinction, along with presentation of the Paul Denny award for completing the Conveyancing course with a Distinction with no previous work or prior experience and the Dale Turner Award for the 2021 DUX. The night also included a welcome address from Dr Henry Kha, Macquarie Law School, and a special guest address from Chris Tyler, representative of the Australian Conveyancing Institute.