Highly Commended for bioluminescent fungi
Congratulations to Research Fellow Dr Julian Schrader from the School of Natural Sciences for his Highly Commended entry in the 2022 BMC Ecology and Evolution image competition for his picture, 'Bioluminescent fungi glowing in the Bornean rainforest'.
---
ARC Future Fellowships
Congratulations to Macquarie's recent recipients of Future Fellowships from the Australian Research Council.
Dr Randa Abdel-Fattah, from the School of Social Sciences, received a Future Fellowship. Dr Abdel-Fattah's research project will be the first study of a neglected but constitutive part of Australia's social movement history: Arab/Muslim Australian social justice activism. It aims to recover previously untapped oral histories and rare archival collections of Arab/Muslim Australian activists working in anti-racism, anti-war and feminist social movements from the 1970s to date.
Dr Emily O'Gorman, from the School of Social Sciences also received a Future Fellowship from the Australian Research Council. Dr O'Gorman's project will provide the first in-depth environmental history of international wetlands conservation post-World War II. The project expects to generate new theoretical and applied insights about wetlands conservation and expertise, and nurture exciting new directions in environmental history.
Dr Greta Hawes has received a Future Fellowship from the Australian Research Council to complete at Macquarie University. Dr Hawes' project aims to investigate how communal crises impact storytelling through an analysis of Greek myth in Antiquity. The project expects to generate new knowledge about the impact of natural disasters, epidemics, migration and war and show how narratives work as strategies for resilience.
Dr Amy Cain from the School of Natural Sciences, has received a Future Fellowship for her project that aims to establish the genetic basis of polyethelene biodegradation (PED) by microbes from the gut microbiome of plastic-eating caterpillars. It will transform the active microbial PED genes into carefully designed synthetic microbes for efficient, safe and large-scale PED.
Finally, congratulations to Dr Christopher Reid from the School of Natural Sciences, on receiving an ARC Future Fellowship. Dr Reid's project aims to understand how colonies of weaver ants build complex nest structures, using novel 3D-imaging and ant tracking techniques. Benefits of the project include new construction technologies that are safer, greener, cheaper and faster.
---
New Digital Health CRC project
This new research project, led by Macquarie, Sydney Local Health District and annalise.ai, will evaluate the use of the Annalise Enterprise CXR solution, which is an AI-enabled software as a medical device (SaMD) that provides clinicians with a notification of suspected clinical findings on chest X-rays. Ultimately, the study aims to inform future research and implementation of AI into clinical practice.
Professor Farah Magrabi from the Australian Institute of Health Innovation at Macquarie University is part of the research team on the new study that will facilitate the evaluation of the annalise.ai CXR solution in a controlled online environment with simulated cases about patients presenting to the emergency department.
"Currently, chest X-rays are ordered for about half the patients who present to emergency departments, but the window for a radiologist to review them and write a report is very small, and there can be delays in times of high demand," Professor Magrabi said.
---
Australian Research Council (ARC) Linkage funding
The ARC has publicly announced the outcomes for round three of the 2021 Linkage Projects scheme. Macquarie submitted seven applications in this round and two were successful (28.6% success rate), with a total award of $895,903.
Nationally, 61 projects were funded, with a success rate of 29.4%. National outcomes can be viewed in RMS or the selection report.
---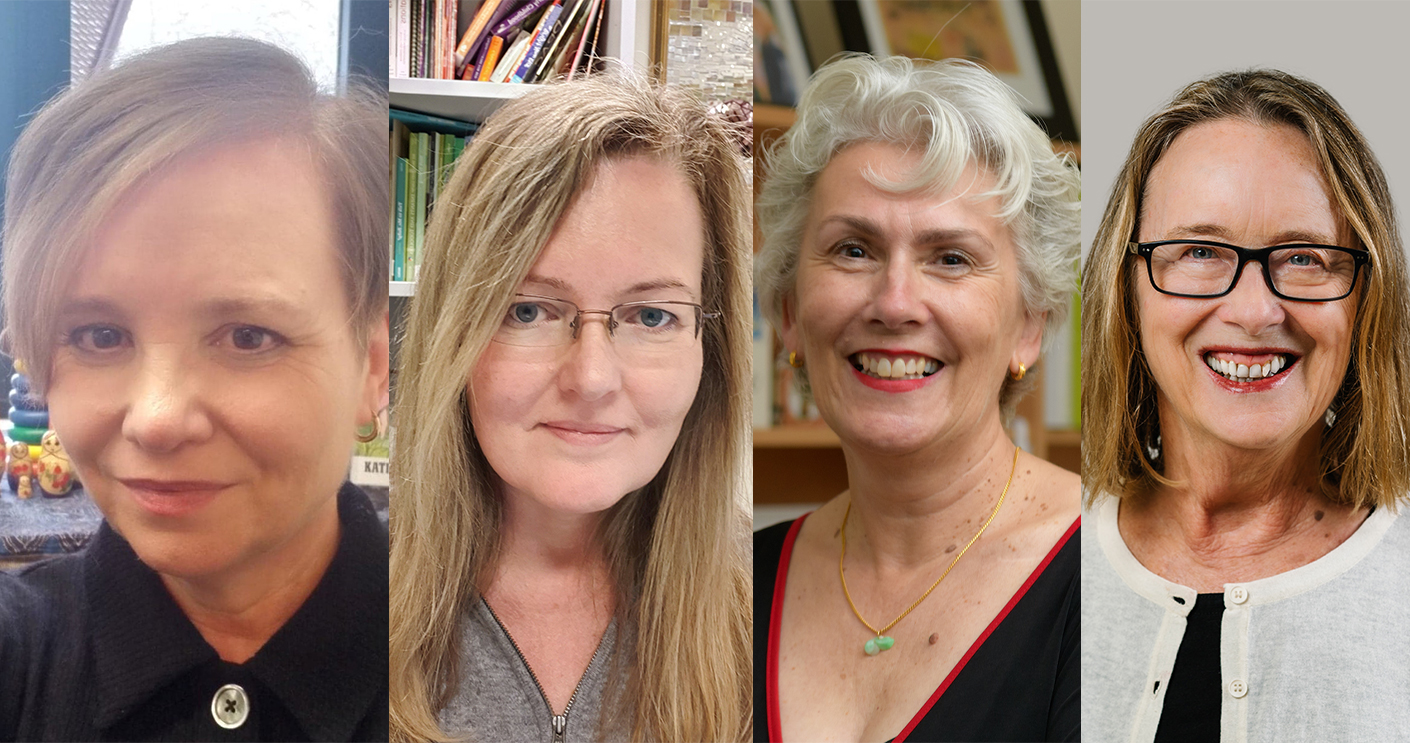 Pictured L to R: Professor Sheila Degotardi, Dr Belinda Davis, Associate Professor Sandie Wong and Professor Linda Harrison
---
Professor Linda Harrison, Associate Professor Sandie Wong, Professor Rebecca Bull, Professor Sheila Degotardi and Dr Belinda Davis from the School of Education received funding of $544 236 for their project 'Observe, Reflect, Improve: a tool to enrich Children's Learning (ORICL)'
Dr Jia Wu, Professor Jian Yang, Professor Michael Sheng, Professor Amin Beheshti, Professor David McAlpine and Associate Professor Paul Sowman from the School of Computing received $351,667 in funding for their project 'Deep Pattern Mining for Brain Graph Analysis: A Data Mining Perspective'.
Associate Professor Donna Houston from the School of Social Sciences was also successful, alongside a team of academics and 10 partner organisations, have received $488,277 in funding for their project 'Urban Rewilding: Ecologically and Community-informed Futures.' The team, comprised of Dr Thomas Newsome, Professor Phil McManus (USYD), Associate Professor Donna Houston (Macquarie), Dr John Martin (Taronga Zoo), Dr Alexandra Carthey (Macquarie), Dr Catherine Grueber and Professor Peter Banks (USYD) aim to prevent further wildlife loss by creating a blueprint for the ecological restoration of urban spaces.
---
Fundraiser for a worthy cause
Congratulations to Distinguished Professor Stephen Foley from the School of Natural Sciences, who with the support of a small team, has raised $11,633 for the Survivor's and Mates Support Network (SAMSN), which helps male survivors of child sexual abuse. The team took part in the recent City2Surf event to drive donations, participating in 14km fun run from the Sydney CBD to Bondi.
"A number of Macquarie people contributed generously, for which I am very grateful," said Distinguished Professor Foley.
"This will have an amazing effect as it secures funding for groups for the coming months."
---
Young Engineer honoured for research excellence
Congratulations to Dr Noushin Nasiri from the School of Engineering for being named one of the top 20 scientific researchers under 40 in Australia.
---
2022 Macdonald Holmes Medal
Dr Susan Caldis, School of Education, has been awarded the 2022 Macdonald Holmes Medal by The Geographical Society of New South Wales for outstanding contributions to geographical research and education in Australia and internationally.
---
Careers and Student Employment nominated for coveted award
Macquarie's Careers and Student Employment team has been nominated for most Popular Careers Service in the AGRIA industry awards run by the Australian Association of Graduate Employers (AAGE). Finalists have been voted by AAGE employer members as the university careers service that has provided the best quality services over the last 12 months. The nomination reflects the team's strong emphasis on providing great opportunities for employer/ industry engagement, particularly through the Macquarie Student Employment program. Winners will be announced at the AAGE conference at the end of October.
---
2022 International Association of Bioethics Award
Congratulations to Distinguished Professor Wendy Rogers, Department of Philosophy, who was recently awarded the 2022 International Association of Bioethics Award for 'Bioethics Service in the Face of Challenges'.
Professor Rogers has been recognised for her ground-breaking work in raising public, industry and government awareness of forced organ harvesting from prisoners of conscience in China, as part of her role as Chair of the International Advisory Committee of the International Coalition to End Transplant Abuse in China (ETAC).
Professor Rogers led an international team who examined transplant research publications and identified papers that used organs sourced from prisoners, resulting in the retraction of more than 20 publications. Rogers' work and advocacy has made a significant contribution to increased public awareness, greater journal rigour, and government action on a previously ignored human rights abuse.
"I am deeply honoured to receive this award, recognising the work that has been done to draw attention to forced organ harvesting from prisoners in China. However, there is still work to be done in generating additional public awareness so that further action can be taken by governments to end this human rights abuse," said Professor Rogers.
---
MindSpot Academy's mental health training recognised
MindSpot Clinic has been recognised at the Australian Business Awards with an ABA100 Award for Training Excellence for its MindSpot Academy initiative. Launched in 2020, MindSpot Academy is the only program in the world that offers a specialised digital mental health clinical training pathway for mental health professionals. So far, 35 trainee practitioners have benefitted from the program.
---