The Student Wellbeing office has a range of services to help students through difficult times; it's also home to support dog Maxi.
Maxi is a bichon-toy poodle cross who just happens to be owned by Taleen Biberian, Macquarie's Wellbeing Services Coordinator. For the week of R U OK? Day it feels right to spotlight Maxi's boundless commitment to MQ students. His employment is backed by science too, with research showing canine cuddles can release oxytocin, and lower the heart rate and blood pressure.
Something you'd like staff to know about
I LOVE belly rubs, any day, any time. So I beg you to come visit.
Something you feel proud of
Following in the footsteps of the late, great Snowy, dec. 2017.
A person you admire at Macquarie, and why
Student Wellbeing staff, they do such important work supporting students. They are my real role models in this job.
What you need to do your best work
Look, it's a truth universally accepted that a small dog, in possession of a large sleep mat, must be in want of nothing else. So, if I know said sleep mat awaits me at the end of the day… I can play and snuggle for Australia.
The coolest bit of equipment you use in your work, and what it does
My staff ID – it means I'm a real boy!
Something people usually ask you when they find out what you do for a living
Do you have the best job at Macquarie? Ahh, yup.
Something you've read recently that has had an impact on you
Sir Arthur Conan Doyle's The Hound of the Baskervilles. It strengthened my resolve to champion canine emancipation.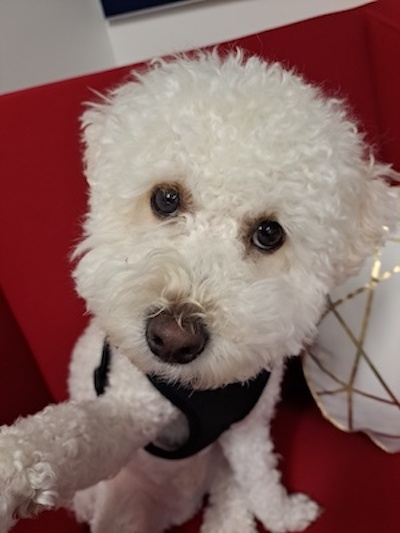 A favourite photo from your camera roll
The selfie published here. This year I've been working on my bikini selfies. #nailedit
A website or app you can't live without
Puppr. obvs
Something you're trying to do differently in 2022
Learning to do tricks, without treats