If you've attended a science-related event on campus or are planning to attend the upcoming Astronomy Open Night, you will have come into contact with the work of the incredible Outreach and Engagement team for the Faculty of Science and Engineering. This group of four women is doing amazing work to promote their faculty and STEM in and outside of the University.
Who are you?
Mel, Kelly, Jo and Jojo and we are the Outreach and Engagement team for FSE.
What do you do?
We lead and support outreach and engagement activities in our faculty. This means we get to work on lots of different events and initiatives with many partners both within FSE and across the university. The purpose of our role is to promote our faculty to schools and students of any background, to connect our people to external organisations, and to highlight our ideas to the community.
Why do you do it?
There are so many reasons. We are passionate about STEM, and we relish telling science stories. We also want to help break down any barriers to engaging in the various disciplines and build overall engagement in STEM. Importantly, we do what we do to help people achieve their goals.
Are there any misconceptions about what your team does?
Firstly, that we work in Marketing or only do events. The way we see it, we are not really promoting a brand, but promoting opportunities.
Secondly, that you must be a scientist to do what we do. We actually have quite varied backgrounds. Kelly studied contemporary literature and film because she wanted to be a film critic and journalist. She ended up working in education, even teaching in an art school for a while. Jojo has a master's in marketing from Macquarie with various work experience across hospitality, customer service, marketing, and events. She later discovered her passion for project management in events, leading to her current role.
Mel has had had more than 20 years collective experience in administration, recruitment, events, marketing and customer service. Her experience has been varied, from briefing the likes of Matt Damon, Cameron Diaz, Justin Timberlake and Will Smith before they climbed the Harbour Bridge to recruiting Pipeline Engineers at Shell in Norway. Jo has worked in the tertiary sector for over 10 years and has been part of the lovely FSE community for over 5 years. She has a passion for communication, stakeholder management and project management. She gets a thrill from problem solving and improving systems.
What's a recent achievement you're proud of?
We are super proud to be part of the first dedicated Outreach and Engagement team in FSE. We're working hard on some new initiatives that we are very proud of. We're currently developing an Outreach Strategy for our faculty and establishing a dedicated SharePoint with new systems and processes. While this year has been about Business as Usual following our commencement as a new team, we've also been particularly excited to support the development of an HSC Science Extension Conference for students. Our pilot, Macquarie [EX]plore, will take place in September this year.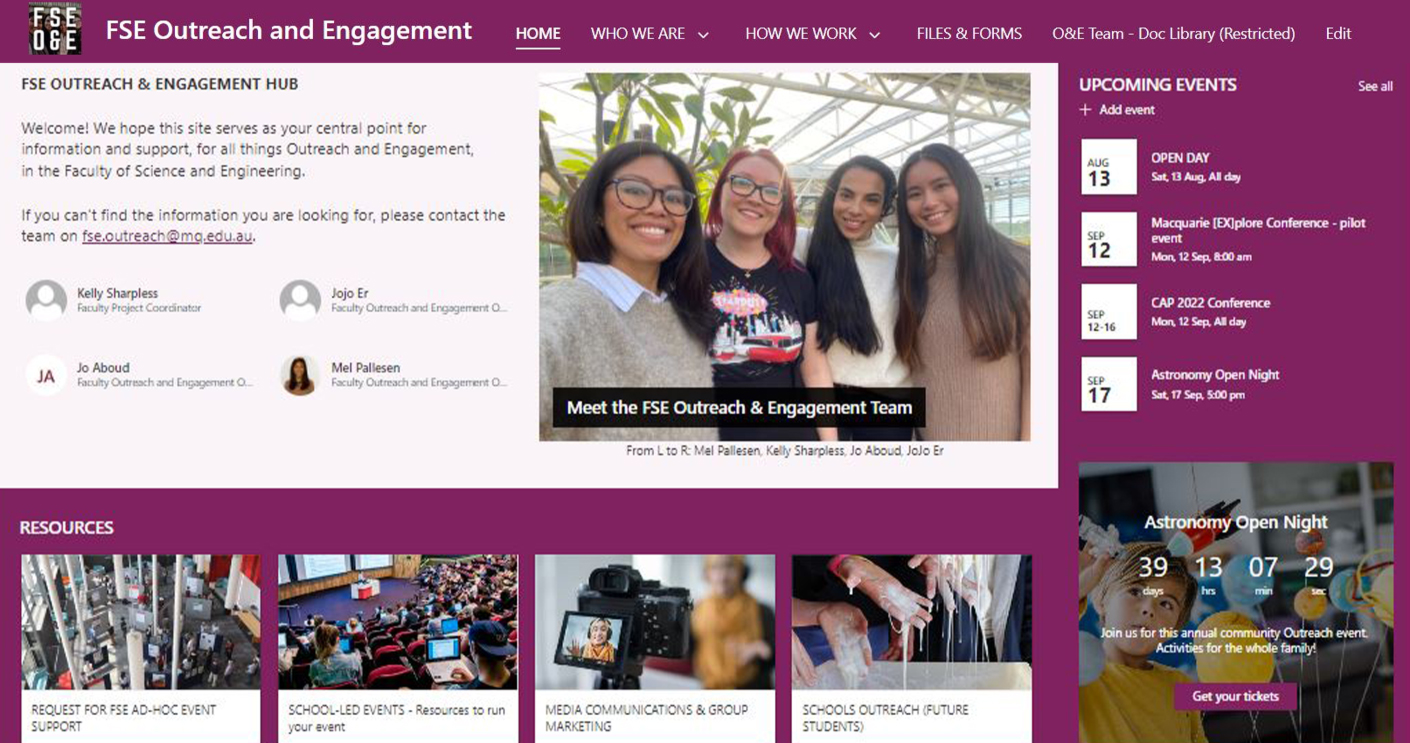 Pictured: A sneak peek of the new Sharepoint for FSE Outreach Strategy
What's planned for the future – anything exciting on the horizon?
We are so busy and there are so many things happening! We're working hard to develop more initiatives for the coming year and creating more opportunities for face-to-face engagement, including a focus on Women in STEM, among other things. We're making lots of new connections and getting to know more people across our faculty and throughout the university, to let them know who we are, what we do, and how we can work together. It's so nice to be able to link so many partners across the faculty. Then September will be particularly busy for us, as we work on our first international conference, Communicating Astronomy to the Public; our first major school event, the Macquarie Explore Conference; and the big one, we are leading the return of a huge community event, Astronomy Open Night.
How can we contact you or find out more?
We can be reached via our team email: fse.outreach@mq.edu.au and are happy to answer your outreach questions or point you in the right direction. Before the end of the year, we will also have our SharePoint live!
---
Featured image (Pictured L to R): Mel Pallesen, Kelly Sharpless, Jo Aboud and Jojo Er