Dr Lee Spitler is exploring new horizons in his research. Or should we say, new galaxies!
The Lead Scientist for Macquarie's Huntsman Telescope project grew up in California, moving to Australia 17 years ago to complete a PhD at Swinburne University in Melbourne. In 2012, he started at Macquarie teaching undergraduate astronomy and physics units.
Using the world's largest telescopes, in space and on the ground, his research aims to better understand the past, present and future of the Milky Way galaxy by studying other galaxies.
From August 2022 he will commence a full-time secondment from the from School of Mathematical and Physical Sciences to the Australian Astronomical Optics (AAO) where he aims to expand the impact of AAO to areas outside of astronomy.
1. Something you'd like staff to know about
The tremendous support from a broad range of people at Macquarie who supported the construction of Macquarie's Huntsman Telescope. Huntsman is a project I created while at Macquarie. The telescope is located 500 km outside of Sydney in Siding Springs Observatory, near Coonabarabran, NSW. Officially opened in a ceremony last week by Professor Fred Watson, the telescope is built to be remotely operated and aims to generate data to better understand our universe. Huntsman is an unusual research telescope as it is entirely made of off-the-shelf components. This means it can take advantage of rapid advances in technology in consumer products that can be bought off-the-shelf, without needing the high-cost and long waits to design custom telescopes. With some resemblance to its namesake, Huntsman consists of 10 Canon lenses.
2. Something you feel proud of
I am proud of the Huntsman Team. Braving numerous setbacks – La Nina, ant attacks, lightning strikes, dust storms, rat infestations and more. The Macquarie students and staff working on the telescope keep persevering, thinking outside the box and coming up with great solutions to produce a fully automated world-class facility. It is a privilege to work with such a great team. I can't wait to share our research with the world.
3. A person you admire at Macquarie, and why
I admire Distinguished Professor Lesley Hughes for working to make Macquarie a better place to work. Including giving a voice to early career researchers and helping them be heard as they work to improve their workplace during a challenging period of their career.
4. What you need to do your best work
The hands-off, supportive environment afforded by my academic position, which I feel very fortunate and grateful to have. Without this, I would not have been able to achieve a lot that I have.
5. The coolest bit of equipment you use in your work, and what it does
The Canon lenses that make up Huntsman. These are top-of-the-line models, normally used in sports and wildlife photography. They are sophisticated optical systems that deliver pristine images.
6. Something people usually ask you when they find out what you do for living
Is there life on other planets? With an infinitely large universe, the possibilities are literally endless.
7. A favourite photo from your camera roll
Being a local in the area, I am involved as a participant or volunteer in Sydney Mardi Gras over the years. Here are two pictures of me getting involved. I love the community spirit and advocating for a good cause.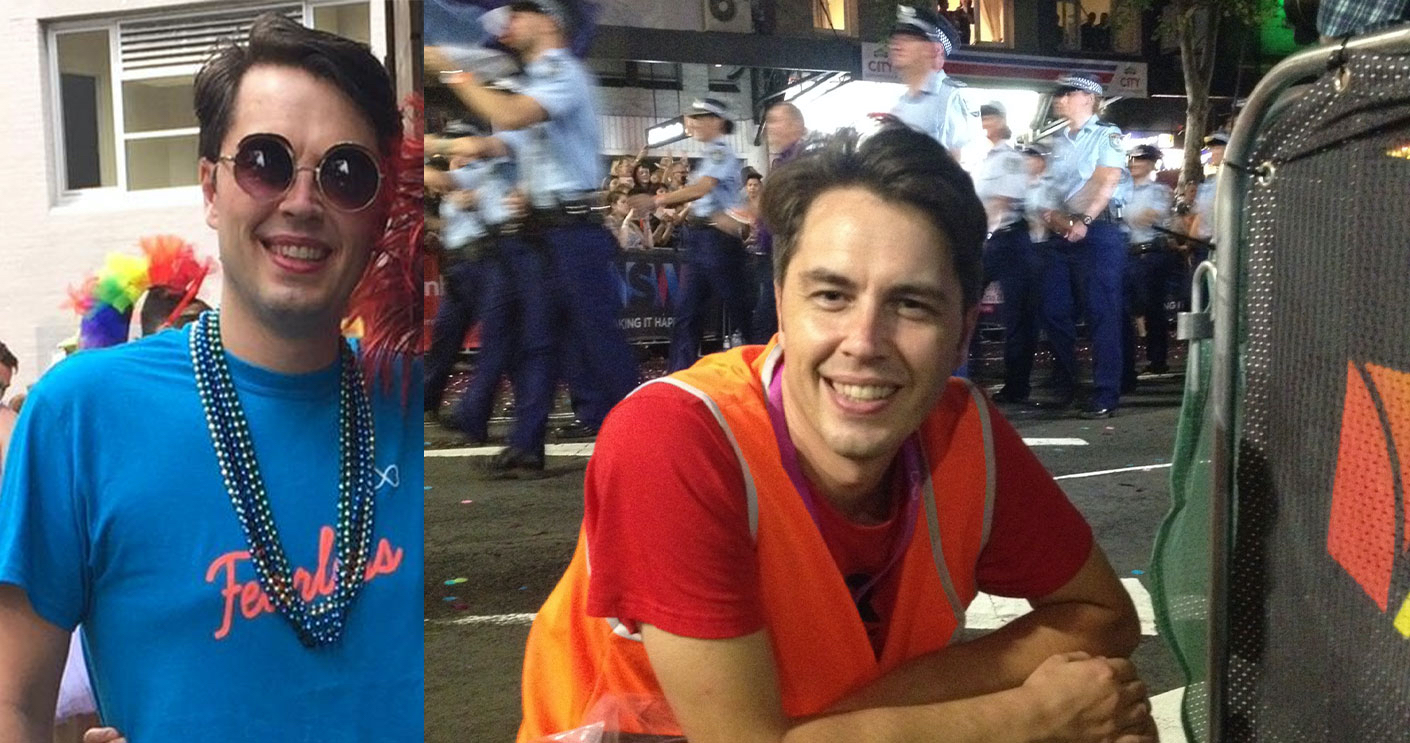 8. Your definition of success
A satisfying pause before the next tempting challenge emerges.
9. The first person you go to for advice 
My partner. She has perspective and insight that I value significantly.
10. A website or app you can't live without
Various online forums. I get to live vicariously through others who are doing the numerous hobbies I wish I had time to pursue.