Staff and Students shine at Indigenous Nationals
Last week saw a combined team of staff and students compete at the Indigenous Nationals sporting event. Held annually since 1996, this year's competition was hosted by QUT on the land of the Turrbal and Yugara people.
It was an exciting week with the combined efforts of the netball, volleyball, basketball and touch football team seeing Macquarie come in fifth place out of 29 universities. Staff representatives Taylah Pearce and Georgia Peters (pictured above) noted that the team was really competitive in all sports and really enjoyed networking and connecting with Aboriginal and Torres Strait Islander mob from across Australia.
Indigenous Nationals is open to both staff and currently enrolled students of UniSport Australia (UniSport) member universities.
---
New Law School Dean
Professor Lise Barry has been appointed Dean of Macquarie Law School. Lise joined the School in 2005 and has provided exemplary service as school Deputy, and in Acting and Interim Dean positions during the last four years. She brings with her a wealth of knowledge, expertise and insights into university teaching and research, and will continue to take Macquarie Law School from strength to strength. Lise brings extensive experience to the role as an expert in mediation and the resolution of workplace, community, professional and family disputes. She is also a member of the National Sports Tribunal, NSW Community Justice Centre, and foundational co-convenor of the Australian Research Network on Law and Ageing (ARNLA).
---
Banned play revived 60 years later
Faculty of Arts PhD student, Stephen Vagg (supervised by Professor Bridget Griffen-Foley) recently organised and co-produced the first Australian reading of Reunion Day, a play banned by Australian censors in 1961. The reading was also a tribute to the play's 95-year-old writer, Peter Yeldham, one of Australia's leading screenwriters of the twentieth century. The reading was performed at AFTRS on Sunday 26 June and was covered in the Sydney Morning Herald.
---
Plaudits for the College
Macquarie University College won an award from the India Australia Community and Business Alliance on 29 April. The team won the Research and Development category for the IELTS Online and two MOOCS (IELTS and PTE) on the FutureLearn platform and were finalists in other two categories. The three English-language test preparation products developed at the College have now reached more than 800,000 users, including more than a quarter of a million in India. This recognition follows the products being ranked number one in the national Austrade/FutureLearn campaign in 2020.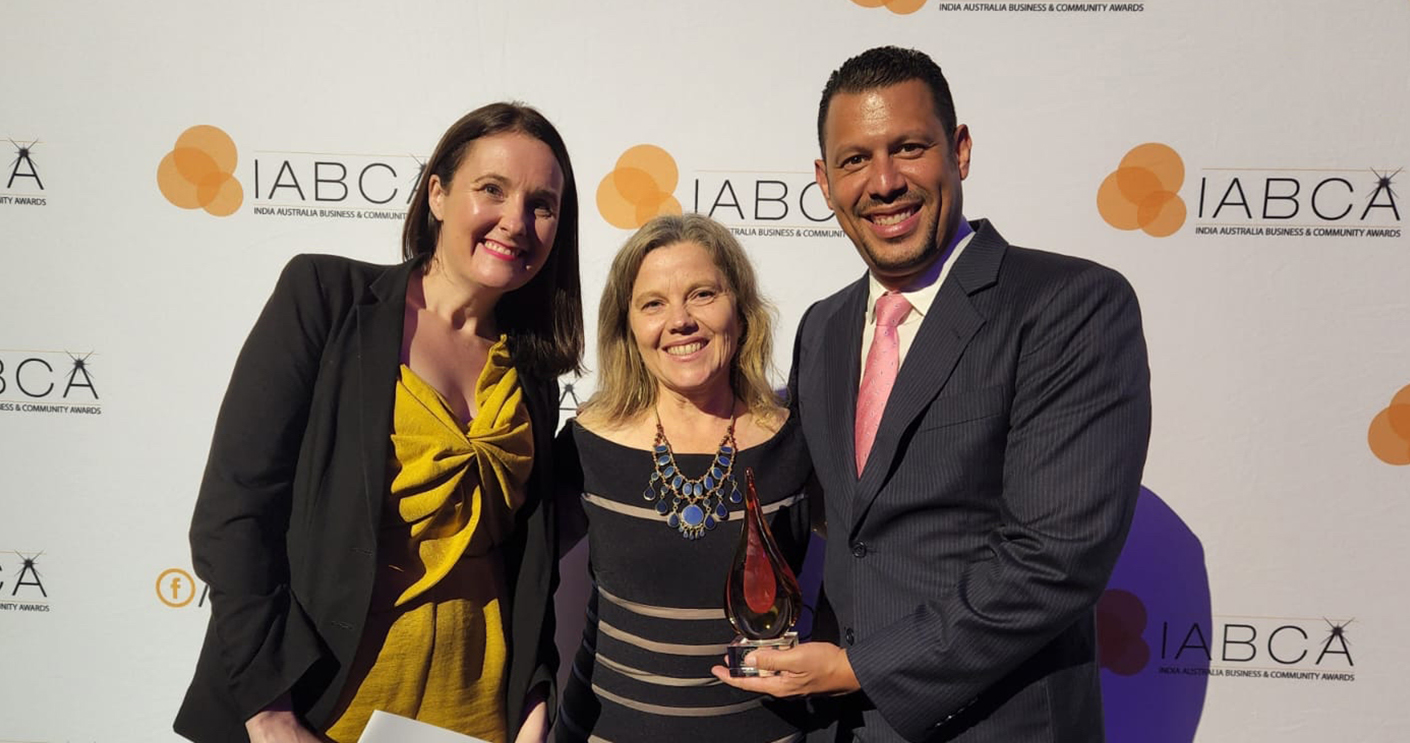 Pictured above: Three of the College team were present to collect the award: Cara Dinneen (Associate Director), Rose Harvey and Jose Lara (Learning Designers).
---
MBA top-ranked in NSW, according to The Economist
A survey of former students of the top 100 full-time MBA courses worldwide saw Macquarie Business School's MBA ranked second in Australia and 61st globally, according to online publication MBA News.
"This result shows the quality of our MBA program and I congratulate our talented students and our dedicated academic staff on their efforts," says Macquarie Business School Executive Dean, Professor Eric Knight.
---
Student Accommodation shortlisted for architecture, design, and innovation award
Congratulations to Mark Broomfield, Director of Property,  Tony Carton, Head of Project Management and the Projects team in Property for their management of the student accommodation in the Central Courtyard development project – shortlisted for a NSW Architecture Award and National Property Council Australia Design and Innovation Award. While the team didn't win for their nominated category of 'Residential Architecture – Multiple Housing', the project was recently featured in the Sydney Morning Herald. More to come in the PCA Awards in September.
---
Macquarie University joins industry bureau boosting semiconductor capability
Professor Darren Bagnall and Dr Sourabh Khandelwal from the School of Engineering will play a key role in a new NSW Government funded initiative to drive sovereign semiconductor capability, supporting critical local industries including health, defence and telecommunications.
The Semiconductor Sector Service Bureau (S3B) brings together leading specialists from Macquarie University, the University of Sydney, UNSW Sydney, CSIRO and the Australian National Fabrication Facility, with the aim of building connectivity and collaboration, whilst supporting commercial impact in the semiconductor industry. It will play a key role in advocating for the sector, connecting companies and researchers with design and manufacturing capabilities globally. Semiconductor ICs are an irreplaceable component in many current and future global supply chains and are vital to the manufacturing and operation of cars, computers and smart phones with applications in medicine, military and space industries.
---
Eccles Centre Visiting Fellowship for MCCALL Professor
Professor Diane Hughes, Discipline Chair of Creative Arts in MCCALL, has been awarded an Eccles Centre Visiting Fellowship at the Eccles Centre for American Studies at the British Library, which she plans to undertake in 2023. Her topic – The evolution of jazz and popular singing in twentieth-century Britain and the USA – forms part of her broader research on the singing voice.
---
Allan Martin Award win for one of our Historians
Dr Daozhi Xu has been awarded the Australian Historical Association's Allan Martin Award, for her research project 'Chinese Perspectives on Indigenous People in Chinese Australian Newspapers, 1894-1937'. The Allan Martin Award is a research fellowship awarded annually to assist early career historians further their research in Australian history.
---
ABLAZE on ABC
Award-winning documentary Ablaze, co-written and directed by Dr Alec Morgan from MCCALL, will premiere on ABC TV Plus, followed by ABC iView, on Wednesday 6 July 8.30pm. The film documents Tiriki Onus' discovery of a 70-year-old film believed to be made by his grandfather, Aboriginal leader and filmmaker Bill Onus. Tiriki pieces together the film's origins and discovers more about Bill's fight for Aboriginal rights.