Artificial intelligence, robots and music. Not three research areas appear to go together, but they do in Richard Savery's exciting world.
Richard is a developer of artificial intelligence and robotics, using music and creativity as a medium to program better interactions, understandings and models.
Richard's work has received widespread media attention including a Guinness World Record for 'First robot to participate in a rap battle' and articles in the Scientific American, BBC Radio, and The World According to Jeff Goldblum. He has received more than $1,400,000 in funding from government and industry.
After completing a Bachelor of Music (Jazz Performance) at the Sydney Conservatorium of Music, further study beckoned and took Richard to the United States. There he completed his Masters at the University of California, Irvine, in Integrated Composition, Improvisation and Technology in 2015.
Richard has recently completed his PhD in Music Technology at the Georgia Institute of Technology, focusing on developing emotional musical prosody to increase trust in group human-robot collaboration through a $800,000 NSF-National Robotics Initiative grant he received in his first year.
As of 2022, Richard is a Research Fellow for the  Department of Media, Communications, Creative Arts, Language and Literature (MCCALL) developing new robotic musicians.
If you think rap-battling, jazz-improvising robots might be your new thing, check out Richard's website for more information on his current projects and collaborations.
Pictured above: Richard playing bass with Shimon (the rap-battling robot)
---
1. What you need to do your best work
Collaborators! Looking back over my favourite projects, the key part has always been that it has involved a diverse team of people who can bring totally new insights and really combine to make something none of us would have made on our own.
2. The coolest bit of equipment you use in your work, and what it does
Definitely all the different robots I get to work with, as shown in the feature image on this page!
I have also been lucky enough to travel internationally to play with them. Here is a live broadcast from The Netherlands from a few years back where Shimon the robot is jamming and improvising with a live band. I'm on the saxophone.
3. Something people usually ask you when they find out what you do for living
A common first question is 'why?' One of my many possible answers is that studying musical improvisation requires expert domain specific knowledge, mixed with the ability to change and adapt to new inputs, which are really critical skills for all AI and robots.
4. Something you've read recently that has had an impact on you
I've been reading books recently by researchers here at Macquarie. Two really interesting, related ones are Japanese Robot Culture: Performance, Imagination, and Modernity by Dr Yuji Sone and Copyright and collective authorship: locating the authors of collaborative work by Dr Daniela Simone – both of which have addressed areas I spend lots of time thinking about, but with really interesting approaches.
5. A favourite photo from your camera roll
Had to include two to be fair for each of my daughters. On the left is Keira interacting with Shimon the robot. On the right is Zoe, who was three at the time and very eagerly joined a jam session with friends of mine.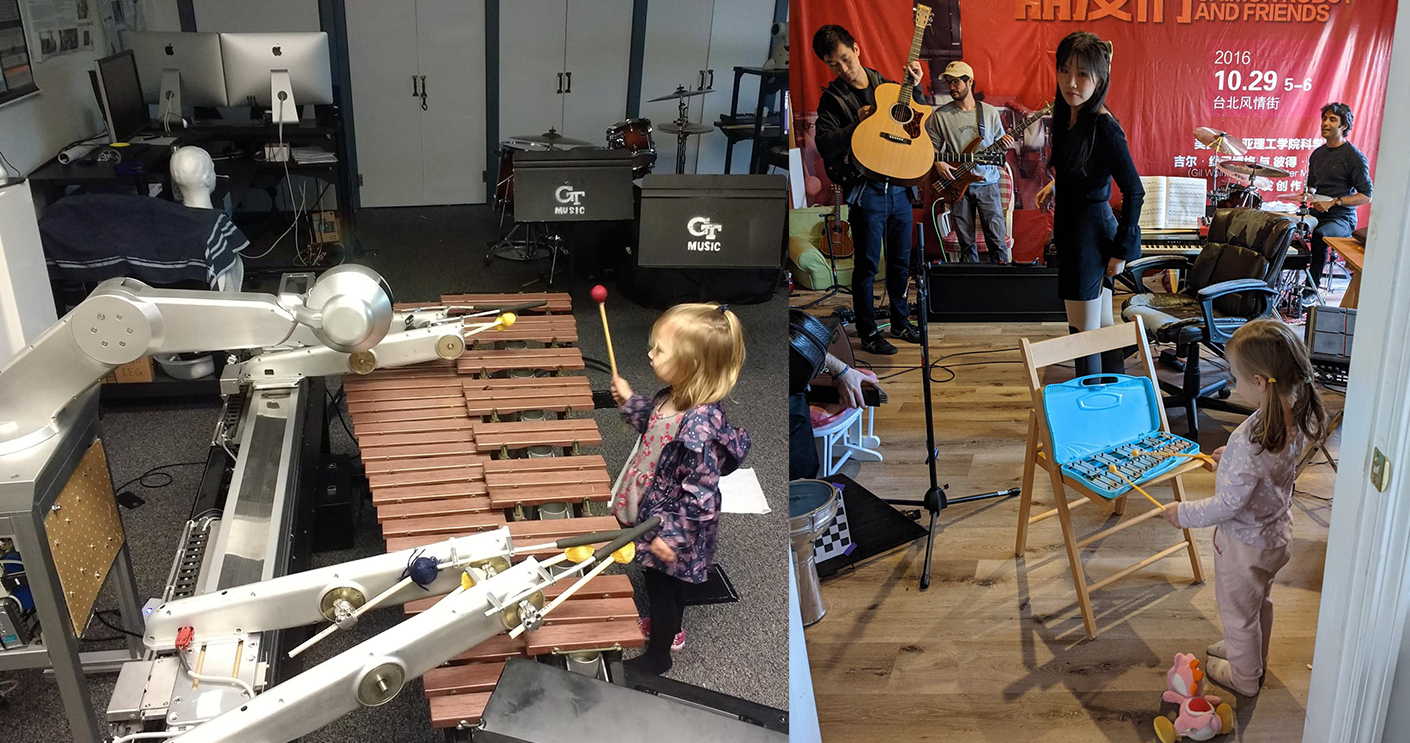 6. The first person you go to for advice
The list of people I ask for advice is too long to name just one. Working on robotic musicians requires such a huge range of knowledge that almost every day I'll be asking someone for advice on something.
7. A website or app you can't live without
I use GitHub many times every day. It's a provider of Internet hosting for software development that allows really easy version control and collaboration.
8. Where you live and what you like about living there
I spent the last nine years in the US – first Los Angeles, and then Atlanta so it's great to be back in Sydney. It's hard to know where to start with differences, but I'm happy to be back!
9. A personal quality you value in others
Enthusiasm, excitement and positivity.
10. Something you're trying to do differently in 2022
I'm really trying to focus on expanding the group of people I work with. The last couple of years have made it much more difficult to attend conferences, and I'm looking forward to getting back into them.