A budyari marri (very good) celebration for Indigenous Graduates
More than 100 people attended the Walanga Muru Graduation Celebration on Thursday 2 June (pictured above). Held annually since 2020, this celebration is an opportunity for all Indigenous Graduates from the past year to come together in a special ceremony that allows all their family and friends to attend.
Walanga Muru's goal is to assist Macquarie's Indigenous cohort throughout their academic journey and improve their educational outcomes. The graduation celebration is an emphasis of this commitment, not only to Indigenous peoples during their tertiary education, but also to their supporters and the wider community that assists and guides students along that journey.
This year's event saw students and their families celebrate with a few Indigenous cultural elements, such as traditional catering, music and decorations. This was the first event where AUSLAN interpreters were there to ensure everyone was fully able to celebrate students' achievements. Pro Vice-Chancellor (Indigenous Strategy) Dr Leanne Holt and Dr Joe Perry conducted the award presentation portion of the celebration, and Deputy Vice-Chancellor (Academic) Professor Mariella Herberstein closed out the formal proceedings.
---

Strengthening connections between Australian and Spanish universities
The first conference between Australian and Spanish universities was held on Monday 30 May jointly by SRAP (Spanish Researchers in Australia-Pacific), Instituto Cervantes Sydney, Macquarie University, and the Conference of Rectors of Spanish Universities (CRUE). The 'Building Bridges between the Australian and Spanish University systems' event highlighted the importance of promoting Spanish language and culture through research, as well as supporting even more collaborations between researchers from both countries through joint PhD students.
Professor Tracy Rushmer (Associate Dean, Research Training and Performance, Faculty of Science and Engineering), Agnieszka Baginska (Strategic Programs Manager, Graduate Research Academy) and SRAP President Dr Ángel López-Sánchez from Australian Astronomical Optics (AAO) all spoke at the forum, announcing a new Australia-Spain Cotutelle PhD Program to be held at Macquarie
Pictured above (L to R): Professor Tracy Rushmer, Agnieszka Baginska, Dr Ángel López-Sánchez with Coral Martínez Íscar, Director of the Instituto Cervantes in Sydney.
---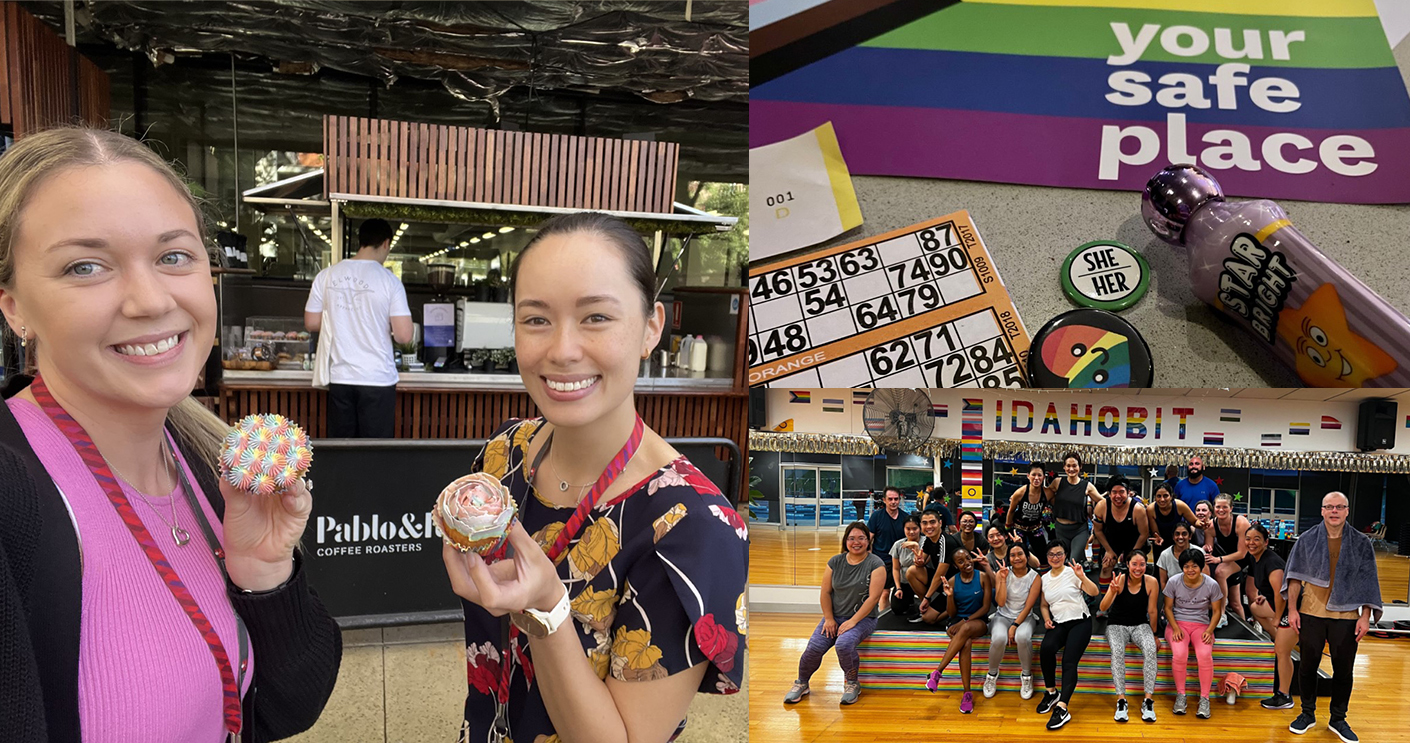 A rainbow of success for IDAHOBIT
From delicious rainbow cupcakes to themed group fitness classes and Drag Bingo at UBar, Campus Life executed activations on campus in support of IDAHOBIT on Tuesday 17 May. The team sold 180 cupcakes, had more than 100 people attend the group fitness classes (dressed in their brightest rainbow colours) and 190 students and staff registered to take part in Drag Bingo. More than $2500 was raised for Tropical Fruits, an LGBTIQ+ community group established in 1988 in the Northern Rivers of NSW, which was devastated by the recent floods.
Missed out on the fun? There are plenty of similar activities happening all through June for Pride Month.
Pictured above: Grace Ross-Hubble and Liz Yong from the Sport Development team enjoying the rainbow cupcakes, colourful group fitness, drag bingo preparation.
---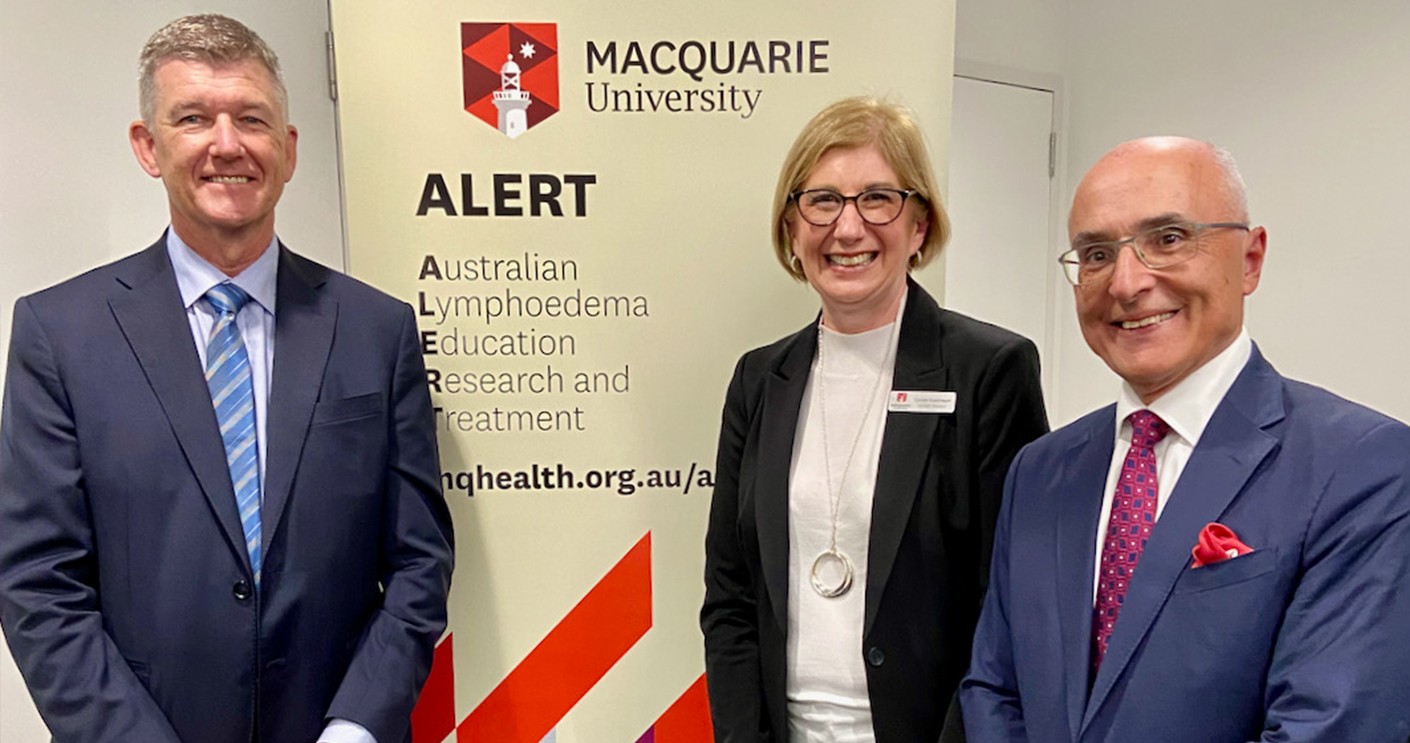 A decade of lymphoedema treatment, training and research
Macquarie's Australian Lymphoedema Education, Training and Research (ALERT) Program celebrated its 10th anniversary recently. Usually seen as swelling in one or more limb, lymphoedema is commonly associated with the removal of lymph nodes during cancer treatment. ALERT runs the MQ Health Lymphoedema Clinic, assisting people with lymphoedema, lipedema and chronic oedemas and undertaking a range of research in the area. It also provides accredited training for healthcare professionals, with 850 students accredited so far.
Pictured: Deputy Vice-Chancellor, Medicine and Health, Professor Patrick McNeil, ALERT Director Dr Louise Koelmeyer, and Founding Director Professor John Boyages
---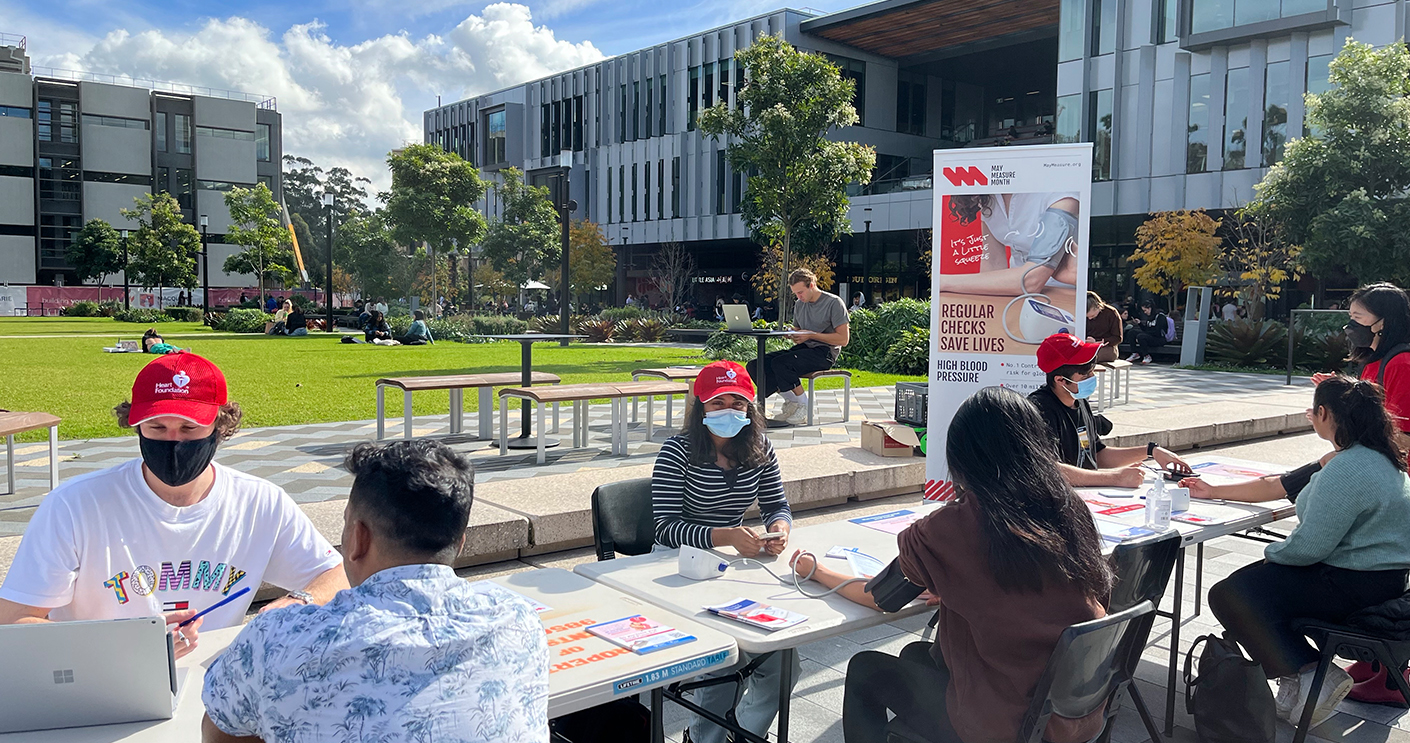 May Measure Month checks the boxes
The team from Macquarie's Blood Pressure and Vascular Function Laboratory offered free blood pressure checks in the Central Courtyard at the end of May to mark May Measure Month. More than 100 people turned out, many of whom had never had their blood pressure checked before. High blood pressure is the number one contributing risk factor for global death and more than 10 million lives are lost due to high blood pressure each year, but only half the people affected are aware they have it. Regular blood pressure checks save lives, so don't wait until next May if you missed out this year – check out your local pharmacy as most offer this as a free service year-round.
---

Farewell Professor Martina Möllering
The Macquarie University community recently farewelled outgoing Executive Dean of the Faculty of Arts, Professor Martina Möllering after more than 30 years of service to the University and more than seven years as Executive Dean. Martina was sent off with an afternoon tea in the Faculty of Arts Precinct with warm memories and anecdotes shared by many of her colleagues.
Pictured above: Professor Martina Möllering with Dr Neil Durrant (Faculty Executive Director)
---


New chapter for Radical Centre Reform Lab
Representatives of the major religious groups of Australia recently signed an unprecedented Joint Resolution calling for bipartisan action to hold a referendum on a First Nations voice. The Radical Centre Reform Lab at Macquarie Law School organised the celebratory event at Barangaroo on 27 May 2022, with a keynote speech by highly-acclaimed Indigenous filmmaker, Rachel Perkins.
The Reform Lab collaborates across political divides and engages with Australia's diverse multicultural communities to help build consensus for a successful referendum on a First Nations voice. Supported by Foundation Donors, Henry and Marcia Pinskier, and powered by a network of diverse interns across five different universities, this event marked the next phase after more than a decade of work by Reform Lab Director, Dr Shireen Morris, in this field.
Pictured above, top image: Director of the Radical Centre Reform Lab, Dr Shireen Morris (far left) with Research Assistant, Billy McEvoy (second from right) and interns from Macquarie and other universities at the event. Bottom image: Representatives of the major religious groups in Australia with Rachel Perkins. 
---

Global Leadership Program team connect with alumni
On 25 May, the Global Leadership Program's (GLP) Alumni Achievers Network was successfully launched at Establishment Bar. It was great for the GLP and Alumni Relations teams to catch up and reconnect with dozens of former GLP students, all of whom are pursuing their passions. This is the first event for a new project for these teams to stay in contact with GLP Alumni in the hope that these connections will encourage further connection with Macquarie.
If you know a Macquarie University Alumni who also completed the GLP, let them know they can join the network.
---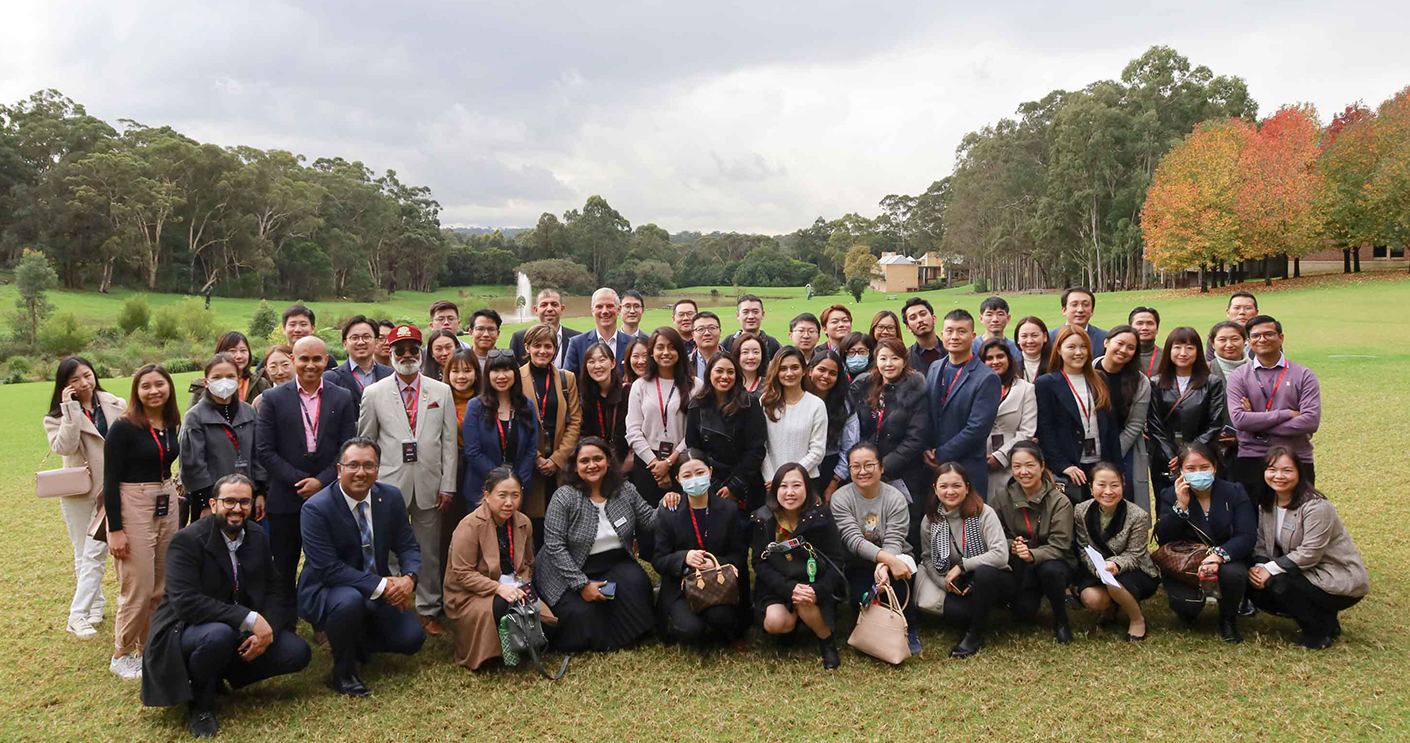 Celebrating the return to campus with Macquarie's key partners
The Global and Domestic Student Recruitment (GDSR) team from Macquarie International hosted the exclusive annual VIP Campus Showcase on 24 May for our top Australia-based 'onshore' education agents. It was an opportunity to unveil the extensive campus changes and showcase a campus abuzz and lively with returned international students.
More than 50 participants enjoyed multiple networking opportunities with our academics and GDSR staff, as well as faculty visits. The key focus was to familiarise the agents with our campus so that they can share their experiences and insights with students and teams abroad.