Two women from the Faculty of Science and Engineering have been selected to be part of this year's Homeward Bound program, based on their outstanding potential to lead and create better outcomes for the planet.
In a bold bid to tackle a global lack of women leaders in STEMM, Dr Rachael Dudaniec from the School of Natural Sciences and Rebecca Brown from the Australian Astronomical Optics (AAO) – Macquarie have committed to prioritising environmental sustainability in their work after being chosen as participants in the global Homeward Bound initiative.
Homeward Bound is a 12-month leadership initiative for women with a background in STEMM (Science, Technology, Engineering, Mathematics and Medicine). It aims to equip a 10,000-strong collaboration of women with the skills to demonstrate a new model of leadership, to create better outcomes for our planet.
"I've been part of AAO for about seven years now and heard about the program from a member of the department who was selected to be part of the first Homeward Bound cohort. She couldn't speak more highly of the experience, finding it profoundly empowering and inspiring. Since then, other women from the AAO have been lucky enough to take part including myself this year," said Rebecca.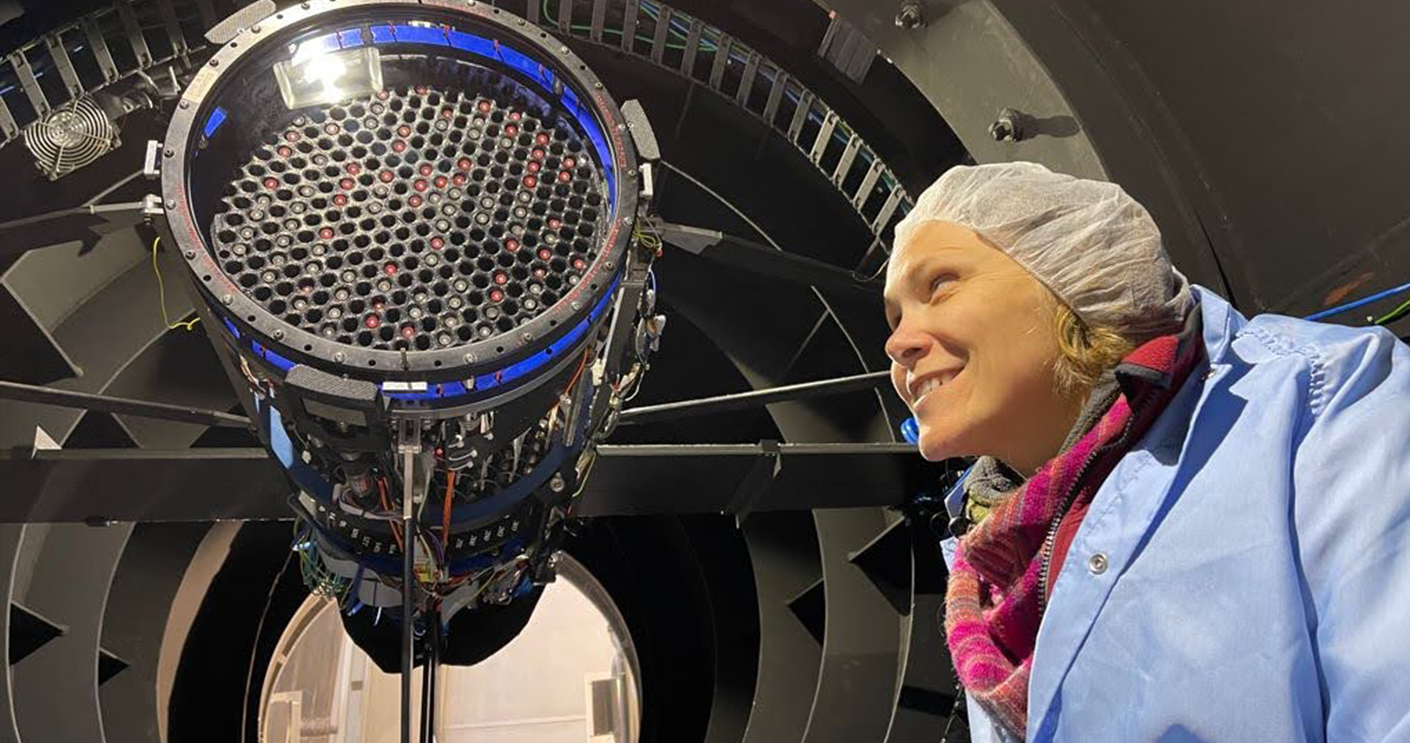 Pictured: Rebecca Brown with the TAIPAN Instrument at the UK Schmidt Telescope at Siding Spring Observatory, near Coonabarabran, NSW.
It is widely acknowledged that women in STEMM fields are underrepresented in leadership globally. For example, in the United States, women currently make up nearly half (48 percent) of the workforce but hold less than 18 percent of leadership roles at top tech companies.
"The statistics clearly highlight that few women are in leadership positions in STEMM fields. Despite the fact that more women are completing PhDs than men in STEMM areas, a glaring gap still exists, stopping women from progressing further in their careers. Homeward Bound will help women to recognise the issues that are sustaining this gap and to be more proactive, effective and inclusive leaders in STEMM" says Rachael.
This 12-month program includes online learning to increase leadership capacity, strategic capability, visibility, and collaboration, and culminates in a global meeting of all 100 participants. In previous years this global meetup has been in Ushuaia, Argentina before embarking on a life-changing voyage to one of the most ecologically sensitive and inspiring areas on Earth, Antarctica. However, until global travel is again safe and equitable this element of the program is on hold.
Pictured: Rachael undertaking fieldwork in Thredbo, NSW.
With both Rachael and Rebecca in the middle of their careers, the pair is excited to tap into the global reach of the program to build their skills in effective people management with sustainability top of mind.
"Homeward Bound's globally inclusive focus showcases the real-life impact of female leaders in STEMM. Through being a part of a global network, to personal mentoring and advice, I am really energised to be part of an initiative that aims to empower women to be leaders for a sustainable future," says Rebecca.
Research repeatedly shows that while women demonstrate great integrity and a legacy mindset when it comes to leadership, decision-making and the creation of collaborative and effective teams, they are overwhelmingly under-represented in the traditionally male-dominated professions.
Founded in 2016, the program was a dream of Australian leadership expert Fabian Dattner, who believed the world needed a program to unlock the leadership potential of outstanding women in STEMM, to upskill and support them to lead, influence and contribute to decision-making about the future of our planet.
Homeward Bound welcomed over 100 participants into its seventh program in 2022, encompassing more than 20 nationalities and a hugely diverse representation of STEMM fields. Homeward Bound's vision is to create a global collaborative network of 10,000 women leaders with STEMM backgrounds by 2036, working for a sustainable future for our planet.
"Excellent progress is already well underway, but this program will help accelerate this shift for more women towards leadership roles within the STEMM space," says Rachael.
For more information on the program, visit www.homewardboundprojects.com.au