Campus Life Staff Awards
Campus Life staff came together to recognise and celebrate their achievements at the annual Campus Life Staff Awards earlier this month. Miracle Chen from the Accommodation team was awarded Superstar of the Year for her efforts in creating and delivering an amazing residential life program for the on-campus residents. Sophie Curtis, Diversity, Equity, Inclusion and Belonging Lead, won the Leadership Award for demonstrating outstanding leadership capabilities throughout the year. The Outstanding Team of the Year was shared between the Sport Operations and Member Engagement Teams for their collaboration, accountability and enthusiasm during one of the toughest times to operate.
Pictured above: Mitch Britton, Caolyn Mann, Pete Boyle, Miracle Chen and Sophie Curtis.
Campus Life employs 400-500 permanent and casual staff (many of whom are students) to help support the core academic mission of the University. Campus Life operates six business units: Early Learning, Programs & Partnerships, Kids & Traffic (Safety Education Program), Food & Beverage and Hotel Services, Student Accommodation and Sport & Recreation.
---
University of California Los Angeles (UCLA) Honorarium
Professor Niloufer Selvadurai from Macquarie Law School, along with Professor Joshua Fairfield from Washington and State University, has been awarded an Honorarium by the University of California Los Angeles (UCLA) for their paper on the governance of blockchain-enabled smart contracts. The paper, titled 'Governing the interface between natural and formal language in smart contracts', seeks to design robust legal rules for the interface between natural language contracts and formal language programs. The regulation of blockchain based contracts is a critical but under-researched area. It is hoped that this paper will prompt a global conversation.
Professor Selvadurai will present the findings at the 2022 UCLA Spring Symposium on technology law. UCLA is one of the leading technology law universities in the world, with established and long-standing connections to the Silicon Valley tech communities. The Spring Symposium on technology will include industry panels that integrate academic expertise and industry experience to design real-world solutions to new and emerging technology governance issues.
---
2022 National Science Week Grants
Congratulations to Associate Professor Joanne Jamie from the School of Natural Sciences and Adam Joyce from the School of Mathematical and Physical Sciences for being awarded 2022 National Science Week Grants to help showcase science in our everyday lives through engaging events and activities as part of the national week, which runs from 13-21 August.
Led by Adam Joyce, Pocket Astronomy in Pocket-Sized Towns will see bright young Macquarie University astronomy and astrophysics students will tour four towns in four days, equipped with a portable planetarium, telescopes and astronomical expertise. Students and university staff will deliver planetarium shows, science outreach talks and evening telescope viewings to these regional communities. Participants will also learn about light pollution, preserving the night sky, and Warrumbungle National Park – Australia's first 'Dark Sky Park'.
Each town will receive a telescope as a gift, along with training on their use so that communities can continue to explore the stars.
Led by Associate Professor Joanne Jamie, the Indigenous Science Experience at Redfern is a celebration of Indigenous and Western science, and Indigenous youth and Elder achievements. This four-day event at the Redfern Community Centre will demonstrate the value of traditional and contemporary Indigenous knowledge in science and technology, and the relevance of science to our everyday lives. Indigenous students from National Indigenous Science Education Program (NISEP) partner schools will assist in demonstrating activities.
---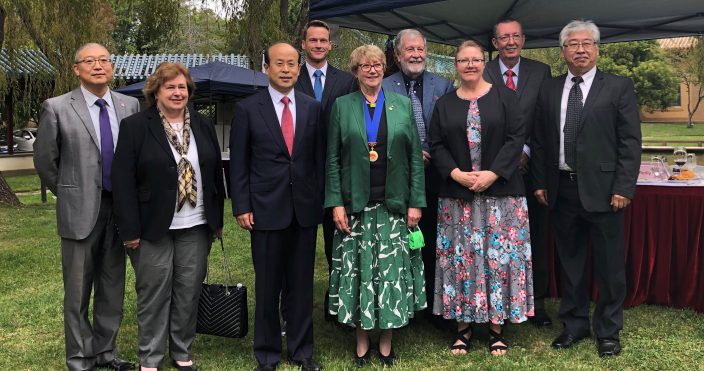 International Science and Technology Cooperation Award
Emeritus Professor Sue O'Reilly, founding Director of the ARC Centre of Excellence for Core to Crust Fluid Systems, has received the 2020 China National International Science and Technology Cooperation Award by the Chinese Ambassador Mr Xiao Qian at a ceremony in Canberra on Thursday 24 March. This is China's highest scientific honour for foreign individuals and institutions and Professor O'Reilly is the only Australian recipient out of the eight scientist awardees from seven countries.
Pictured L-R: Stephen Fan, Lee-ann Norris, Chinese Ambassador Xiao Qian, Professor Nathan Hart,  Emeritus Professor Sue O'Reilly, Honorary Professor Bill Griffin, Sally Hodgekiss, Norman Pearson, and Jingfeng Guo, Macquarie's first Chinese international PhD student (in 1988).
---
Visiting Fulbright Scholar welcomed to School of Physiological Sciences
Associate Professor Rachel Kallen, from the School of Psychological Sciences, is hosting Fulbright Scholar, Lucy Fasano of Duke University, USA.
Associate Professor Kallen, in collaboration with Professor Mike Richardson, also of the School of Psychological Sciences, will supervise Ms Fasano on a study of methods to model and combat the effects of implicit bias through use of perspective taking and embodiment in virtual reality.
The project is part of an existing program of research in their Complexity in Action Laboratory to investigate methods of reducing implicit bias against members of stigmatised or marginalised groups. It will focus on whether the broader approach of bias reduction through virtual embodiment and perspective taking may be used to combat the role of gender biases and cultural norms that contribute to interpersonal sexual violence.
---
Michel Hemmings Jones: a mighty quiet achiever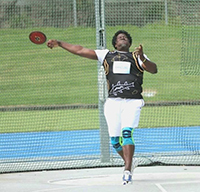 One of our Personal Trainers at the Sport & Aquatic Centre (MUSAC), Michel Hemmings Jones, competed at the NSW Athletics State Championships early in March, winning Gold in the Masters Discus. One of the best discus throwers in the world 20 years ago, Michel won the gold medal in the 45-49 age group discus with his opening throw of 42.94m. Despite throwing a mighty distance of 64.44m in June 2000, he missed the Sydney Olympics due to injury. Michel won the discus gold medal at the Central American and Caribbean Championships in 2001. Michel moved to Australia in 2010 and is now a Personal Trainer and the throws coach at Balmain Athletics Club.
Michel's Bachelor's degree in Physical Education as well as decades of experience as an athlete and coach, means that he has a wealth of knowledge to share, saying, "I prefer a blank canvas with a good attitude over the best athlete with a rotten attitude." Michel is relatively new to Macquarie, joining MUSAC around six months ago. Enquire about Personal Training sessions with Michel!
---
Innovative buildings recognised with industry awards
The amazing work done to revamp the heart of our campus has not gone unnoticed by those in the building industry. The construction company, FDC Construction and Fitout, responsible for the 1 Central Courtyard project took out two awards at last month's Master Builders Association Excellence in Construction Awards – Best Educational Building over $200m and Best Use of Timber. Buildcorp also took out the award for tertiary buildings up to $50m for their innovative work with the Ainsworth Building.