With the return of vaccinated staff, students and visitors to campus, we're thrilled to bring Snapped On back for one last run in 2021.
Hundreds of staff and students were thrilled to come together on campus on 1 December for one of the first major events on campus since lockdown – the International Student Farewell (main picture).
The hybrid event was a chance for the University to celebrate and wish well our departing international students, and for the students to connect with and farewell staff that had taught and supported them through the COVID-19 pandemic, which impacted their Australian study experience so significantly. The ceremony was MC'd by Professor Mariella Herberstein, Deputy Vice-Chancellor Academic, with an address given by Vice-Chancellor Professor S. Bruce Dowton.
---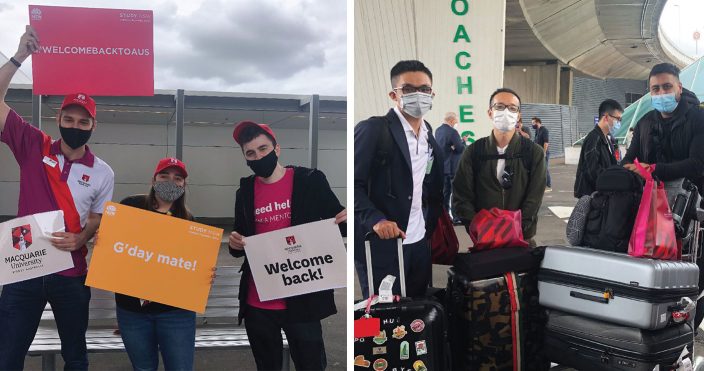 Meanwhile, at the other end of the spectrum, the University was delighted to welcome 24 Macquarie international students to Sydney on 6 December as part of the Government's International Student Arrivals Pilot Plan.
The students – hailing from seven different countries and undertaking study programs across three faculties –   were provided lodging at the MGSM Executive Hotel for their mandatory 72-hour isolation period, after which they enjoyed a campus tour, networking sessions and other orientation activities to help them settle into Australian life.
Find out more about the return of international students to Macquarie >>
---
Many staff took the opportunity to get together to view the 2021 Academic Staff Awards ceremony on 30 November, and raise a toast to the winners.
Interim Dean of the Macquarie Law School, Professor Lise Barry, shared this snap on LinkedIn, saying: "So proud of our Law School team winning three awards – Daniel Ghezelbash, Early Career Researcher HAAS, Dr Holly Doel-Mackaway, Student nominated Teaching Award and Amanda Head, Sessional Teacher of the Year." 
---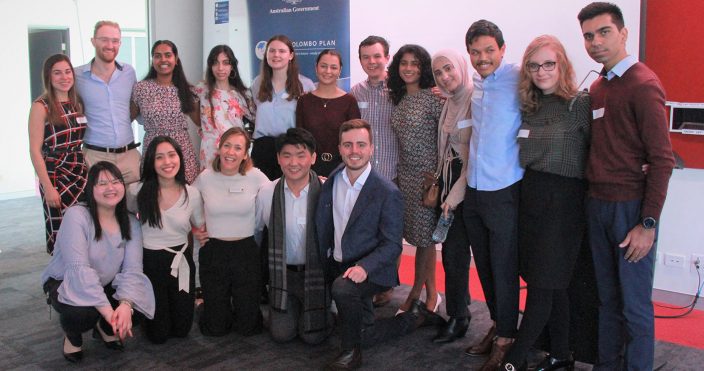 A record nine Macquarie students have secured New Colombo Plan (NCP) Scholarships for 2022, giving them a life-changing opportunity to immerse themselves in Indo-Pacific cultures, including study abroad at partner universities, language training, internships, and mentorships.
On 7 December, our newest NCP scholars were joined at a special awards morning tea by staff and previous scholars, who had provided invaluable guidance and support to the successful applicants. The students bonded over their powerful personal stories, diverse backgrounds, and their roles as ambassadors for Macquarie.
---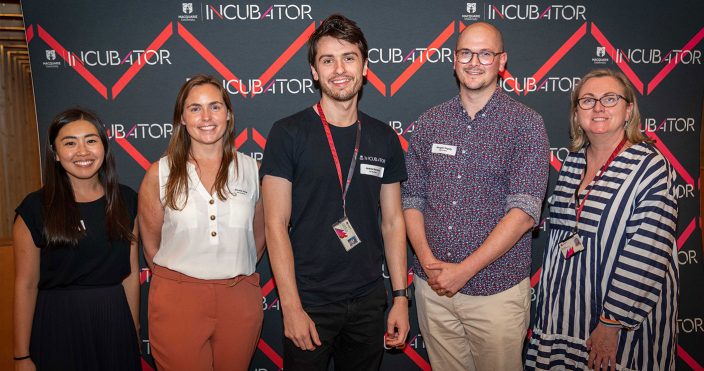 Melissa Ryan, Director, Incubation and Entrepreneurship (far right), with Incubator staff (L-R) Erika Masubuchi, Nicola Dew, James Benson and Morgan Popely.
The Macquarie University Incubator celebrated its night of nights on 24 November with the much-anticipated 2021 Pitch Final – the first face-to-face event held at the Incubator post-lockdown.
The judging panel – including Pro Vice-Chancellor (Research, Innovation and Enterprise) Dan Johnson – selected two winners: household management app melo took out both Best Pitch and the Researcher Engagement Award, while staff engagement and wellbeing platform Leanmote earned the title of Most Investible Idea.
---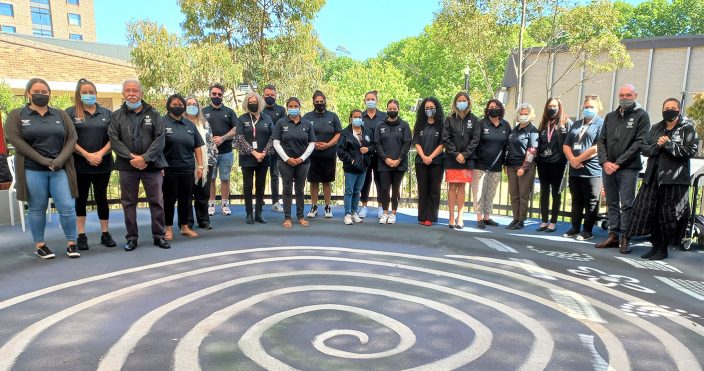 Sixteen Aboriginal scholarship students were welcomed to campus in November to complete the first part of their training for their Diploma of Audiometry. Supported by Walanaga Muru and the Aboriginal Children's Hearing Health Project (led by Professor Catherine McMahon), the students will be conducting play audiometry with children from the Mia Mia Child and Family Study Centre, and learning how to conduct hearing tests and assess hearing health in children and adults.
---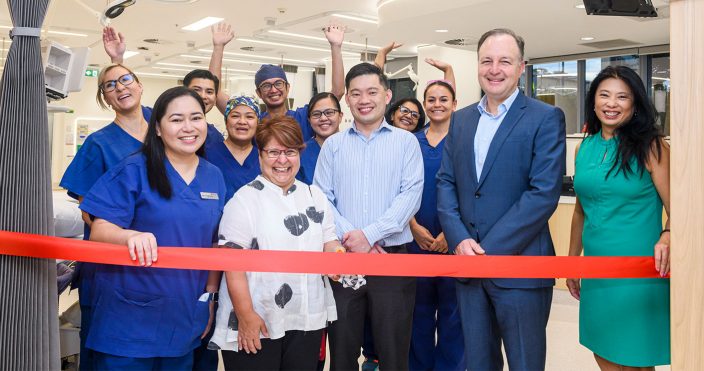 Front row, L-R: Nursing Unit Manager of Day Surgery and Endoscopy Unit Myra Tengasantos, patient Vilma Galstaun, Dr Eric Lee, CEO Walter Kmet, and Business Development Manager Lara Watling, with Endoscopy team members.
MQ Health's state-of-the-art Endoscopy Unit welcomed its first patient on 7 December, Macquarie Alumnus Vilma Galstaun. Located on the ground floor of Macquarie University Hospital, the new unit can perform up to 340 procedures a week, including colonoscopies, gastroscopies, ERCPS, and iron infusions, and makes MUH the first private hospital in NSW to offer manometries. It will also offer vital fellowship training to junior doctors as they work towards becoming specialists.