In the final week of our finalists series, we celebrate the academic staff who our own students have nominated as outstanding educators.
---
Vice-Chancellor's Learning and Teaching Student–Nominated Award
Recognises staff for their teaching and support of learning that influences, motivates, and inspires students to learn.
---
Dr Shireen Daft  |  Macquarie Law School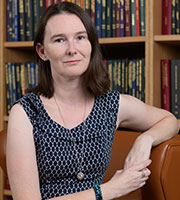 "When we threw hacky sacks at plastic bottles labelled 'combatants' and 'non-combatants', I had a crisis. Which bottle to target based on only three intelligence questions? When I hit a bottle labelled 'school', I tunnel-visioned. It was a game… but now I reflect on what I think was the pinnacle of this unit. That five minutes of panic and remorse is what decision-makers feel as they sit and watch while 300 schoolchildren are killed by an inaccurate missile fired on incomplete intelligence. It was incredibly insightful."
As Dr Shireen Daft mentors her students to become global citizens and life-long learners, they stand trial in a mock war crimes tribunal and reflect on their decisions made over the course of the semester. It's an immersive experience that gives them a true appreciation of what laws mean in practice. Shireen believes this has a profound impact on their understanding of the content and the importance of the laws governing armed conflict.
And it resonates with her students: "I have always felt lucky to live in Australia. So many of us can happily live in an 'ignorance is bliss' mentality. This unit has spurred my passion and drive to continue to educate myself about what is going on all over the world."
---
Dr Holly Doel-Mackaway  |  Macquarie Law School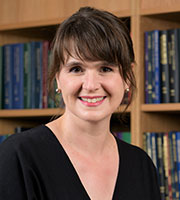 Dr Holly Doel-Mackaway's commitment to supporting future generations of lawyers to be critical thinkers, and her pursuit to challenge discrimination and transform established legal norms has been brought to life with her new unit Child Law.
Along with her In Conversation video and podcast series featuring leading child law experts, and authentic 'real-life' assessments, her teaching not only increases Indigenous cultural competency among staff and students, but also cultivates deep engagement and new ways of understanding how law operates.
"Holly caused us to think about issues more deeply and to be critical of accepted institutions and systems," says one student.
In fostering a sense of global citizenship, Holly employs a human rights-based approach to her teaching – amplifying her students' voices and ensuring they feel safe and respected.
"Holly inspires students to see themselves in not only someone else's shoes, but in someone else's world to understand legal issues in a unique, cross-cultural, all-encompassing and modern way," says another student.
---
Dr Petra Graham  |  Department of Mathematics and Statistics
Statistics, fun? According to Dr Petra Graham, some students "fear statistics when coming from non-quantitative backgrounds".
So for her students to remark that her unit was "one of the most enjoyable" is testament to her philosophy of student engagement.
Another commented, "Petra has made statistics so accessible and fun. Her lectures are not only clear, but her witty sense of humour has made me remember content."
Petra uses a "reflective, student-focused constructivist approach to foster student learning".
She says many students struggle with the relevance of statistics to their degree.
"I actively address this using a knowledge discovery process, creating interactive content that scaffolds their understanding, avoids cognitive overload and enables students to become the researcher using relevant real-world data."
By drawing on constructivist theory to design formative and summative hurdle quiz assessments and flipped practicals, Petra fosters content mastery through repeated attempts from a huge question bank that provides instant feedback and additional in-class support.
"I absolutely loved this unit," a student said. "It challenged me in new ways and provided a new sense of confidence in my abilities."
---
Dr Gaurav Gupta  |  Department of Computing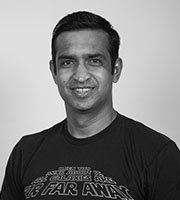 Dr Gaurav Gupta goes out his way to instil a culture of self-belief in his students. Whether it's the flexibility – achieved through his micro-lectures and practice packages – or the quick and unambiguous answers to queries, his students' interests are at the forefront of his teaching.
"Gaurav was a very kind individual who worked non-business hours to ensure I understood the material," one student reported.
Gaurav's encounter with a "female, migrant (refugee), parent" rocking her toddler while finishing an assignment in a lab at 9pm helped shape his policy.
"Since then, I am more mindful of the various challenges our students face, whether it is picking up a shift at work, taking care of a sick child, commuting hours to come to campus, or a lack of confidence when surrounded by students with past experience (common in computer programming)," he says.
So the ability to listen to his YouTube-based micro-lectures while driving or on public transport, and the instant, constructive and detailed feedback from his practice packages are paramount in building self-belief.
"COMP1010 changed my life," another student said. "The practice packages were my first taste of 'real' programming and they, as well as Gaurav's lectures, were what helped me discover my joy of programming."
---
Professor Debbie Haski-Leventhal  |  Department of Management (Corporate Social Responsibility)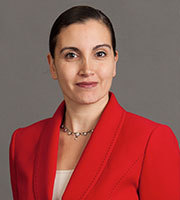 In elevating her students to higher levels of consciousness, Professor Debbie Haski-Leventhal is working to create a movement towards responsible management education and purpose-driven universities – that are a "force for good".
If her student feedback – and global recognition – are anything to go by, she's well on the way.
But better than feedback, she says, is the implementation of her knowledge. "My biggest reward is the change in people's lives and careers, and the positive impact these students create.
"I aim to inspire positive change among future business leaders, lead for increased social impact and contribute to Macquarie's excellence and purpose."
Debbie brought many inspirational speakers to MQ, turning her Big Friday of Social Entrepreneurship and Women Who Change the World into 'mega events' for the entire university. And among her innovative teaching techniques are guided meditation to discuss the future of sustainability; the Failure Circle to build resilience; and shared lunches to generate connectivity.
For her students, the change is palpable, as one of them writes: "I succeeded in pivoting my career towards responsible investment; I've just completed a project at AMP to divest their portfolios from tobacco and controversial weapons, and joined Colonial First State to lead their responsible investment efforts. Thank you for arming me with the tools to make this happen!"
---
Dr Yimin Stephanie Huang  |  Department of Marketing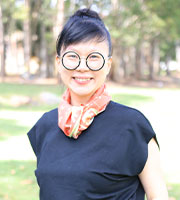 In cultivating exceptional marketers, Dr Stephanie Huang imparts more than just knowledge and skills.
As one of her students said: "Stephanie is not just a teacher but a mentor and a life-long friend."
It's a sentiment that pervades most of her student ratings: "You have taught me countless ways of thinking when it comes to marketing," said another. "You extended on all of my thoughts and provided a safe place for me to contribute all of my opinions. I hope this is not our last class together, and that I can continue to learn from you."
For Stephanie, it's about creating an inclusive environment by using different strategies to motivate students of differing backgrounds, and transforming them from passive to active learners.
"I challenge my students intellectually and teach them how to ask questions before they learn how to get answers – in doing so students develop curiosity for knowledge and become engaged learners," explains Stephanie.
Making this learning meaningful is imperative. "I do this by integrating intellectual capabilities and practical skills critical to employability," she says.
This is reflected in her student feedback. "Suddenly all my studies and my business experience makes sense. It's as if a light has been finally turned on."
---
Dr Ian Jamie  |  Department of Molecular Sciences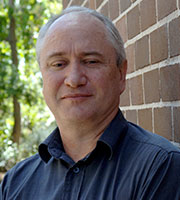 "Tell me, I forget; show me, I remember; involve me, I understand." Dr Ian Jamie's educational values follow the teaching wisdom of some of the great philosophers – including Confucius.
"Having the opportunity to instil the joy of learning in students and prepare them for their post-study life is a privilege, but also a great responsibility," says Ian, who endeavours to learn "with his students".
"I try to put aside my knowledge of the subject matter and see it from the perspective of a student," he explains. But that doesn't mean spoon-feeding them – a trait for which his students are thankful.
"Ian cleverly induces thought which enables us to think for ourselves," one student reported.
His clear expectations and comprehensive feedback combined with activities such as marshmallow vacuum-expansion and molecule-building with potatoes and marshmallows make his topic highly engaging. "This embeds the idea of molecular shape and geometry, and engages the kinaesthetic learners who are often not catered for in traditional science learning environments."
Ian's energy and enthusiasm for the subject matter are infectious: "He made you want to try the hard parts," attests another student. "He made us want to turn up. Through Ian's interest, he made us all keen and eager."
---
Dr Prashan Karunaratne  |  Department of Actuarial Studies and Business Analytics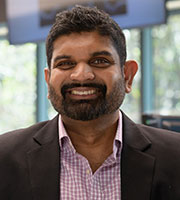 Dr Prashan Karunaratne knows how to speak the language of students. This coupled with his ability to engage them in "the how" and "the why" of learning, and draw on their own experiences, makes Prashan so popular, many of his students seek to repeat their experience with him in other units throughout their degree.
By devoting time in each lesson for students to teach and learn from each other, Prashan says they "become partners and co-creators in their learning". As he builds their confidence, they are able to self-teach themselves new concepts.
As well as launching an initiative for academic and industry speakers to advise students on employability, Prashan has had huge success with Enactus, an international experiential learning platform that empowers students to use entrepreneurial skills to achieve a United Nations Sustainable Development Goal. Following Macquarie's national champion status in 2020 and top-four finish this year, Prashan was named Most Outstanding Faculty Adviser at the national championship.
This student summed it up: "I have had the pleasure of having you for two of my subjects… you always put in a great level of effort and made your units extremely interesting. It is no wonder Macquarie students have such love for you."
---
Dr Ali Lalbakhsh  |  School of Engineering and Macquarie University International College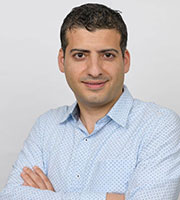 Dr Ali Lalbakhsh may be in the midst of his own "engineering marvel" with his groundbreaking research, but helping his students believe they can make the world a better place is his "greatest career achievement". 
"I strive to transform the 'only-pass-the-unit' attitude among new pathway students to a 'change-the-world' attitude," says Ali. "I make my students believe they can participate in future engineering marvels." 
He sees WENG1000 as a once-in-lifetime opportunity: "I can contribute to establishing young students' careers, as most are still in a dilemma when enrolling in this entry unit. This attitude makes me effortlessly inspirational in teaching." 
Ali's caring yet professional relationship with his students "supercharges their motivation", with some continuing to work with him on high-quality journal articles six months after finishing the unit. 
"The lessons you taught were eye-opening, not just into the world of engineering, but into how people learn and how different we all are," said one student. "The biggest confidence boost was when you asked if I wanted to take my assignment paper further and try and get it published." 
Another said: "Your guidance has helped shape me into the type of person I would like to become at uni." 
---
Mr Daniel Lombardo  |  Macquarie University International College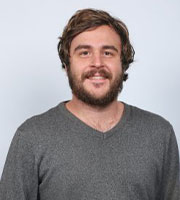 From early in their study journey, Daniel Lombardo inspires and guides his students – beyond the diploma he teaches, and into their degree and future employment.
"I have Daniel to thank for encouraging me to follow my passion, leading me to where I am today," said graduate software developer Christopher Stedman. "His mentorship was particularly valuable over the past semester as I completed my capstone project and applied for graduate positions. Daniel is not only focused on providing an excellent education, but also on making sure students feel supported, and ensuring they succeed throughout university and into the future."
Daniel works to "shift student perceptions – helping them realise computer science is not difficult and that they have the world at their fingertips". He does this by analysing each student's understanding and individually addressing misconceptions with real life examples.
"I identify the very subtle misconceptions formed in their initial phase of learning through individualised engagement with each student."
Daniel has encouraged Macquarie University International College to facilitate extra lessons so he can teach students real-life cyber security skills and motivate them to continue their study in the field.
"After constant exposure to real-world scenarios, students begin to ask for degree and career advice."
It's the third year running Daniel's students have nominated him for the award.
---
Miss Christine Mikhael  |  Macquarie Law School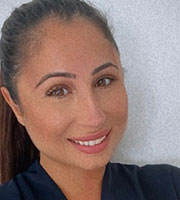 "No question is a silly question."
It's a simple proposition, but that's the beauty of Christine Mikhael's teaching philosophy. She reminds students to leave hesitation, intimidation and reluctance behind them – because no question could be a silly one, particularly when tackling complex legal problems. Christine strives to unpack and conquer complex legal problems with her students, by explaining them in a logical and simplified manner.
Christine, who describes teaching at Macquarie as "food for her soul", has a way with making difficult concepts not only easy to understand, but also highly engaging. Which is why so many of her students have transformed their perspective of challenging law units and leave her classes inspired to conquer other units.
One student says: "It is rare you find a tutor as passionate, driven and dedicated as Christine. Thank you for inspiring me in an area of the law that I otherwise thought at the start of the semester as boring and dry."
"I firmly believe a transformative learning experience requires an inspiring and motivating tutor that is approachable and respectful," says Christine. "I always aim to use plain English to explain complex legal concepts and guide students with practical- real life examples"
A former student testified that "she oozes a passion for Constitutional law, which is infectious." Another student went on to state that "having Christine as a tutor has helped me to become a better student and also re-adjust my perception of Constitutional law and my degree."
---
Dr Melissa Norberg  |  Department of Psychology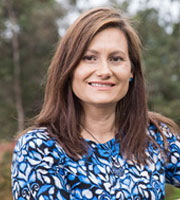 While Dr Melissa Norberg's passion is to foster scientific thinking, she also places great emphasis on guiding her students to take care of their own mental health before helping others.
"My iLearn communications provide an important social and emotional presence that demonstrates the real-life applicability of unit content and cultivates togetherness," she says.
In focusing on psychopathology, the scientific study of mental disorders, Melissa is working to steer psychology students away from 'pseudoscience' and towards effective treatment.
"The challenge of closing this gap is compounded by disengagement from online learning," she says. "I transform my students into critical thinkers. I challenge their worldview by teaching them to independently evaluate theory and research rather than rely upon expert opinion."
And her students are reaping the rewards: "This was one of the most challenging and influential units I have completed," one said. "It really raised the bar regarding critical analytical skills and how I justify the clinical decisions I will soon be making."
Another student said: "This unit was incredibly eye-opening and allowed me to understand disorders and associated stigma in a way I have not experienced. It challenged misconceptions and even altered the way I speak of and about disorders."
---
Dr Joshua Penney  |  Department of Linguistics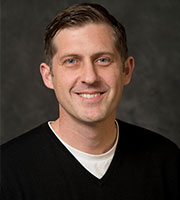 Dr Joshua Penney believes all students can succeed if even the most complex information is presented well – and by a teacher who is passionate about the importance of the unit. 
Josh often teaches phonetics and phonology – technical, theoretical subject matter perceived by students as difficult prerequisites for speech training.  
"I see it as a privilege to instil in students an understanding of the importance of the curriculum and its relevance for their future careers while demystifying complex ideas," he says.  
This is reflected in his students' comments, which often describe him as the "best tutor ever". One said: "Whether your hand was up or not, he would come around and check on you." 
Another said: "He's the most helpful teacher I've had, kind to every student, and always gives the clearest and most helpful tips." 
Josh says providing a relatable access point in an enjoyable learning environment is the key.  
"I engage students with theoretical concepts by incorporating humour and relating concepts to authentic real-world examples," he says. 
As one student said, it can end up being fun: "I actually enjoyed learning phonetics and phonology. Thank you for making such a difficult topic understandable and even (dare I say) fun!" 
---
Dr John Turchini  |  Department of Clinical Medicine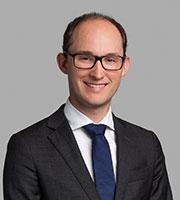 As he works to reverse the worldwide shortage of pathologists, Dr John Turchini is also producing higher quality medical graduates as they become more engaged in his anatomy, histology and pathology units. 
"Medical students often do not initially appreciate the value of these units and the relevance of their application in the clinical environment," he says. "As pathology is the basis of disease, a sound understanding is necessary for the safe and accurate practice of medicine. My goal is to transform a dry subject into an interesting, engaging and memorable topic." 
According to student feedback, he's on track: "I am sure there will be plenty more students from MQ MD who are interested in becoming a pathologist because of John's enthusiastic influence." 
Another said: "Dr Turchini's teaching in the lab is simply unparalleled. He goes straight to the point and manages to make it interesting by showing you the clinical application."  
Through gamification and clinically relevant scenarios, John fulfils his philosophy of making learning enjoyable. Particularly popular is his game show strategy, summed up by another student: "I have never been this excited and engaged in a prac… you will be amazed how much you learn because of its engaging delivery."  
---
Missed our earlier finalist profiles? Find them here