The new MQ Student Employment (MQSE) service is kicking goals – not just for Macquarie students who have found jobs, but for managers around the University who have recruited from a pool of talented students, along with a large number of external employment partners benefitting from our curated talent.
As well as connecting potential employers with students looking for work, MQSE focuses on the skills and development needed to obtain employment, including recruitment and application strategies and resources and tools to ensure students can confidently present themselves to employers. MQSE also collaborates closely with PACE to increase continuity of offers for students.
As a free service funded by the Student Services and Amenities Fee (SSAF), the main priority for MQSE is to connect employers with Macquarie students and recent graduates. In 2021 alone, MQSE has been instrumental in recruiting 20 students to jobs around campus and more than 100 jobs externally. Since its inception, the service has worked on recruiting for 362 jobs and received more than 3400 applications for their services – 1800 of them in the first nine months of this year.
Macquarie's Career and Employment Service has always actively supported its students to find employment, both on and off campus. MQSE goes one step further with active coaching of students to be job-ready and confident in the recruitment process.
"We help students to refine their resume, market their skills to employers, prepare for interview, build confidence and take constructive feedback if they are unsuccessful," says Mel Ashby, Student Employment Coordinator in the Employability and Graduate Success Team.
"The number of applications we receive and students we are coaching through the recruitment process is a very solid indicator of the value of the program."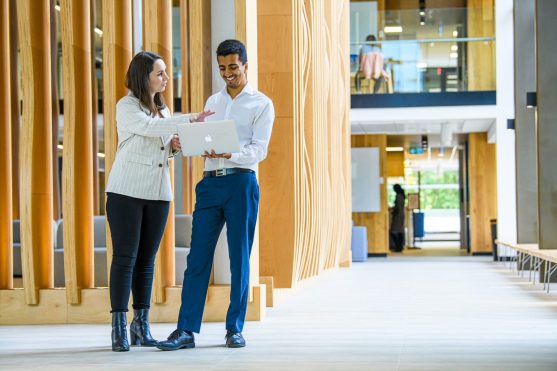 Thriving young professionals
Annie Renouf is an MQSE success story. Currently in her fourth year of an Arts/Law degree, Annie signed up to the service in her second year, after having a great experience in the Career Accelerator program. Since then, Annie has found employment on campus in a number of different roles, and earlier this year joined the Macquarie Park Innovation District (MPID) team as a Communications Assistant.
"MQSE has provided me with a platform and skills to increase my employability, and boosted my confidence with the recruitment process," says Annie.
"There is a strong commitment to providing an outcome on an application and next steps in a prompt timeframe. Rather than applying for a role and not getting many updates, MQSE is there at each step of the process."
Annie says engaging with MQSE has helped her cultivate a mindset that she is 'not just a student'.  "The service has showed me that I am a thriving young professional with a bank of experience that I can leverage as a graduate."
Things looking brighter for the job market
Mel Ashby says employment figures for 2020 and 2021 have been erratic across the job market, however numbers are substantially up at the moment. "More employers are now reaching out to us for support to re-establish, grow or enhance their talent pipeline, especially  in the last six months," says Mel.
When it comes to recruiting students for on-campus roles, Mel says it can't be overestimated how important this can be to a student's experience – strengthening retention and giving the University a closer connection to student issues.
"Getting work on campus means students are in an environment with an understanding of the required flexibility for study, and it increases on-campus activity and commitment to Macquarie. This approach supports a more holistic student experience that is geared towards employability skills and graduate outcomes."
Mel and the team are looking to build on MQSE's success with enhanced offerings for 2022, including developing a Job Ready Club, forming closer connections with relevant social clubs and societies, and building stronger partnerships to meet the needs of employers.
Find out more
If you know a student who is looking to enhance their job-ready skills and find employment, you can direct them to MQSE's Student FAQs. If you're interested in using MQSE to fill a position in your area, visit the Employer FAQs, or contact Mel Ashby directly: mel.ashby@mq.edu.au