In week two of our Academic Staff Awards finalists series we get to know the early career academics at Macquarie who are already making a big impact in teaching and research.
Register to attend the Awards ceremony on 30 November and help us celebrate our best.
---
Vice-Chancellor's Learning and Teaching Early Career Award
This award recognises staff for their quality teaching and support of learning and the impact they have on influencing, motivating and inspiring students to learn. 
---
Dr Wesley Robertson  |  Faculty of Arts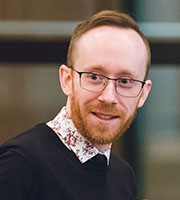 Student equity was among Dr Wesley Robertson's priorities as he made extensive reforms to the University's introductory Japanese units. As he transformed them into sustainable, world-quality courses, he also made them accessible and user-friendly by developing many resources, including a free textbook.  
"It ensures the course content matches the needs of the Macquarie context while removing financial barriers to language learning," explains Wesley.  
Japanese 1010 has since become one of Open University Australia's best-ranked language courses, as Wesley's course revisions have made assessment equitable and effective across all cohorts. 
"Rather than submit documents for marking, students now attempt workbooks, check their answers against a model, and then note the source of any mistakes," he says.   
"This develops self-reflection and both active and reflexive language skills. Likewise, tests and quizzes are now fully online, open-book assessments, which allows immediate and equal feedback as all students can directly note areas they need to review." 
---
Dr Joel Fuller  |  Faculty of Medicine, Health and Human Sciences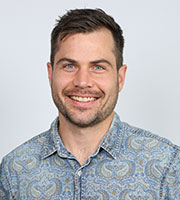 Dr Joel Fuller's student-centred approach to teaching ensures his charges are equipped to succeed in an ever-changing clinical landscape.  
It's a holistic philosophy where first, the physiotherapist and sports scientist works to diminish the overwhelm and fear experienced by first-year postgraduate students. His mirroring of real-world scenarios helps students develop realist expectations of health disorders, and ongoing assessments build confidence in clinical performance – "de-threatening the prospects of being examined in a clinical environment". 
"I have wholeheartedly embraced these challenges, particularly in COVID times, where I have reconceptualised how I motivate and support my students in an interactive online environment," says Joel. "I encourage my students to adopt a growth mindset and support the cultivation of their expertise through ongoing practical application." 
Joel's success is reflected in consistently positive student feedback, including 2017–2020 Learner Experience of Teaching and Unit results showing 92–94 per cent of first-year students believed his teaching motivated, supported and inspired. 
"I feel privileged to be a grounded presence for my students, helping them to develop the foundational skills necessary to excel in their second-year clinical placement and future career." 
---
Dr Zhu Sun  |  Faculty of Science and Engineering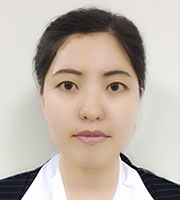 Dr Zhu Sun's students are on a "happy journey" with her balanced and supportive teaching. 
"Learning is a happy journey to continuously improve ourselves," she says. "I am always trying my best to make my teaching interesting, attractive, inspiring and easy to understand." 
She does this by "delicately designing" her program to cater to each learning stage of her students. 
And it's paying off with outstanding student feedback and a reputation as a "kind and nurturing" teacher who encourages participation and is able to explain difficult concepts clearly.  
"I always try my best to create a good engaging learning environment; my easy-going and approachable nature makes students feel comfortable to ask questions," she says. "I encourage less-confident students by sharing my experience."  
Zhu's philosophy is interest-driven for first-year students, efficiency-driven for second years, and job-driven for third-year students. And by smoothly integrating her research topic, recommender systems (RSs), into the web development component, she allows students to hone their skills on the popular platform. "It has been widely applied in industry, and the huge demand on RSs could provide more chances for students who master it to easily find a job." 
---
Dr Helen Siuki  |  Macquarie Business School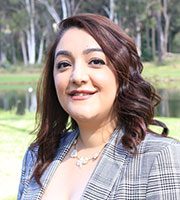 In less than three years since she began at Macquarie, Dr Helen Siuki has developed and taught three under- and postgraduate units, incorporating innovative programs and high-profile industry experts. 
To hone employability, Helen secured the marketing managers of LEGO, Pinterest and Microsoft as the first three brands to mentor her students through the development of a marketing campaign.   
"I believe in innovative teaching that extends learning to include critical thinking and problem-solving in today's world," says Helen. "I use design-thinking, technology integration and learning by doing".  
It's an approach that gains positive feedback from her students – and her student mentors. LEGO marketing manager Adrian Di Francesco said, "The students were very motivated and passionate, going above and beyond to design and deliver a great campaign. The calibre of work was at a professional standard. I loved the positive class atmosphere. Helen is a dedicated, approachable and inclusive teacher, who values real-world learning."  
In using blended, activity-based learning for her diverse cohort, Helen also encourages novel ideas. "While business and marketing topics are mainly commercial by nature, I encourage my students to choose topics inspired by 'higher purpose' values, empowerment and sustainability, equipping them with sought-after graduate capabilities and skills." 
---
Excellence in Higher Degree Research Awards
These awards will be presented for outstanding research undertaken by a current or former higher degree research candidate.
---
HASS
Jarrod Hore  |  Faculty of Arts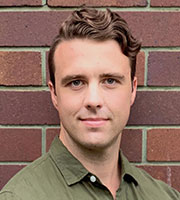 It's been an eventful six years since the start of Dr Jarrod Hore's research project Visions of Nature, with a master's thesis, doctoral dissertation, highly original journal articles and more than 20 presentations and lectures piecing together "the puzzle of wilderness in a settler colony".
His unique comparative history of settler environmental image making and nature writing across North America, Australia and New Zealand will culminate early next year with the publication of his monograph by the prestigious University of California Press.
"In history, the ultimate test of academic rigour is a peer-reviewed monograph," says Jarrod. "UC Press is in the very top tier of publishers of academic history books and is the pre-eminent publisher of books about California and the American West. Presenting a new environmental history of settler colonialism in these places and in Australia and New Zealand, Visions of Nature will be part of the October 2021 catalogue.
The study reveals several breakthroughs including the radical viewpoint that settlers from Hobart in Tasmania to the Bay Area in California pictured their environments in almost identical visual modes. Instead of thinking of these different places as unique, settlers understood them comparatively, resulting in the development of matching cultures of environmental consciousness.
Such an expansive and surprising history is of significance at a time when widespread environmental challenges again trouble the world.
---
Corrinne Sullivan  |  Faculty of Arts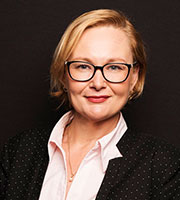 In highlighting the power of sexuality, gender and economic independence for Indigenous sex workers, Dr Corrinne Sullivan's award-winning PhD has positioned her as a thought-leader on Indigenous Australian sexualities and gender – and Indigenous research practice and methodologies.
The first of its kind, her research has resulted in critical knowledge regarding Indigenous and gender and sexually diverse people's health and wellbeing. This new knowledge has already contributed to social justice in planning and policy making.
"My PhD findings demonstrate a need to recognise the multiple realities of Indigenous Australian sex workers, which seep out far beyond the popular discourses that label them as victims," says Corrinne.
As well as being in demand as an author and speaker, Corrinne has been appointed as a research fellow with the University of Technology, Sydney; Victoria University of Wellington; and Stanford University.
"These esteemed institutions asked me to direct them in Indigenous research methodologies, Indigenous sexuality and gender, and health and wellbeing for Indigenous people," says Corrinne, who presented her doctoral research as seven outputs, including five published Q1 ranked journal articles (another is accepted for publication), and a published book chapter. Her thesis received a VC Commendation and was rated in the top five per cent.
---
Anam Bilgrami  |  Macquarie Business School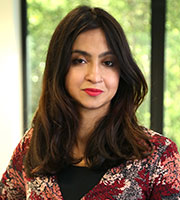 In tackling the challenges of health and social policy evaluation in Australia, Dr Anam Bilgrami's research is already directly contributing to policy debate and future policy design.
Anam's thesis, in which she used innovative econometric modelling techniques to analyse the effectiveness of three Australian policies earned her the 2020 Macquarie Business School Award for Research Excellence in Economics – and publication in the prestigious journals Health Economics and the Economic Record.
One of her three papers, which found that adequate paid parental leave boosts maternal mental health, received significant mainstream media coverage and an Altmetric Attention Score of 58 (top five per cent of all research outputs).
"My research paper on the impact of harmonising workplace health and safety law on workers compensation in Australia adds to the scarce academic literature on workplace health and safety in Australia and is the first study to evaluate the impact of this reform on claims and injuries.
"The findings could contribute to future cost-benefit analyses of this policy. When this paper is published, I plan substantial media and industry outreach to disseminate the findings."
---
STEMM
Jenny Lee  |  Faculty of Medicine, Health and Human Sciences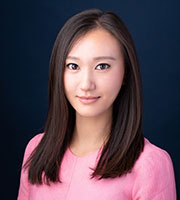 Dr Jenny Lee's research has catapulted the application of circulating tumour DNA (ctDNA) into most melanoma clinical trials and everyday clinical practice – with the promise of making cancer diagnosis, treatment and prognosis more accurate for patients.
Just a year after receiving a VC Commendation and top five per cent rating for her PhD thesis, Jenny is recognised internationally for her critical understanding of cancer cell biology and oncology, and her exceptional ability to identify, collate and annotate patient cohorts. Jenny also received an NHMRC investigator grant (EL1) within one year of completing her PhD.
"My research has made significant contributions to the implementation of liquid biopsy in the routine management of melanoma patients and understanding immunotherapy response and resistance mechanisms," she says.
"My work contributed to significant knowledge and health impact by proving that ct DNA accurately reflected disease activity in real-time. We were the first to highlight the true advantage of longitudinal ctDNA over standard imaging to monitor treatment response by accurately differentiating pseudo-progression from true progression. Initial increase in cancer size – likely due to inflammation – followed by cancer shrinkage occurs in 5–10 per cent of patients receiving immunotherapy.
"This accurate, early response data has a critical impact on therapy and treatment, resulting in better patient outcomes and reduced healthcare costs."
---
Ali Lalbakhsh  |  Faculty of Science and Engineering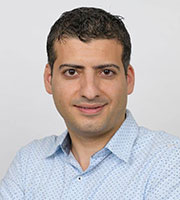 Imagine: high-speed internet for every person on Earth; smart emergency vehicles responding to natural disasters; and remote, precision farming that maximises every harvest.
As the dream of global connectivity inches closer to reality, the massive potential of satellite internet is hampered by the lack of low-cost Satellite Ground Terminal Antenna (SGTA) systems.
Dr Ali Lalbakhsh's interdisciplinary research – combining engineering and artificial intelligence (AI) – promises to revolutionise existing satellite communication. Using AI, he is producing the first extremely low-cost technology for SGTAs, which also has the benefits of being compact, lightweight and low-power.
"My technology will allow low-cost access to reliable broadband internet, which means ordinary people can benefit from high-speed connectivity anywhere and anytime," says Ali. "This is crucial to enhance the quality of life of people living in remote areas."
Ali has also been able to transfer his AI skills to medical research. "I formed a team of medical and AI scientists from 13 universities around the world to develop an AI framework for treatment and diagnosis of COVID-19. The resulting paper was 'one of the Most Popular papers from more than 1.5 million publications by IEEE Xplore'".
The accolade – along with the 2021 NSW Fresh Science Award – are two of many for Ali, who started his research journey only six years ago.
---
Early Career Researcher of the Year
These awards acknowledge outstanding performance in research by an early career researcher.
---
HASS
Dr Emlyn Dodd  |  Faculty of Arts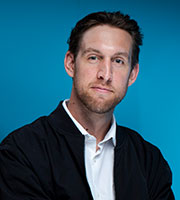 As a global leader in archaeology, Dr Emlyn Dodd is constantly pushing the boundaries of his discipline and, at times, rewriting history. By tackling complex problems of the ancient world, his work in ancient agriculture and production informs responses to contemporary problems such as climate change, pandemics, population pressure and migration.
Rather than using traditional humanities techniques, Emlyn incorporates innovative, novel and interdisciplinary methods – some never before used in archaeology. His findings have resulted in the reassessment of existing material and traditional scholarship, and highlighted a wide range of overlooked primary evidence for wine and oil production across the Cycladic archipelago and Italy.
Emlyn's work in the Greek Islands is the most comprehensive of its kind.
"Its impact extends beyond archaeology and into history and science," says Emlyn. "It re-orientates the Cyclades as a place integral to the eastern Mediterranean socio-cultural and -economic nexus, and the movement of goods and knowledge across both Greek and Roman worlds."
Emlyn is sought after around the world as an expert consultant on large-scale projects. He's also collaborating on the design of a cutting-edge, open-access database that will make Roman wine and oil press equipment accessible to researchers across a range of disciplines.
---
Associate Professor Daniel Ghezelbash |  Faculty of Arts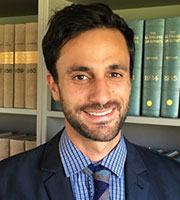 The prolific and internationally renowned research of migration and refugee law expert Associate Professor Daniel Ghezelbash reflects his family's own refugee experience, his practice as a refugee lawyer and his development of innovative technology that increases access to justice.
In working to make asylum policies more humane and counter racial discrimination in Australia, Daniel's many successes as an early career researcher include shaping public debate and policy around refugee law, helping to enhance safety at sea for asylum seekers and migrants, changes to the UNHCR resettlement guidelines, and examining how to reverse the current trend of states using COVID-19 to shut out asylum seekers.
He is a pioneer of comparative migration law and in transcending traditional disciplinary barriers to research.
"I draw on everything from law, computing, political science, psychology and data science to understand and inform the asylum policy-making process and how to get better outcomes for refugees, children and first nations peoples engaging with the legal system," explains Daniel.
"I've been involved in leading numerous large comparative studies measuring and comparing migration and asylum laws across countries. My book Refuge Lost shows how inhumane asylum policies are being copied around the world and Australia's role in this process."
---
Dr Rohan Best  |  Macquarie Business School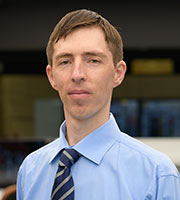 With 24 journal articles in high-quality, high-impact, capacity-building publications in under four years – nine in the first five months of this year – Dr Rohan Best is making a name for himself in energy and environmental economics.
His research aligns with the Science and Research Priorities of the Australian Government, particularly developing new clean energy sources and storage technologies.
"Australian society can be more prosperous with more efficient policies for household energy and superannuation," he says. "My research has begun to show how this is achievable while still promoting equitable outcomes."
The wide scope of Rohan's global economics analysis – covering energy, the environment, development, labour, superannuation and transport – sets it apart from previous studies.
"One of my goals is to produce analysis that changes public policy for the benefit of society. My starting point is household energy policies, and I plan to extend to social policy more broadly."
Another innovative aspect of Rohan's work is its social focus.
"Household eligibility for policy support can be tailored for specific policies and based on wealth or components of wealth. My research shows this is superior at identifying households that face constraints in solar panel uptake, home battery uptake, energy consumption and energy poverty."
---
STEMM
Dr Sidong Liu  |  Faculty of Medicine, Health and Human Sciences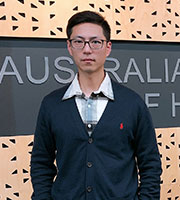 In his quest to become a world-class leader in medical informatics and artificial intelligence (AI), Dr Sidong Liu is leading projects that have great potential to improve the quality of clinical care across many fields of health.
He and his multidisciplinary team at the Australian Institute of Health Innovation are working on novel studies in AI medical imaging that will impact diverse conditions such as glaucoma, neurodegenerative disease, brain tumour, cancer and COVID-19.
"Last year I initiated collaborations with two Chinese hospitals and universities to develop an AI system to determine the severity of COVID-19," says the recipient of the NHMRC Peter Doherty Biomedical Early Career Fellowship.
And his world-first study of AI in glaucomatous disc identification based on fundus photographs achieved better results than human ophthalmologists – providing important evidence of AI's potential to make glaucoma screening more accessible.
"My research has attracted more than 1700 citations – 50 per cent since joining Macquarie two years ago," says Sidong. "As a computer scientist specialising in AI, I am committed to translating the research outputs into real-world applications that can benefit our community.
"To date, I have led the development of various software tools for medical image computing and made them available to the public, with one receiving more than 35,000 downloads."
---
Dr Mohsen Asadnia  |  Faculty of Science and Engineering
In his relatively short career, Dr Mohsen Asadnia has had a big impact – in various fields ranging from biomedical engineering and biomimetic devices to the development of auditory sensors.
For 12 years, Mohsen has built an innovative research program based on nanotechnology, biomedical sensors and electronic devices.
His results are of such high interest to the microelectromechanical research community that he's achieved $5.2 million in research grants and attracted more than 3017 citations and h-index 34 for his 138 peer-reviewed articles.
Industry and community engagement is a core value of his academic career: "My funding success has been achieved through close collaborations with different industries. These also help my students to access cutting-edge scientific facilities not always available in our university and to train job-ready PhD graduates. This enables my research group to pursue additional lines of research that ultimately contribute to the faculty's productivity."
While Mohsen's primary interest lies in employing new physics that use novel micro- and nano-engineered systems for cancer management, bioprocessing and medical diagnostics, his achievements extend to many fields.
Since 2018, he's been developing a novel implantable device, the "Ear-on-a-chip" artificial cochlear system.
"These areas of research are not only state-of-the-art, but are also steered towards solving meaningful problems of societal and environmental impact," he says.
---
Dr Noushin Nasiri  |  Faculty of Science and Engineering
The Sun-Watch: it's the world's first wearable sensor to alert users of over-exposure to harmful ultraviolet (UV) rays. In a nation with the highest rate of melanoma in the world, it has the potential to save lives – and reduce the annual $750 million cost of treatment.
Just four years into her postdoctoral career, Dr Noushin Nasiri is making a significant global impact. Unlike other UV photodetectors, her nanoscale architecture for band-selective UV photodetectors has the outstanding ability to differentiate between UVA and UVB rays – essential for measuring potential skin damage.
"It can measure the UV Index in real-time and calibrate to the user's skin type," says Noushin.
And it's so small, the app-linked device can be embedded into a watch, clothes or even sunglasses.
"It has high potential for commercialisation and will soon enter an evaluation phase with an international company. We will then apply for government grants to take the product to market."
The TEDx speaker already has 41 peer-reviewed publications to her name, and many accolades including the 2021-2022 Superstar of STEM and the 2019 NSW Young Tall Poppy Award.
As Head of the Nanotechnology Laboratory, Noushin also applies innovative teaching techniques, which have resulted in an increase in enrolments and performance.
---
Missed our earlier finalist profiles? Find them all here.