Professor Marcus Stoodley is head of neurosurgery at the Macquarie University Hospital and the Faculty of Medicine, Health and Human Sciences.
He is an Australian leader in cerebral bypass surgery and internationally recognised for clinical management of Chiari malformation, syringomyelia and spinal cord tumours. And this year, Marcus's steady surgeon's hand is also being put to use in another pursuit of excellence – the quest for a perfect lawn.
1. Something people usually ask you when they find out what you do for living
When I tell people I'm a neurosurgeon, the conversation usually stops. So  I try not to tell people!
2. Something you feel proud of
The neurosurgery team has made major "Heal, Learn, and Discover" contributions to Macquarie. We set out with a goal of being a strong academic unit in a private hospital and are now probably the most productive unit in the country.
3. A Macquarie person you admire
Soo Jin Min – she leads the nursing team in neurosurgery theatres and is the best theatre nurse I've worked with. Respected by all the neurosurgeons. We would struggle without her.
4. The coolest bit of equipment you use in your work
Stereotaxy – like a GPS for finding our way around the brain during surgery.
5. A favourite photo from your camera roll
I just finished building this workbench at home. It's for woodwork, but my friends suspect I've got Frankenstein intentions!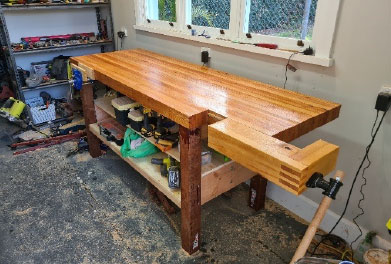 6. The first person you go to for advice
My wife. She claims to be my biggest supporter but also my harshest critic!
7. A website or app you can't live without
Home automation. I control everything in my home from my phone. I wish I could control the kids!
8. What you love about where you live
I live in Pymble and love the open spaces. As much as I like my neighbours, it's nice not seeing them all the time.
9. Something you're trying to do differently in 2021
I'm being more sophisticated looking after my lawn at home – I'm aiming for perfection.
10. I'm happiest when…
I'm surrounded by my family and everyone is laughing. I'm hoping my children will treasure those times.