On 30 November, Macquarie will celebrate the essential nexus between teaching and research at the 2021 Academic Staff Awards ceremony.  This major online event will honour the recipients of both the Vice-Chancellor's Learning and Teaching Awards and the Research Excellence Awards.
All staff are warmly invited to register to attend the ceremony and help celebrate our outstanding colleagues.
For the next five weeks, we will be shining a light on the accomplishments and impact of our Awards finalists. We start with 'The Leaders' – an exceptional group of staff whose teaching and research leadership inspire others to achieve their best.
---
Vice-Chancellor's Educational Leader Award 
This award recognises educational leadership that has influenced and enhanced learning and teaching and/or student experience.
---
Dr Lise Barry, Macquarie Law School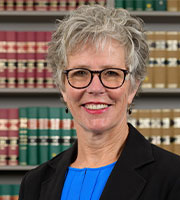 Associate Professor Dr Lise Barry's "zest and passion" for teaching and integrated learning is reflected in her innovative overhaul of the law curriculum, which now focuses on improving students' career and employability skills.  
By pushing the boundaries in incorporating workplace realities into teaching, her leadership has resulted in authentic skills-based assessment becoming a key element of learning and teaching at Macquarie Law School. And this puts it at the forefront of meeting the needs of current and future students, the university and the legal profession.  
As well as pioneering the use of online and video materials for students, Lise has also led the way in seeking formal accreditation of staff. "I set up a 'Shut Up and Write' group and led meetings to discuss our teaching practices and reading lists as we prepared our applications," she says. "Law had one of the highest numbers of applicants from any department, with 19 staff applying for support for fellowships since 2017." 
Lise's commitment extends to the Macquarie Law Society, to which she was elected Life Member in 2017 for her tireless delivery of extra-curricular activities and assisting with developing online resources and support for student events.
---
Professor Deborah Richards, Department of Computing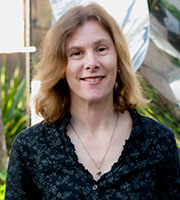 "Empathic, empowering and ethical." This was the title of Professor Deborah Richards' invited e-leadership talk on her 60th birthday, and it has underpinned her way of thinking for more than 20 years at Macquarie. 
Her achievements span the development of the Business Information Systems major and multiple units; innovations such as the first significant cross-faculty learning analytics project, reducing study stress and using games to teach cyber ethics; and supporting her fellow teachers. 
In succession planning, the latter has transitioned recently to encourage others to take the lead. "My empathic and empowering approach is used to mentor junior colleagues, sessional staff and research students," says Deborah. "I often provide support by getting behind someone else's vision." 
It's Deborah's empathy that sets her apart. 
"As an early-career lecturer, I received 'advice' from my leaders: 'you spend too much time with students', and 'be worried when there is a queue of students outside your door'. After some time pondering this, I decided to ignore it – to be accessible to students, providing prompt, empathic and transformative responses to their concerns. This would mean time to listen and effort to identify and bring about needed changes." 
---
Professor Leonie Tickle, Deputy Dean, Research and Innovation, Macquarie Business School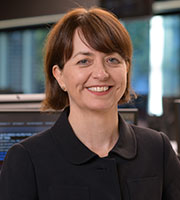 In her recent role as Associate Dean Learning and Teaching, Professor Leonie Tickle has not only inspired and enhanced her community of teaching professionals, she's also skyrocketed the Business School's reputation.  
Leonie was project sponsor for Macquarie's global success story, the online Global MBA, the first Asia-Pacific university degree collaboration with online learning platform Coursera.
In 2020, just a year after launch, it was ranked first in Australia and sixth globally on CEO Magazine's Global Online MBA list.
"The program is distinctive in equipping students with capabilities for the future world of work; its global focus; being co-designed with industry and students; and embedding concepts of sustainability," says Leonie.
Leonie also oversaw the development of the Business School Careers and Employability Strategy and a range of student experience initiatives including Course Compass, the Dean's Scholars program and the Young Leaders program.  
In positively impacting learning, her teaching staff are key. "I regard the most important part of my role as inspiring colleagues to think differently about teaching, empowering them with skills, and engaging them in a connected and collaborative community." 
With her team, she launched  MQBS Learning and Teaching Toolkit – within just two days of the move to online teaching in 2020. "The buy-in from grateful academics was swift and empathetic," says Leonie. The Toolkit is continuing to transform the School's teaching, with more than 170,000 visits to date. 
---
The Jim Piper Award for Excellence in Research Leadership
This award seeks to recognise, encourage, and reward those researchers who are on a path to becoming research leaders at Macquarie University. 
---
Professor Liz Pellicano, School of Education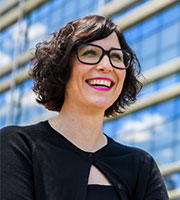 Professor Liz Pellicano is among the world's leading authorities on the relationship between autism science and practice, and shapes global research strategies accordingly. She has eight major prizes to her name, including the prestigious Philip Leverhulme Prize, and was named as Australia's Field Leader in Child and Adolescent Psychology by The Australian for the last two years running.  
Professor Pellicano is well-known for her theory of autistic perception; investigating the autism community's scepticism of established autism science; and examining innovative supports for autistic children using social robotics and artificial intelligence. 
But her work is far from over.  
She is now bringing her agenda-setting research together into one project that will transform autism science using her pioneering participatory approach.  
"We are seeking to more accurately reflect everyday autistic life. By bridging the gap between lab and life, and opening up research to greater involvement of autistic people, the goal is to generate scientific discoveries that bring real benefits," she says. 
"Autistic advocates and their supporters have long argued that conventional research provides too few opportunities for genuine engagement by autistic people, contributing to an ongoing sense of social disenfranchisement. Participatory methods – where community members are involved as partners in the research process – are now gaining momentum." 
---
Professor Dali Kaafar, Department of Computing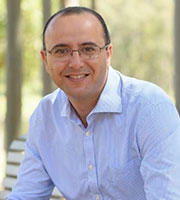 Professor Dali Kaafar is a pioneer in cyber security, in demand by industry and the government – especially for his work on Privacy Preserving Technologies and AI security.
His research, industry connections and leadership within the University have positioned Macquarie as a leader in the field. So much so, Singtel Optus described the Cyber Security Hub, headed by Dali, as "an exemplary partnership" they would like to replicate across the country.
In restructuring the Hub, Dali led the development of six cross-disciplinary research-and-development programs – involving more than 50 academics from four faculties – to tackle a wide range of cyber challenges and opportunities.
"It has become an ideal ecosystem for our partners to collaborate on building a resilient, secure and trustworthy digital infrastructure," says Dali. "Partners contribute to research, commercialisation ideas and projects, and in developing the next generation of cyber security talent. In return, they gain first access to student talent pools, research outcomes and commercialisation opportunities."
Dali's research integrity is reflected in his higher-degree research supervision and publication record.
"I target publications only in the most prestigious conferences and reputable journals," he says. His unique achievement of repeated publications in NDSS (2012– 2020) and PETS (2011–2021) is testament to this research excellence.