October is National Safe Work Month. So what better month to get to know the team that helps keep us all safe at Macquarie?
The Workplace Health and Safety Unit, along with the Risk and Resilience Unit. forms Group Risk led by Chief Risk Officer Kylie McKiernan. This department sits within Robin Payne's executive portfolio, Vice President, Finance and Resources.
Who are you?
Our team comprises: Lance Islip (1) who manages our team; our trusted WHS advisers  Louise Devine (5), Sonya Hendricks (10), Tina McDonald (7), Brian Meadows (6), and Matthew Stafford (9).
Also, in the team are Injury Management and Recovery at Work Coordinator Felicity Skeates (4) , Hazardous Materials Compliance Coordinator Lisa Moncur (8), Health and Safety Training Consultant Lachlan McPhail (3), and our WHS team administrator Sue Rogers (2).
How do you contribute to the University's mission?

People who feel safe are more productive. Our team focuses on practical, proactive, health and safety risk management to support the University community to flourish, and to achieve a positive and effective workplace culture and environment. We aim for health and safety to be part of, not separate from, all core business activities.
Each of our Advisers has a portfolio of responsibility which you can find in our WHS Hub.
Our team assists with safety and compliance by providing management and oversight of the University's safety management systems and related training. This involves working with managers, staff and others to try to ensure ongoing identification, assessment, control, monitoring and evaluation of WHS hazards and associated risks. When you are looking for ways to avoid injuring yourself or others then we are here to help.
We also manage key relationships with stakeholders and external agencies; the WHS reporting system, including investigations and data review; support and monitor those with work related illness or injury through the Recovery at Work Program.
A recent achievement you're proud of?
We noticed that WHS information was not as easy to find as it should be and unless you know where to look, you didn't know what you might be missing. The Faculty of Science and Engineering suggested a SharePoint solution to this and together we have created the WHS Hub. We would like to acknowledge the great site foundation work of FSE in this initiative, in particular, Sue Law.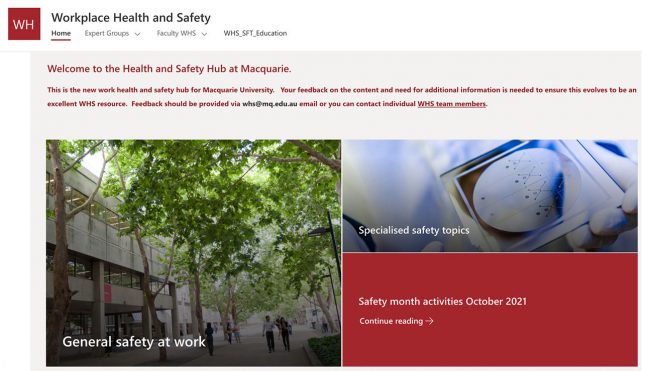 The WHS Hub has been designed with the intention of being a one stop shop for health and safety information and we would encourage you to visit. We strive for continual improvement so if you have a scathingly brilliant suggestion for inclusions or don't find what you were looking for, please let us know.
Anything exciting on the horizon?

October is National Safe Work Month as well as National Mental Health Month, so expect to hear a lot more from our team in coming weeks. Check out our WHS Hub for a calendar of virtual events, such as Improvised Ergonomics and working from home; How to navigate safety for Managers, or in Office environments.
There will also be a presentation by Professor Nick Titov, Executive Director, of MindSpot: "Creating a psychologically safe workplace: Tips for checking in on your team"
October will also see the release of an online program for understanding and managing your mental health, which will be available for staff via Workday and on the iLearn platform for students.
What would you like staff to know about what you do?
One misconception  is that we are responsible for everyone's safety. Safety is not "done" by the WHS team – each member of the Macquarie community has their part to play. As the Safety Month motto says, we need to think safe, be safe, work safe.
Anyone can sustain an injury in the workplace.  Despite our best efforts to prevent injuries/ illness from occurring, they can still happen to any of us.  In the event of injury, please let us know. We will be there to support and assist you during your recovery at work and together prevent recurrences.
If you have a safety issue or concern, please let your people leader know and log a ROAR. ROAR reports go through to your portfolio WHS advisor for review and response.
The WHS team can help you decipher the standards and law around safety. As they say, 'there is no stupid question'. We welcome any general health and safety enquiries which can be sent to whs@mq.edu.au for attention.
The team loves to help and are committed to helping you stay safe. We want to hear from you and hear you 'ROAR'!