With an ardour for all things astronomy, MRes student Gabriella Quattropani gets to share her passion with the public through her role as an Administration Assistant in the Department of Physics and Astronomy's Association for Astronomy (AFA).
1. Something people ask you when they find out what you do for living
There are heaps of questions I get asked – How big is the universe? How many stars or galaxies are out there? The great thing about the questions is that there usually isn't a definite answer. We have theories and estimations but part of the reason I'm studying and working in astronomy is the never-ending amount of questions that are out there. It means you can never get bored!

2. I'm happiest when…
I get to be at the Macquarie University Observatory, especially with a group of people who have never been before. I love being able to give someone their first experience looking through a telescope and the surprise and awe at what they see is amazing to witness.
3. Something you'd like staff to know about
Even if people can't be there in person, the AFA still wants to be able to provide that peek into the cosmos, which is why we have started the MQ Space Travels Livestream to provide the experience virtually! Our next episode will be on the planets we can see in our night sky right now. It's called All Things Planets and will be streamed this Friday 17 September.
4. A website or app you can't live without
My weather app, ClearOutside.  It shows cloud coverage so I can see whether I'll be able to look through the telescopes that night.
5. The coolest bit of equipment you use in your work
We recently installed a 24-inch research grade telescope at the Observatory.  In future, it will be connected by optical fibre to a spectrograph (an instrument that splits light into its different wavelengths or colours for us to analyse). But for now, we are using it to make some nice images, like this one made by my colleague Adam Joyce of M20, aka the Trifid Nebula.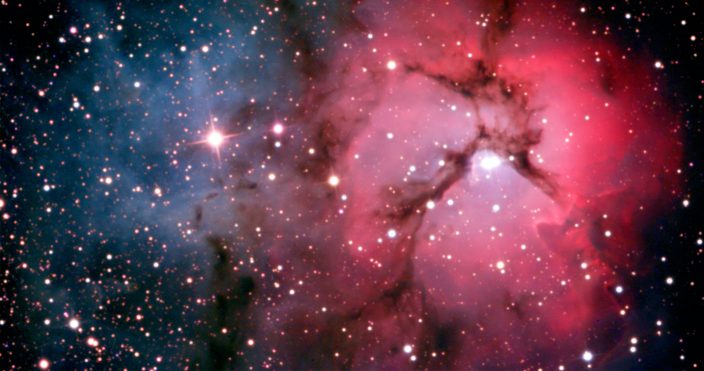 6. A Macquarie person you admire
Professor Orsola De Marco – she is so incredibly passionate and excited about her work that you can't help but get excited about it too. I really admire that infectious quality.

7. Something you feel proud of
Earlier this year, I was speaking with some first-year astronomy students and one young women told me she'd had attended a session I'd led at the Observatory when she was in high school.
She told me I had inspired her to choose an astronomy degree at Macquarie, and to become an astrophysicist. This made me immensely proud, as one of my greatest goals is to inspire the next generation of female scientists, just as I was inspired by others when I was young.
8. What you need to do your best work
Stuck at home during lockdown, what I really need to do my best work is a nice comfy spot to sit and a cuddle from my dog Merlin,  who has been enjoying the lockdown far too much.

9. A favourite photo from your camera roll
This is a 2018 clipping from Broken Hill newspaper.  Me and a few other members of the AFA travelled with Widening Participation's LEAP Roadshow to encourage more young people in regional Australia to consider tertiary education. It was an amazing experience to bring our telescopes and planetarium to dark skies and lovely people.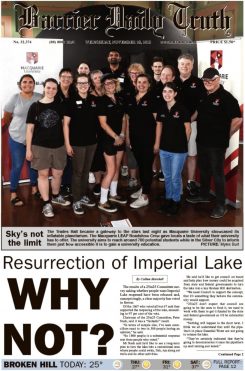 10. Your definition of success
I measure success by how happy I am with my work. If I feel good, that's a success!