Image: The Clinical Education Building embodies the sustainable design principals set out in our Campus Master Plan. 
 "Our Vision is that Macquarie University will be a model collaborative community demonstrating global leadership and innovation in the sustainable development of built and natural environments."
– Campus Master Plan (2014)
In developing and implementing the Campus Master Plan, Macquarie set ambitious commitments to target the reduction of energy and water use, minimise emissions, and divert waste from landfill by 2030.
With 2020 being the 10-year milestone, the University has released its Sustainability Targets Tracking: 2020 Status Report, which provides an update on our progress.
The headline stats paint a positive picture, and with our recent switch to a 100 per cent renewable electricity source for the North Ryde campus, these figures are expected to improve even further in 2021.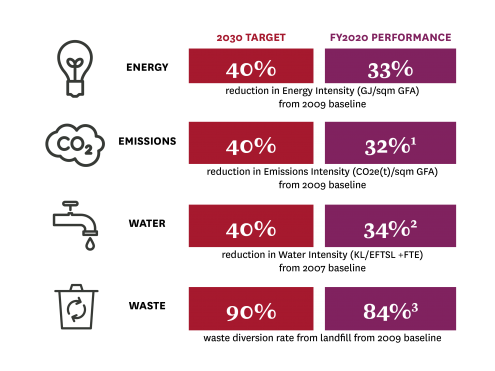 (1) Excludes 100% renewable electricity supply, which equates to an approximate 92% reduction. (2) Against 2009 baseline (2007 baseline not available). (3) Against 2011 baseline (2009 baseline not available) .
"Through the implementation and integration of sustainable principles into Macquarie's core practices, we're making significant progress against our targets," says Mark Broomfield, Director of Property.
"And we've managed to achieve these results despite having grown significantly as a University – our Gross Floor Area has increased by 39 per cent since 2009, and our population – in terms of EFSTL and FTE – has increased by 40 per cent."
Our progress also comes with benefits to the bottom line, with cost savings of more than $18 million.
"In this challenging economic climate, Macquarie continues to invest in these activities that not only reduce our ecological footprint but improve our operational performance and provide a financial benefit to the University."
---
Learn more about our resource efficiency trends and our pathway to Carbon Neutral.