Lisa Moncur started working life as a casual lab assistant at age 16 and says she has been fortunate enough to enjoy a career in science ever since.
The qualified microbiologist and biotechnologist helped develop a number of human therapeutics, animal vaccines and rapid diagnostic kits for food pathogen testing at Australian biotechnology companies, as well as supporting medical research at the Garvan Institute in the area of health and safety and laboratory compliance.
These days, Lisa provides specialist support and advice to Macquarie University in the management of chemical, biological and other hazardous materials risks across campus. She is also a WHS advisor to the Macquarie Business School, helping them create and maintain a positive safety culture and best practice in health and safety risk management.
1.  Something you feel proud of
Australia's (and more specifically Macquarie's) response to the pandemic and ability to achieve a "COVID-19 normal" environment this year while most of the world is still in crisis. There has been an enormous global focus on biosafety, public health, biosecurity and vaccine development due to the pandemic which is so interesting, yet frightening.
2. Something people ask you when they find out what you do for living
"Does this still smell OK to you?" (in reference to my food safety background and yes, I do have a great nose for food that has gone off!)

3. The coolest bit of equipment you use in your work
I don't actually need much equipment to do my work however I get to explore lots of other people's amazing equipment and high-tech research facilities on campus and this makes my job so interesting and stimulating!

4. What you need to do your best work
Good working relationships with those who are or who can potentially become good safety leaders in their area of influence. The key to safety is so much about how people behave and their attitudes, not all about physical hazards and procedures.
5. Your definition of success
Having a good work-life balance.
6. A website or app you can't live without
WeatherZone. I love analysing the weather forecast – must be the scientist in me!
7. What you like about where you live
I live in Marsfield and being able to walk 20 minutes to work instead of catching public transport into the city each day has been good for my soul.
8. A personal quality you value in others
Being genuine.
9. A favourite photo from your camera roll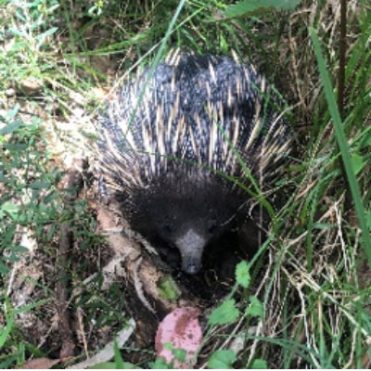 I spotted this echidna near Brown's Waterhole in Lane Cove National Park. It reminds me of the good things to come out of the COVID-19 lockdown last year, such as re-discovering the amazing bushland trails around my home.
10. I'm happiest when…
I come back to Australia again after a long overseas trip and get to appreciate how lucky we are to call this country home.