Dr Can Yalcinkaya is a Program Manager at Macquarie University International College, managing Undergraduate Certificate and Diploma courses in Arts, IT and Engineering. He arrived in Australia from Turkey in 2007 to complete a PhD at Macquarie, and his strong passion for comic artistry and music feeds into his research work in a form that he calls "graphic scholarship".
Can is the convenor of the Graphic Social Science Research Network, a founding member of the Comics Studies Society and a member of Macquarie University's Centre for Media History.  He's also a member of the anti-racist Muslim metal band Hazeen, who have performed in venues including the Museum of Contemporary Art.
Pretty interesting guy, huh?
---
1. Something you feel proud of
The work we do at MUIC-ELC to support our students in their transition to their bachelor degrees. We are a diverse, international, multi-disciplinary group of academics, teachers and professionals who create a special sort of alchemy in a fast-paced, intensive learning and teaching environment.
There's a lot of innovation and exciting projects at MUIC, which makes it a great place to work.
2. The coolest bit of equipment you use at work
MUIC recently bought a 3D printer to use in our Engineering units. It sits next to my desk, and has been printing out various objects including a mini slug statue, wrenches, and models to be used in physics classes
3. A person you admire at Macquarie
My friend and MUIC colleague Dr Onur Ates, who I have known since we were PhD candidates in different departments. I admire his wit, resilience, loyalty to his friends, and his deep knowledge of everything from the life and times of Napoleon Bonaparte to the art of motorcycle maintenance.
4. What you need to do your best work
A sense of work-life balance. Coffee. And death metal.
5. How do you "draw" research?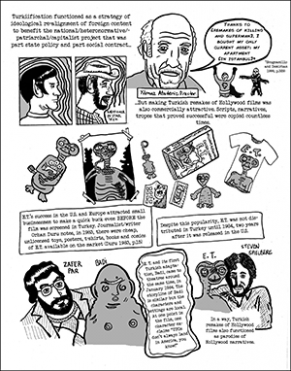 I've been building a creative research practice since I finished my (traditional research) PhD thesis. One aspect of this is what I refer to as "graphic scholarship" or "comics-based research" – using the multi-modal medium of comics to communicate research outcomes.
While I continue to "write" my research, I have increasingly been drawing it, too (see Can's analysis of Turkish film Homoti, which he calls "the gay ET remake").
6. The first person you go to for advice
My partner  – she's one of the smartest people I know and knows me better than anyone else.
7. I'm happiest when…
I'm spending time with my partner in our backyard with our chooks and cat, or travelling or making art.
8. Something you're trying to do differently in 2021
Change my art practice and learning to use digital tools, rather than the traditional pen and paper. I'm hoping this will help make me efficient once I get the hang of it.
9. Something you've read recently that has had an impact on you

Safdar Ahmed's graphic novel, Still Alive: Notes from Australia's Immigration Detention Centre. It's an incisive and deeply personal critique of Australia's immigration detention system and the stories told within it will stay with me for a long time. It is also a celebration of the healing powers of art and community. Highly recommended.
10. Something you'd like staff to know about
Dr Justine Lloyd and I have been co-curating a series of events on the themes of media, arts and activism, which will take place from 1 July to 20 August.
The main event is an exhibition titled "Panels that Transform: Comics and Activism" at the Macquarie University Art Gallery, featuring the works of three internationally renowned artists: Sam Wallman, Nicky Minus and Safdar Ahmed.
There will also be a mini zine fair, live comics readings, an online symposium, talks and workshops among other exciting events, so stay tuned!