A bad coffee has the potential to ruin your morning. So, making sure our University cafes are supplying quality (and sustainably sourced) coffee is an important Campus Life responsibility.
We grilled (or should that be roasted?) Business Manager Peter Fasogiannis on their mission for the perfect campus blend.
Campus Life outlets have sold Pablo & Rusty's (P&Rs) coffee for some years now – why this brand?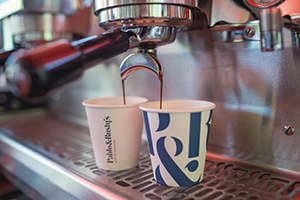 P&R is a specialty coffee roaster located right here in Macquarie Park, so we're able to get the freshest roasted beans delivered straight to us. But that's only the start of why we chose them –  it's also about their coffee bean sourcing, how they support coffee-making, and their sustainability.
How does P&R align with Macquarie's own commitment to sustainability?
P&R was the first coffee company to be certified Carbon Neutral by Climate Active, the Australian Government's carbon-neutral certifying body – a rigorous and recognised standard in carbon reporting and offsets.
They're also a certified B Corp, run their factory on solar power and actively contribute to improving farming practices and rebuilding biodiversity. You can find out more about their sustainability initiatives on their website.
Is there a specific P&R blend we use on campus?
Our uni blend, Pioneer, was specially formulated for us by P&R to meet our brief for an organic and fairtrade certified blend.  Pioneer is a three-bean blend of wash-processed beans with flavour notes of caramel and spice:
Maubisse from East Timor
Peruvian Femenino from the Cecanor Co-op
Colombian from Asprocafees
For staff who like their coffee a bit stronger, the P&R Porter Street blend is now being served at Ubar.
P&R are known for their tall and narrow take-away cups – what's the thinking there?
To reduce waste wherever possible. The P&R cups and lids are biodegradable and compostable, and the lid fits all three cup sizes of 6, 8, and 12 ounces (that's the tall and narrow one).
Campus Life outlets also supply Huskee Cups, which is a spin-off from P&R. What started as an idea to create a closed-loop cup system, utilising waste from the coffee production process, has now turned into a global movement through the Huskee Swap system, which aims to reduce the huge number of single-use coffee cups that end up in landfill every year (1 billion in Australia alone!).
A coffee can only be as good as the barista that makes it –  what training do Campus Life baristas receive?
All Campus Life baristas go through P&R's training program, completing online modules before conducting basic (B1) and more advanced (B2) training at P&R's training centre at the Roastery.
Read our 10 questions with Campus Life barista Jay Yu >> 
---
Enjoy Pablo and Rusty's coffee at all Campus Life outlets on campus – and don't forget to stamp your loyalty card to earn free coffees.