Turning the dial: Associate Professor Yijiao Jiang is among the Macquarie women selected for the ARC College of Experts.
The Australian Research Council's College of Experts is a group of highly respected academics chosen to help guide the ARC through its peer review process, playing a key role in determining which research projects receive Australian Government investment.
This year, five Macquarie academics were selected to join the College (see Awards and Recognition). Significantly, four of our five new College members are women and three of these women come from strongly male-dominated fields.
This progress reflects the increasing number of highly respected women in senior levels of academia. But it's also reflective of a clear commitment from the Government to ensure the College – and the grant assessment committees the College appoints – is more balanced in terms of its gender representation.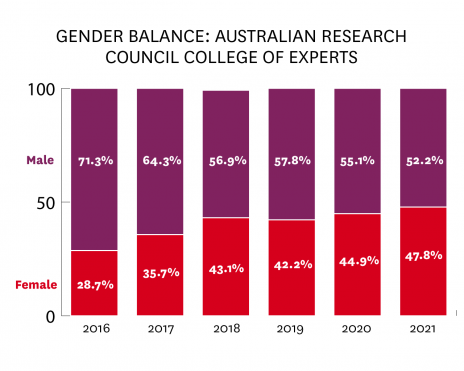 Source: Australian Research Council
Noting the College's pleasing progress towards gender parity by 2023, Australian Research Council Chief Executive Officer Professor Sue Thomas says the Council is particularly focused on increasing membership in disciplines where women are significantly under-represented.
"Engineering, information and computing sciences has increased from 14 women and 29 men in 2019, to 20 women and 26 men in 2021," she says. "Similarly, mathematics, physics, chemistry, and earth sciences increased from 17 women and 26 men in 2019 to 20 women and 24 men in 2021."
"We are committed to improving the gender balance of membership on ARC selection committees and encourage women to nominate for membership of the ARC College of Experts in each nomination round, while also noting the risk of administrative overburdening for senior women researchers."
College member Professor Annabelle McIver (pictured below) is a respected expert in theoretical computer science, working on fundamental problems in privacy and security for computer technology.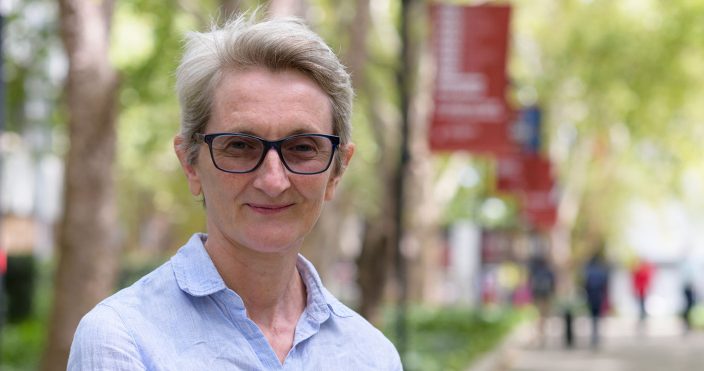 She applauds the ARC in their efforts to achieve gender parity in the College, noting the challenge is particularly ambitious in fields like hers.
"Women don't tend to study computing subjects, even though there are interesting and well-paying jobs in those fields," she notes. "Universities like Macquarie can do their part in encouraging and supporting young women to study technology and engineering."
Fellow College member Distinguished Professor Ingrid Piller says that gender equity commitments like the ARC's are incredibly important for their flow-on effects, but should not be viewed as tokenistic exercises, especially given the rigorous process for College selection.
"There are deep inequities at all rungs of the research ladder, and it's not only female academics who are underrepresented – Indigenous scholars, people of colour, migrants to Australia, and second language speakers of English feel it even more greatly," Ingrid says.
"Commitments by funding bodies to improving diversity and gender balance are incredibly important for the flow-on effects they have throughout the system but also because it is now widely accepted that diversity in a team improves efficacy."
"As a woman, a migrant, and a second language speaker of English, I have been privileged to make it into the top one per cent of researchers in my field globally," she says. "I feel a huge responsibility to serve as a role model and support the next generation, and my role on the College of Experts is one way I can do that."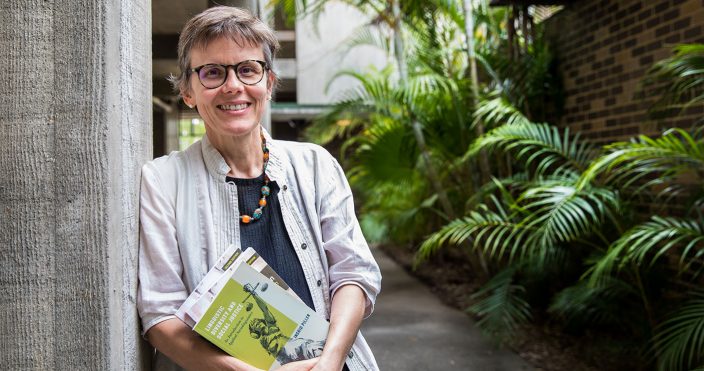 Associate Professor Yijiao Jiang – who has been pivotal in the School of Engineering's emerging reputation in sustainable energy and chemical manufacturing – agrees that a more diverse College of Experts has a powerful impact.
"A variety of cultural and social backgrounds is vital to best reflect our research community, and a diverse and inclusive College is particularly inspirational for our early and mid-career researchers," she says.
Yijiao points to further work funding bodies like the ARC can do to ensure women are supported through the academic pipeline.
"Being a primary carer has a long-term impact on a woman's research productivity," she points out. "Funding bodies can help mitigate this by establishing more flexible eligibility criteria that allows for the career disruption that comes with having young children, and ensuring they are adequately resourcing their gender equity initiatives."
Professor Piller says International Women's Day gives institutions like the ARC and Macquarie an opportunity to 'take stock' on gender equity in research.
"The main reasons why mid-career women leave academia are well-known: difficulties with balancing work and childcare, being overlooked for promotion or experiencing bullying and harassment," she says.
"All organisations – at all levels – have a role to play, and IWD is always a good opportunity to celebrate how far we have come and think about what we can do better."